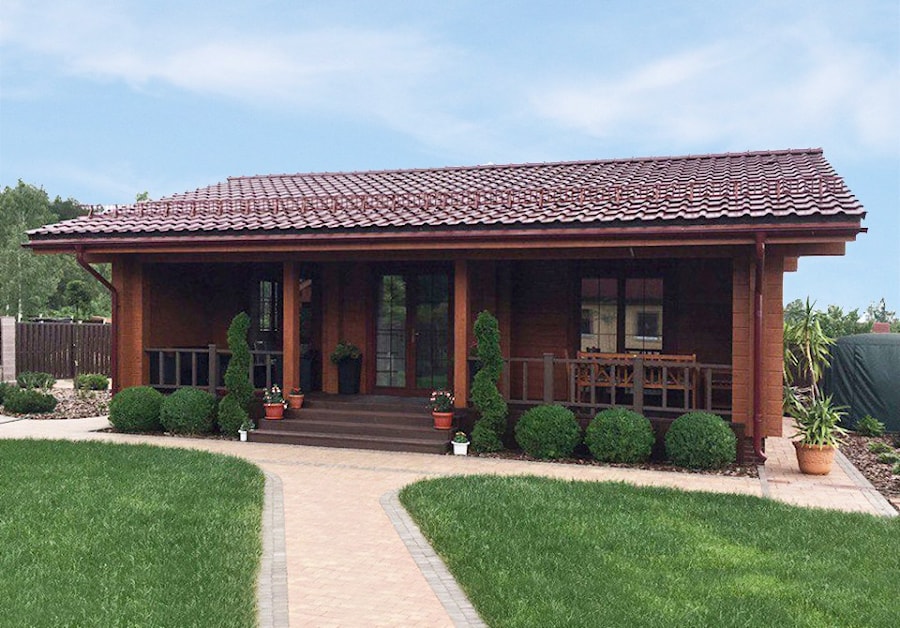 The construction of any house begins with an idea and a desire. The company ArchiLine Log Houses is ready to design a house of any complexity, according to all the wishes of the client. At the design stage, all the features of the wooden house construction and the customer's requirements for the future house will be taken into account.
This project was designed for seasonal living. Compact, cozy, with necessary number of rooms, this house has become the place where the whole family and friends gather. It's so nice to sit on the terrace, in a spacious living room or in the barbecue area and spend time with the most needed and important people.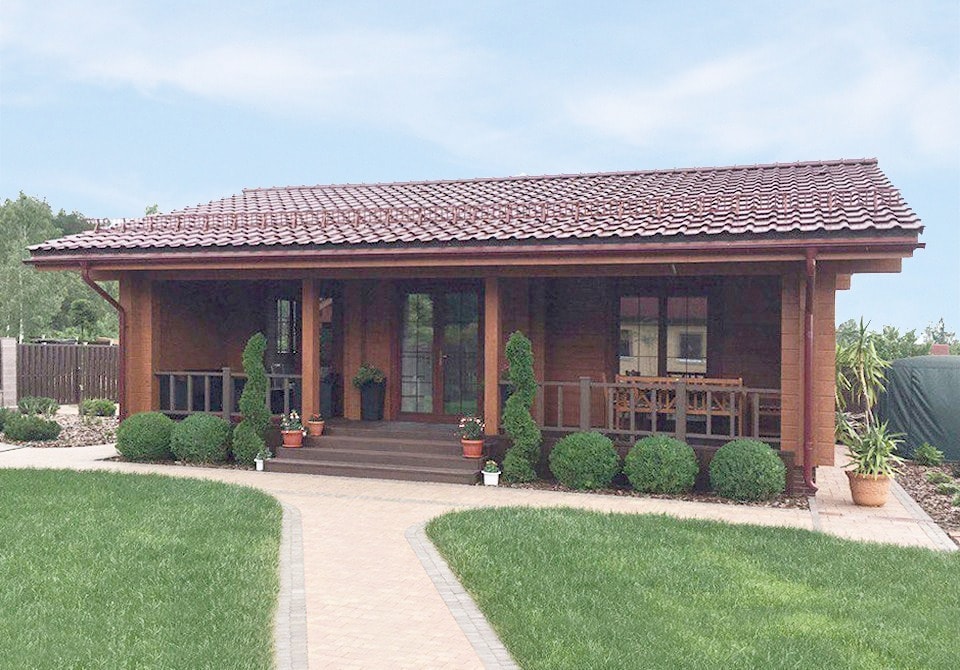 The project is made of profiled glued timber, which allowed not to wait for a long time of shrinkage and fully operation of the house immediately after its construction. As a roofing material
natural ceramic tile Roben
was used, which, in addition to its harmonious appearance, reliability and durability, provides the necessary load for a wooden house, which avoids many problems during the operation of the house.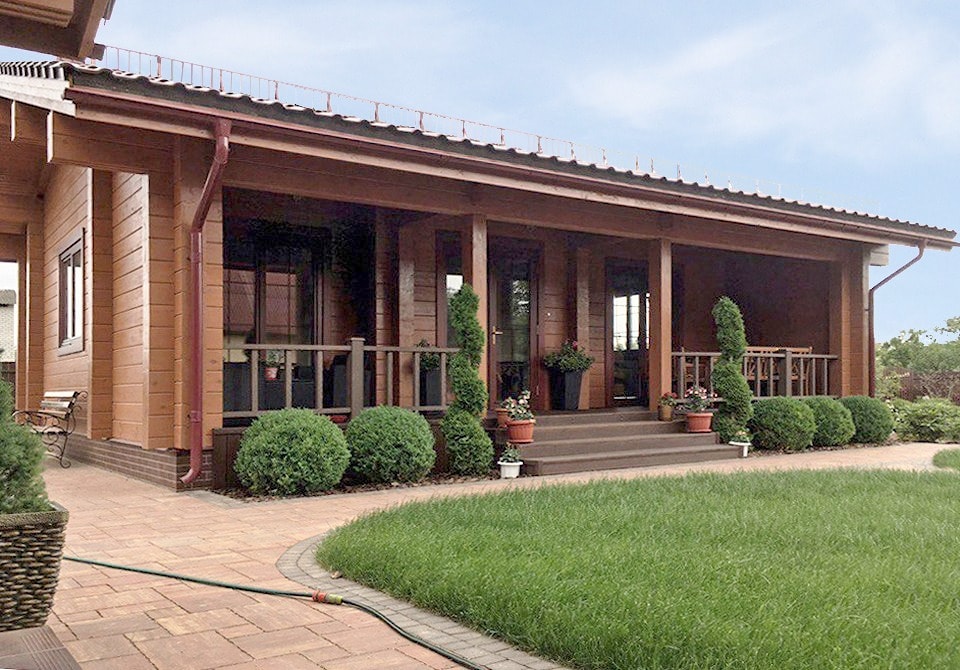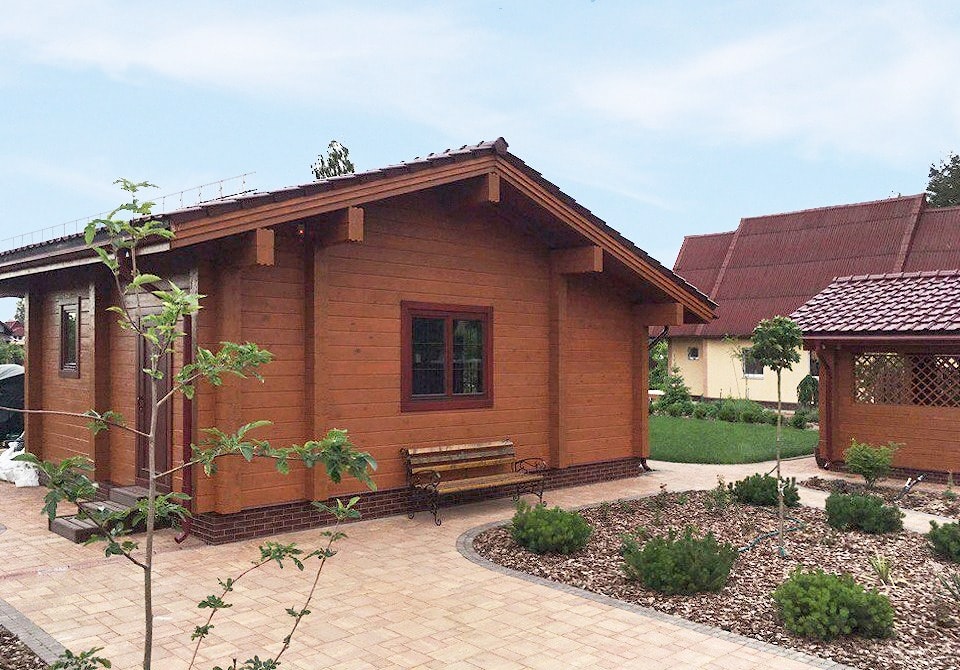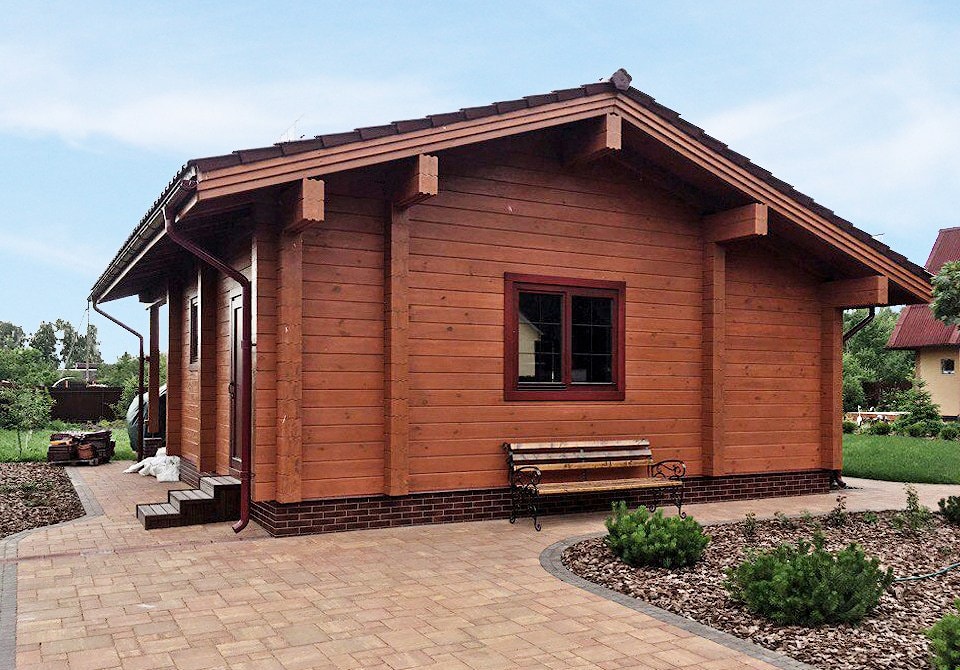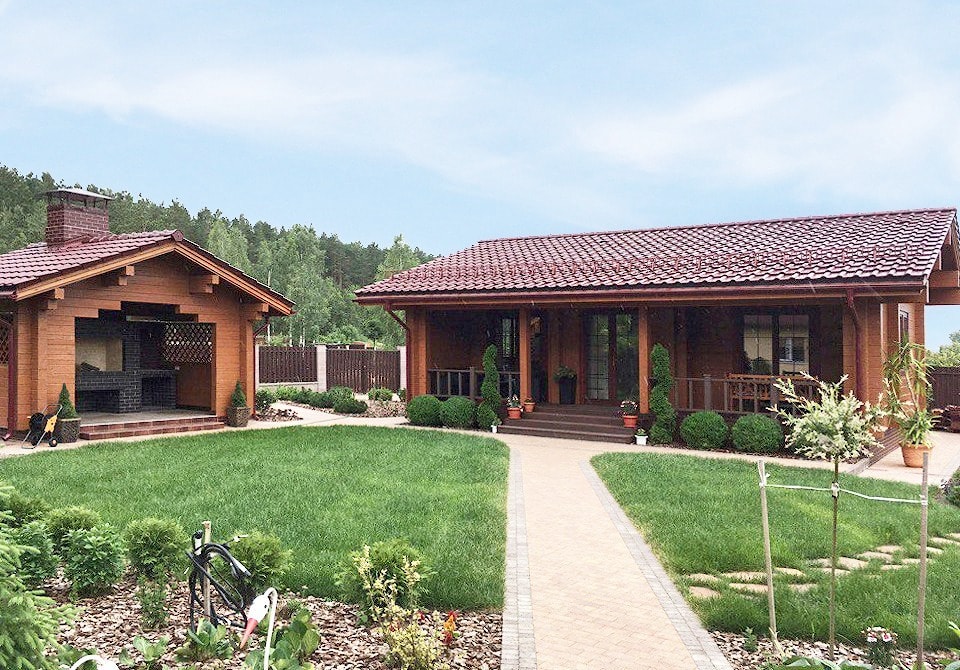 The main condition for obtaining a solid and durable building for living is the use in its construction of only excellent building materials that can provide future house with no less valuable operational characteristics. And if earlier many believed that the purchase of a high-quality option would necessarily be very expensive, now they had the opportunity to get acquainted with profitable options that simply can not help attracting the attention of those buyers who are trying to save money.
So, in the age of modern technologies, it is not at all surprising that such raw materials as wood have become one of the main foundations that allow to create excellent quality building material. This is a glued beam, and a rounded log that can be used for a variety of purposes - both in the process of erecting a dwelling, and buildings of other purposes. It all depends on the needs of the client. The only thing one can definitely say is that the customer will be pleasantly surprised by the excellent quality of these buildings.
If you are tired of city life, and you decided to move out of town, in any case, for quiet and calm living, you will need a house that will either be purchased in the real estate market or built independently. Recently, among developers, it has become popular to build houses from a new material, which is an improved version of a regular timber, and the name is a glued timber. And this is no accident, because the house of this material has a lot of characteristics that other materials do not possess.
For the construction of such a house it is recommended to consult specialists who are profiled on the construction of buildings from this material. Because the construction of the bar requires experience and skills, so before choosing a contractor, be sure to check out his previous work and experience in this area.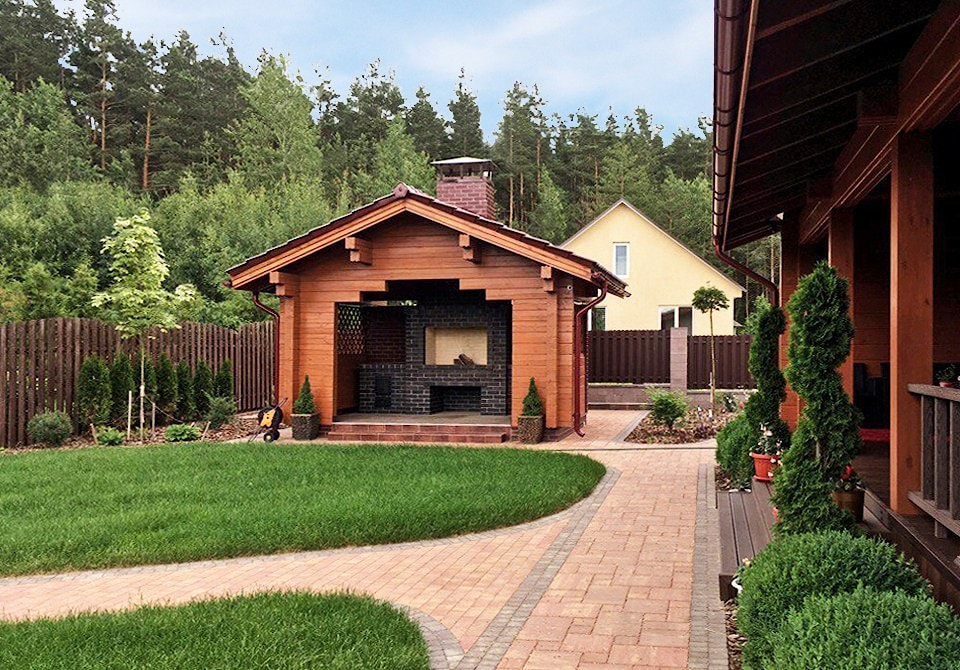 The main advantages of this house
• Construction built up of a glued timber after one year, gives a minimum shrinkage (maximum 2 cm), which is considered a rather insignificant indicator. This material is also environmentally friendly, due to this, your well-being will be greatly improved when you are in the house . • Due to the fact that the wood has a low level of thermal conductivity, you can keep the temperature in the house at a comfortable level, which will save a lot on heating the house.
• It takes just a few weeks for builders to build a house out of a bar. This is due to the fact that the houses of the timber are very easy to assemble. • Houses made of timber do not need external finishing, which will make it easier to move in and save considerably. • Quite an important advantage of such a house is that during the operation in the walls there are no through holes.
Basement
Glued timber is famous for its lightness, so you do not need a bulky, massive foundation. Therefore, when determining the type of foundation, it is necessary to start from such moments as: relief, groundwater level, as well as geological conditions and soil type. Most often for such houses use a pile-gravel monolithic foundation and a monolithic plate or without a monolithic plate, depending on what type of floor is planned in your home.
Walls
As for the construction of the house itself, it is erected very easily and quickly, because the walls consist of ready-made small parts that need only to be joined, they are numbered at the manufacturer's factory, and are assembled directly on the construction site as a children's constructor. Due to the fact that the glued beam does not have mass consumption, it is produced exclusively for projects on order, in which all the dimensions of the parts are calculated, grooves and ridges are exactly matched to each other. With a ready basement for the assembly, it will take no more than 4-5 weeks. Because the numbering of parts significantly shortens the time of work, thanks to it, every detail takes its place, which was originally intended for it.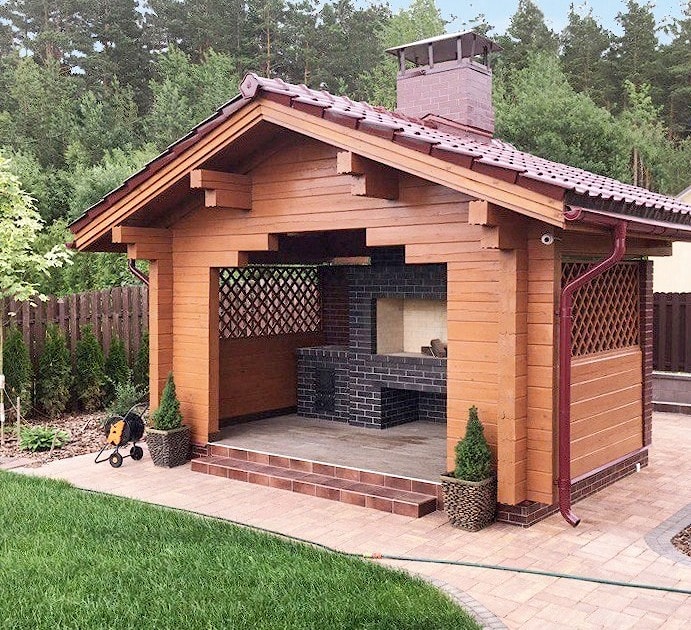 Roof
Before the beginning of this stage, it should be considered that the roof and truss system must be stable and reliable. Because roofing works are the most complex and to some extent dangerous. The cross-section of the structural timber in the rafter system should be selected exclusively based on calculations of the snow and useful load on the roof. As for the roofing material, everything here depends on your choice. But do not forget that the roof should be not only beautiful, but also durable. And also for the house to give correct and uniform shrinkage, it is better to use heavy types of roofing such as cement-sand or natural ceramic tiles.
Having achieved a small result, we can confidently say that the glued beam is a worthy modern material. The house from it will keep warm in any weather, creating a coziness and comfort in your home. Also I want to note that this material is worth, you will significantly save on construction work, having received a high-tech durable construction.
After all, wooden houses from a timber and logs are in demand among those who decided to change the city apartment for a spacious and comfortable country house. It is also important that the use of such building material is very beneficial. The thing is that the glued timber is guaranteed to become the basis for durable housing. It has a very high level of strength, which was achieved through the use of special technology to improve the wood. It is known to be made from coniferous trees, which make it completely unique and unlike any other option.
Glued timber is noteworthy in that the erection of the house with its help is carried out in the shortest possible time. And if it takes at least six months to build a house from a rounded log, then the construction of the presented type of housing passes almost swiftly. And this can be explained by the peculiarity of the structure of the bar itself, which has special connecting elements, as well as the uniqueness of the technology of assembling the housing itself. After all, it is not collected from individual bars, but consists of certain structural elements that make it possible to build a house in the shortest possible time. It is important only to create a suitable basement in advance, however, it, by the way, will be able to save material resources, since this type of building does not need a massive basement.
The natural origin of the material is its valuable distinctive feature. And it can not but become its advantage, taking into consideration the fact that at the moment most materials do not have a high level of ecological purity. Not surprisingly that most clients of building organizations prefer to build saunas from round logs, since this option is perfectly suitable for this type of building. Because they should be filled with a healthy and pleasant atmosphere.
Building similar dwellings is also beneficial because they have the qualities and operational characteristics that enable them to exist for an incredibly long time. And this is the main factor that appeals to rational customers who want to invest their money profitably. And if you take into account that such buildings, i.e. their atmosphere, beneficially affects the general well-being of a person, promotes the correct and rapid development of children, improves the course of many diseases, there is no doubt. Modern wooden houses are really worthy of special attention.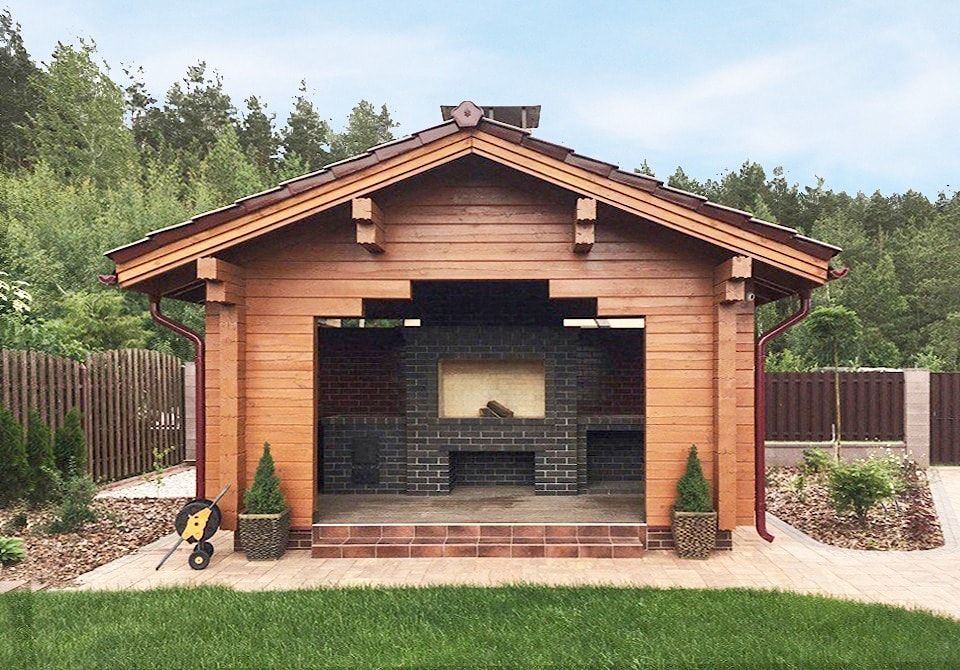 Glued timber: advantages when building a house
There are a number of materials for the erection of wooden houses, each of which has certain properties and operating conditions. Today one of the analogues of a profiled beam or log became a glued profiled bar for walls. At first glance, the material is more expensive than similar wall materials made of wood. However, in the end, the cost of a house from glued timber is cheaper than from a solid log. So, what properties make the structure of glued timber cheaper? Due to the precise processing technology of each lamella, the timber becomes ideal in size, which facilitates quick laying and the absence of slots, as well prevents deformation. Glued beam does not shrink. In addition, one doesn't have to wait for a year, and proceed immediately to a number of finishing works.
Manufacturing of a glued timber
The properties of glued timber depend on the technological characteristics of the production of the material.
One-piece log is sawn to unedged boards, boards with defects are immediately put aside.
Good boards are processed, cut and dried in a special chamber.
After that the boards pass another sorting, the defective parts are cut off from the discarded boards.
The boards are cut to pieces of the same length and completely processed on a four-sided machine.
A part of the lamella is spliced, then all the boards are treated with glue and glued by pressure on the press.
The rectangular bar is again processed on the machine. After the side (facial) parts get a perfectly processed surface, and the lower and upper have small notches for better connection.
Glued timber has a number of advantageous qualities in comparison with similar building materials from wood.
Greater strength, no deformation after laying.
The drying of the timber takes less time, because the boards are dried separately, then they are joined with adhesive resins.
Practically there is no shrinkage.
• Quality of lamellas - deformed and knotty wood is excluded from use.
Cracks with a change in temperature and humidity are in very rare cases and not very deep - up to 1 cm.
The steam-permeable properties are not inferior to the properties of a solid tree array.
Aesthetic appeal: the glued beam is treated as a prepared external and internal finish. Among the shortcomings can be identified human factor, since many stages are performed manually. Poor-quality selection, processing, gluing of boards will lead to deterioration of properties.
Another side: the adhesive composition. At the moment there are many different adhesives. Unfortunately, in the race for cheapness, many unscrupulous manufacturers use cheap adhesives. The result of this economy can be not only the lamination of wood, but also the toxic release of phenols and fumaldehydes. Our company uses only one-component polyurethane compositions manufactured by
Kleiberit
.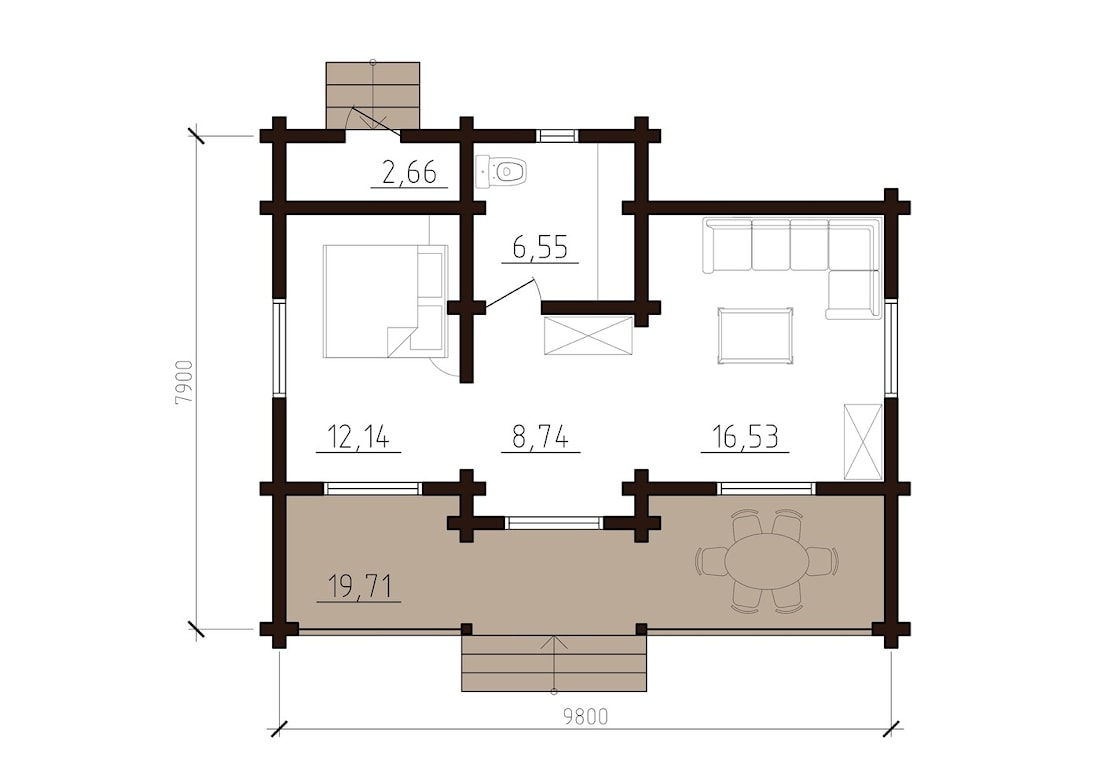 Look more: