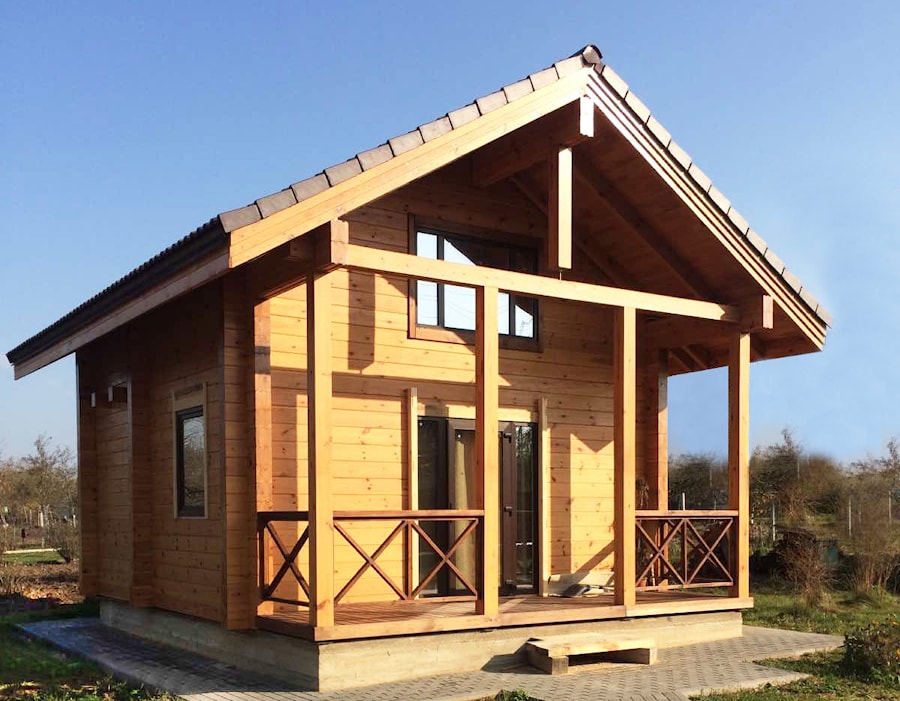 Wooden house of glued timber "Ukraine"
Assemble the house of your dreams with your own hands - the "Ukraine" house set for self-assembly.
Reach your goal, save your money, build a wooden house from glued beams at the price of a small car!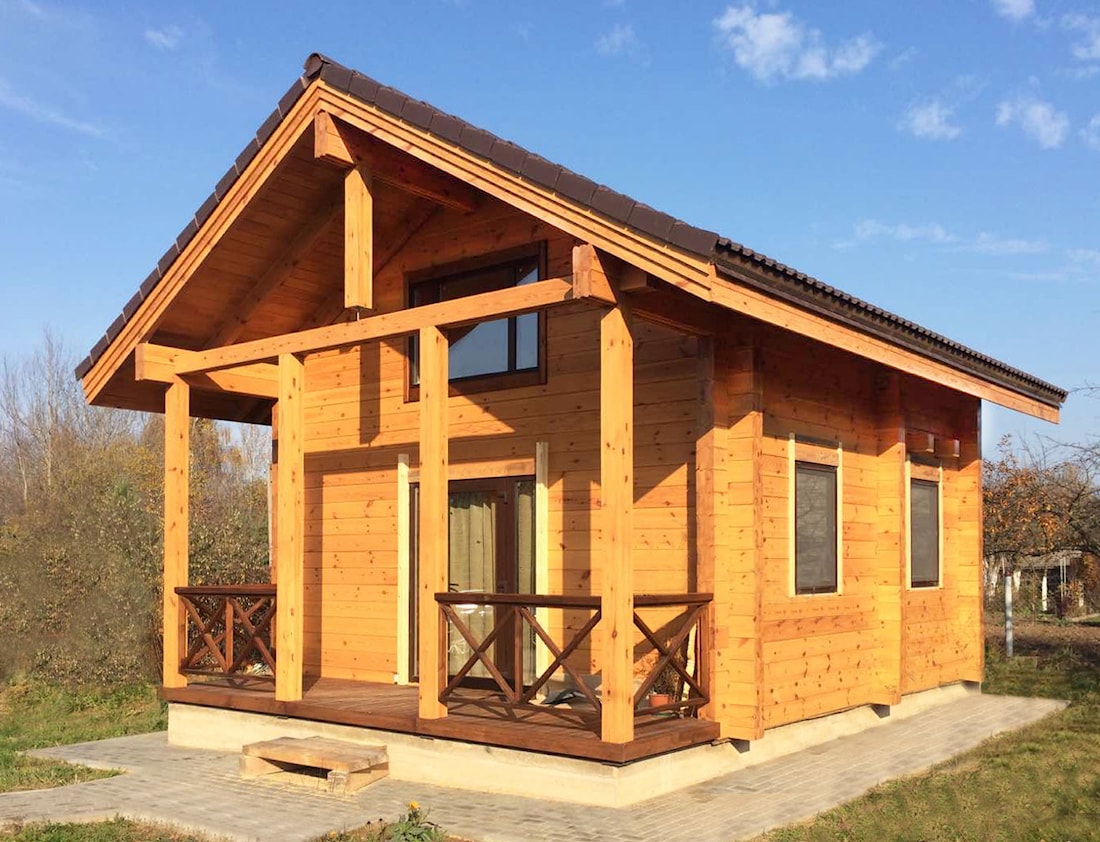 House project: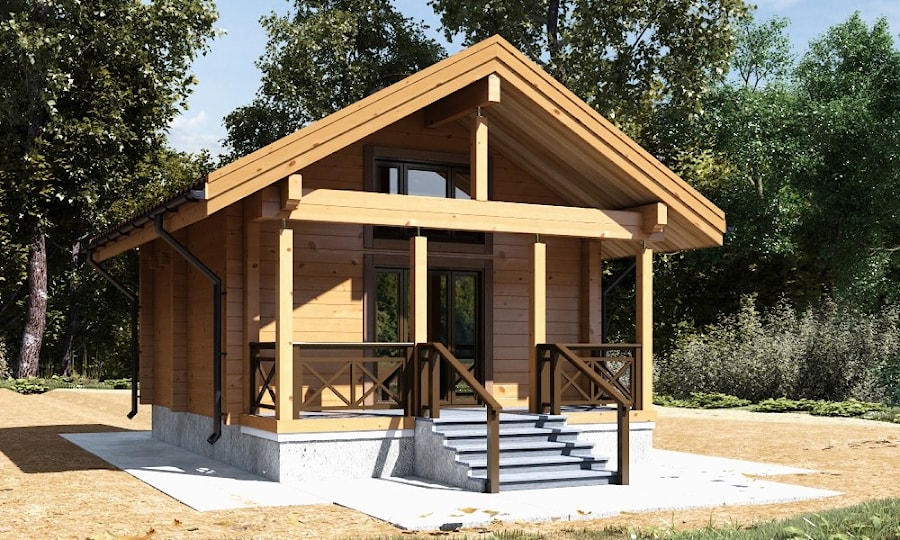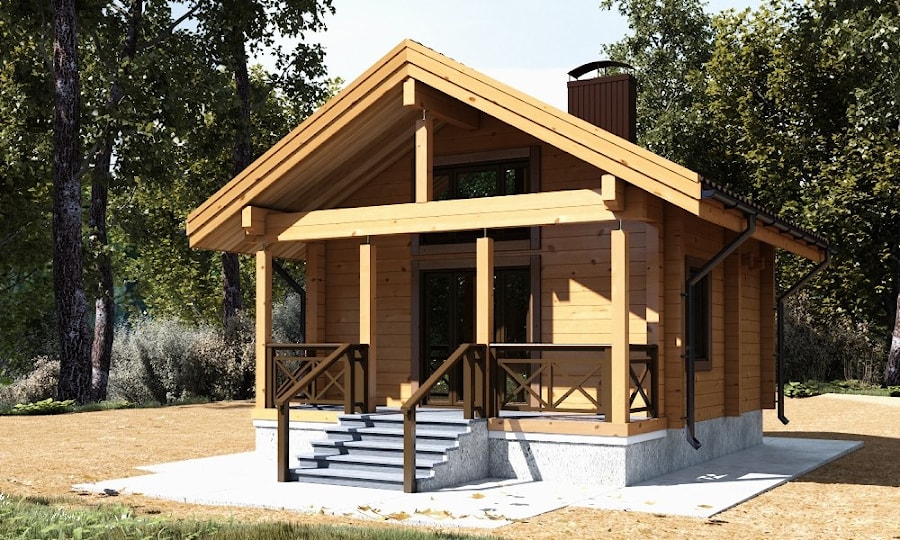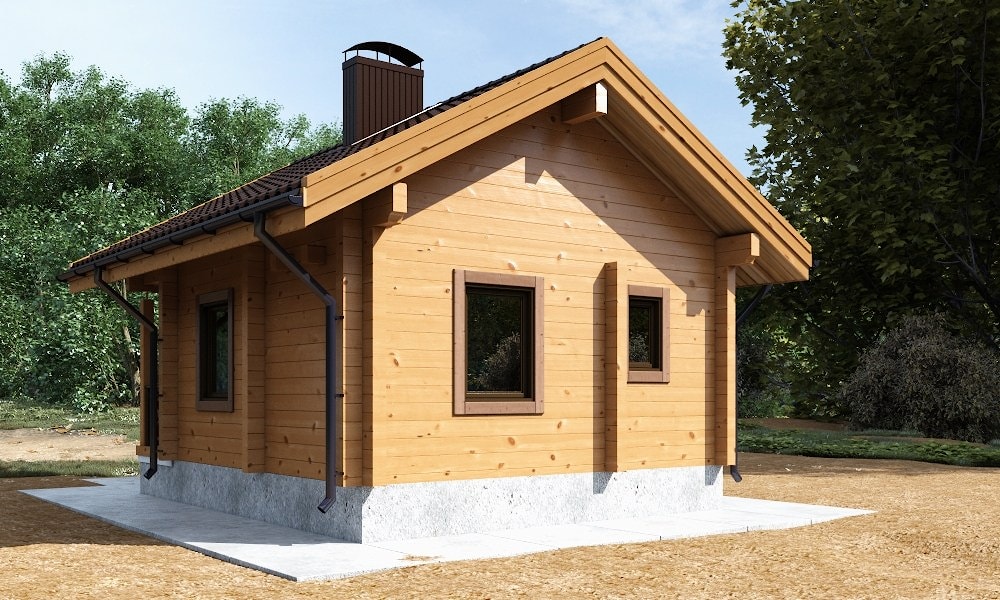 Wooden house made of glued timber "Ukraine" 48 m2 at a very attractive price. A compact but roomy house is supposed to be exploited as a country house or rental for 4 people.

Material from which the country house "Ukraine" is made is a profiled glued beam - the leader among materials for building a wooden house. The houses of this material are modern and beautiful.

The design of the holiday house "Ukraine" is made from glued timber of own production, because of the unique design it is financially accessible to every lover of wooden houses.

For the production of the wooden house "Ukraine", the forest from the northern regions of Belarus is used for winter harvesting (pine, spruce). For the wooden house "Ukraine" the forest is purchased 1 grade. After that, sawed, sorted, dried, shaved, glued, profiled, fronted and stacked.

Glued timber for the wooden house "Ukraine" is produced on modern European equipment and glued together with glue leading German manufacturer KLEIBERIT, which does not contain formaldehyde.

At the holiday home "Ukraine" provides a guarantee of 5 years, which is due to the high technological level of production.
High production technology, allows houses from glued beams to have a number of advantages. The beam is not deformed, does not crack, and the walls do not shrink. High thermal insulation properties, low heating costs.

Glued beams on the holiday home project "Ukraine" has a German profile with an increased contact area, due to which moisture does not penetrate inside.

The corners in the house are protected from blowing and freezing due to a unique corner connection with a complex configuration.
A set of walls and finishing materials is formed in production, construction takes place in a short time without compromising quality.

Together with the project of the wooden holiday home "Ukraine" you can order a summerhouse, a summer kitchen or a barbecue. The design of this house in the project villa house "Architect" is made from round logs - even lower price.

CHARACTERISTICS OF THE HOUSE "Ukraine" FROM THE GLUED Timber 160X185 MM:

Wooden house in a modern style
Number of floors 2 (2nd floor mezzanine)
The total area of 48.34 square meters.
The living area is 40.0 sq. M.
The roof area is 63.5 square meters.