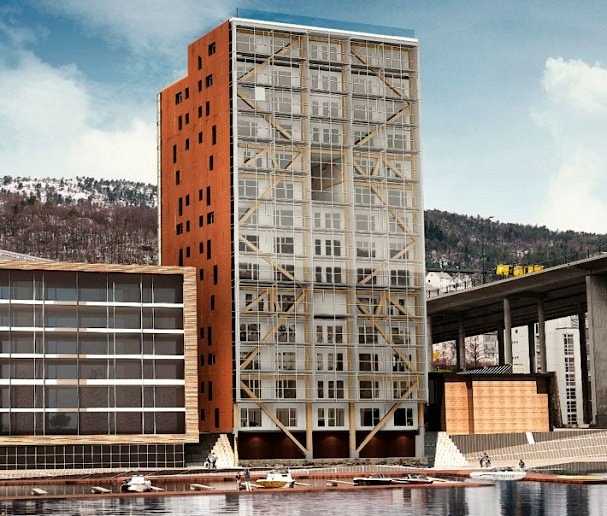 The population of countries all around the world is getting more urbanized. Many people move to big cities with a dream of starting a new life, getting a new job and open new horizons. And with it arises one simple question: where are they going to live? Nowadays, there's a good option for housing: wood.
This option has a lot of advantages, especially if one wants to choose a healthy way of living: environmentally friendly building material stores carbon dioxide CO2 until it burns, hence reducing the greenhouse gas effect.
Due to fast development of wood technologies, now there is an ability to create tall wooden buildings that are earthquake and fire safe. Wooden skyscrapers are the wave of the future, and in this article we're going to present you the most outstanding tall wooden buildings being constructed or already existing.
1. The Baobab Complex, Paris, France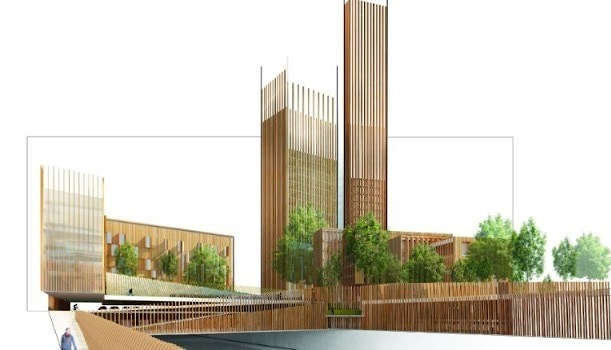 The Baobab wooden complex has 35 storeys, also in the complex a hotel, a bus station and a parking are situated. It's developed in a creative and eco-friendly manner. Designers believe that it will also help to remove thousands of tons of carbon dioxide from the atmosphere.
2. The HoHo building, Vienna, Austria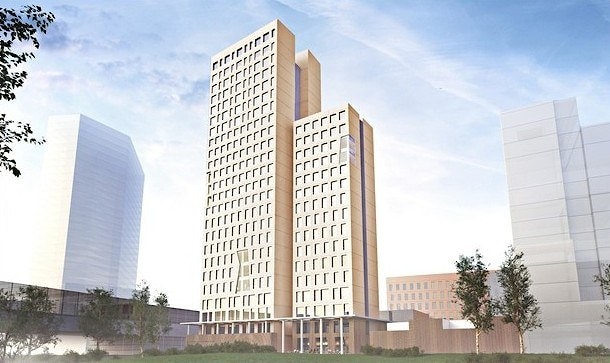 This wooden construction is planned to be the tallest skyscraper in the world - 84 meters. The project has to be finished, about 80% of the skyscraper will be made of wood and it will help to remove about 3000 of tons of carbon dioxide.
The HoHo project will combine two towers. The complex will house a restaurant and a café, hotel with various apartments, offices etc.
3. Wood Innovation and Design Center, Prince George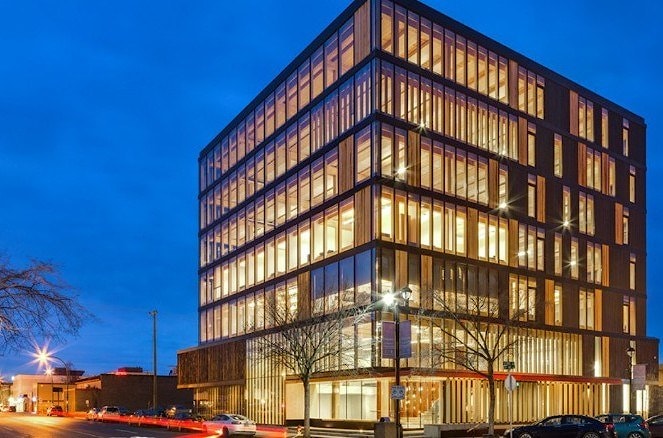 Situated in Northern British Columbia.
The Wood Innovation and Design Centre in downtown Prince George features inventive use of wood solutions to solve every-day design and construction challenges.
4. University of British Columbia Campus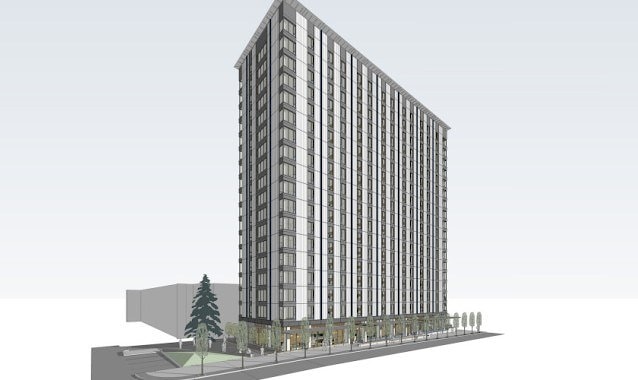 One of the tallest wooden towers in the world is coming to
Vancouver
. Plans have recently been approved for an 18-story student residential tower made almost entirely of wood.
Costs spent on this project will rich $51.5; the space will allow accommodating of 404 students in 272 studios and 33 rooms. On the first floor there will be a large hall for meetings and different activities.
The wooden campus is planned to be open in fall 2017.
5. Stadthaus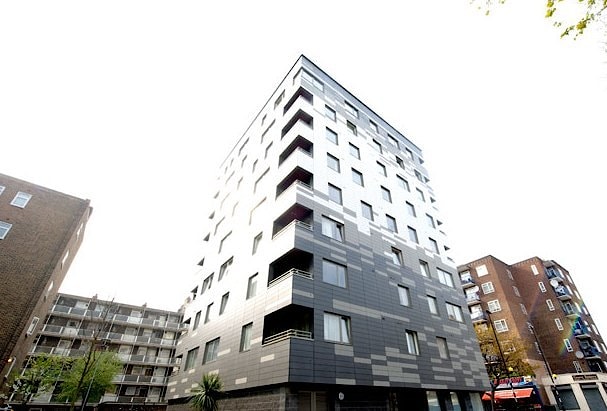 The Stadthaus is an apartment building in Murray Grove made of solid timber.
This apartment building provides one, two and three bedroom living accommodation on nine floors.
From the one hand, there is nothing catchy about this wooden building. Its gray and white facade plays the same colors as the whole city. But once you come inside the interior blows your mind: the floors, ceilings, elevator shafts, and stairwells are made entirely of wood.
In 2009 when opened, it was the tallest wooden building in the world. Now there are a lot of examples of wooden skyscrapers. Who knows, what shall we expect in the future?
6. Treet, Bergen, Norway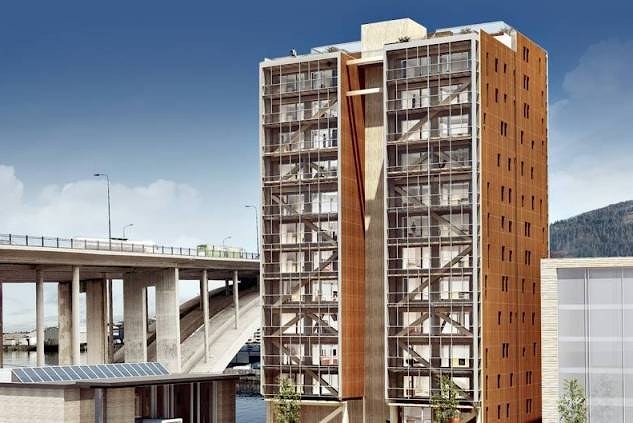 The 14-storey residential building "Treet" is located in the city of Bergen, Norway. "Treet" means "The tree" in Norwegian. The design process started in 2011 and was finished in 2013. The first ground works took place in April 2014, and the building will be finished in autumn 2015. 62 apartments will find their new owners in the building. The building has a net area of 5830 m2. The basement, which holds parking facilities, technical rooms and storage rooms, has a net area of 920 m2. There is a gym on the 9th floor and a roof terrace at disposal for the residents.
7. 34-storey Wooden Tower in Stockholm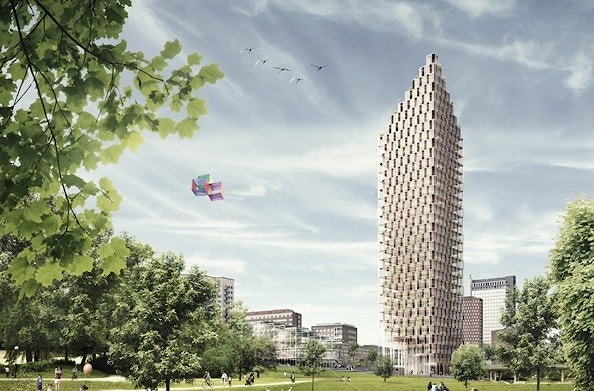 One of the most spectacular wooden projects in the region is a design by Danish architects C.F Møller for a 34-storey concrete-core wooden tower in Stockholm, which will be right up there with the tallest wooden structures when it is ready in 2023.
The design, which entered and won the '2023' architectural competition in Stockholm, caught the eye of the architectural community with its imposing dimensions and commitment to sustainability.
To sum up, we're sure, that the era of building in wood has come. It's widely spread nowadays; the demand for this eco-friendly material is growing. We have the opportunity to build the future together. Let's do it!