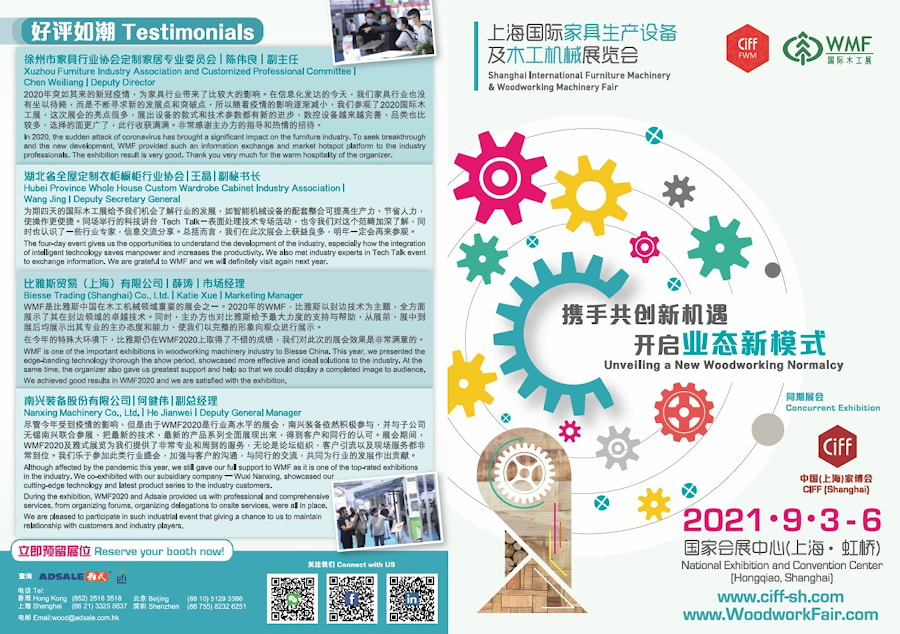 The International Exhibition on Woodworking Manufacturing Equipment ("WMF") is going to be co-organized concurrently with CIFF (Shanghai) on 02-05 September 2022 at the National Exhibition and Convention Center, Shanghai Hongqiao, China. The new strategic cooperation will demonstrate Asia's largest furniture and woodworking machinery exhibition in Shanghai, which brings together both upstream and downstream of the furniture manufacturing chain, launching a new era of quality-oriented and intelligent production. It is a perfect platform one can never miss!
When:
From 02 to 05 September 2022
Where:
Beijing, China
Field:

Exhibition location:
Woodworking Machinery and Furniture Manufacturing

China International Exhibition Center


The 20th International Exhibition on Woodworking Machinery and Furniture Manufacturing Equipment (WMF 2022), the most expected trade show regarding the woodworking industry in China, is held by Adsale Exhibition Services Ltdand will take place at China International Exhibition Center (CIEC) in September, 2022.

International Exhibition on Woodworking Machinery and Furniture Manufacturing equipment, materials and Accessories WMF is held in Beijing every 2 years since 1986.

For more than 26 years, WMF exhibition is the largest event of the woodworking industry in Asia, which is supported by a number of world associations of industrialists and manufacturers, including the European Federation of Woodworking Machinery "Eumabois".

The exhibition is supported by the Chinese National Association of timber equipment, Association of Chinese architecture and design, China's State Administration of Forestry, China Council for Promotion of International Trade and other organizations.

WFM and FAM 2013 gathered 557 exhibitors and 28,620 professional visitors from around the world, exhibition area was 60,000 square meters.
In 2014, the exhibition occupied 60,000 square meters., occupying all the pavilions of China International Exhibition Center (CIEC) in Beijing. Expositions of 445 participants of WMF 2014 drew the attention of 25376 specialists from 60 countries.

WMF - Exhibition of Woodworking Machinery will be held simultaneously with the exhibition of components and accessories for manufacture of furniture - WMA.
The exhibition will be divided into seven thematic areas:
1. Equipment for furniture production
2. Equipment for the production of wood panels
3. Machinery for woodcarving, СNС Machines
4. Machinery for facing of surfaces, dryers and equipment for the production of related materials
5. Materials and tools for the production of furniture, timber products
2. Knives, cutters and components for equipment
3. Zone of wooden architecture

Due to the rapid development of the furniture market, the production of woodworking machines has been greatly modernized over the past few years.
CNC machines compared to traditional woodworking equipment have significant benefits: increased productivity, more efficient use of wood resources, and high degree of security. These machines fully meet modern requirements of furniture manufacturers. Therefore, WMF / WMA exhibition will focus on CNC woodworking machines.

As a participant of WMF 2022, ACC Archiline will also visit China International Exhibition Center in Beijing to see the latest technologies of woodworking industry.