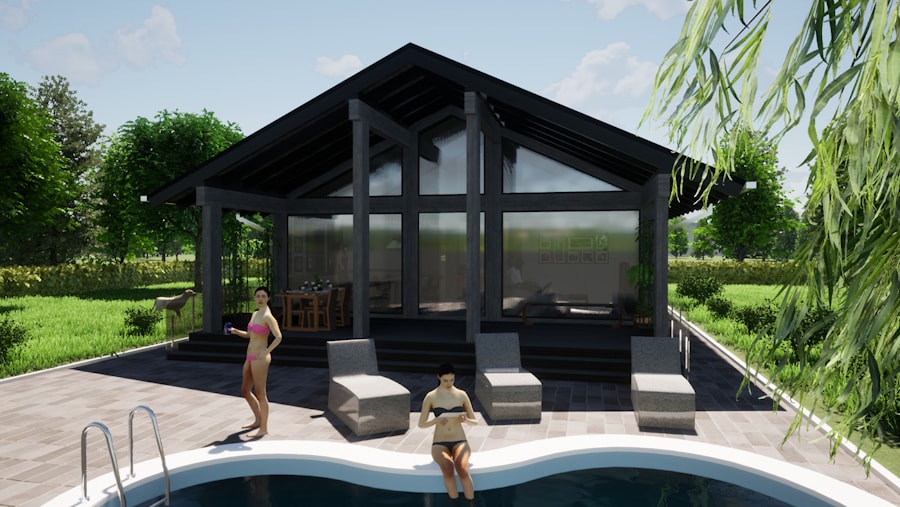 The construction of modular prefabricated half-timbered houses from panels is in demand in the real estate market. Affordable price, construction technology, speed of building a house are the main advantages of this design.
Materials for making prefabricated houses are improving every year. A metal frame is made, which is sheathed on the outside with shields. Insulation and waterproofing are also used.
Modular prefabricated half-timbered houses in Belarus can be made of any design, different number of storeys, different types of purpose - they can be used as a private house, office building, commercial premises, etc.
The cost of building a modular home is significantly reduced due to the simplicity of the foundation.
The technologies used for prefabricated houses allow for a variety of finishes. The pluses include:
durability;
modern materials that extend the service life;
frame reliability;
excellent heat-insulating and sound-insulating properties;
living in comfort almost all year round;
Heating costs for modular half-timbered houses are significantly lower than in wooden houses, since such houses do not freeze through. This is due to the use of various modern building materials, a combination of design features.
Prefabricated houses are also easier to protect from fire, insects and fungi. At the request of the buyer, various finishes can be applied inside and outside (board, lining, siding, etc.). Due to their low cost, such houses are ideal for summer cottage construction.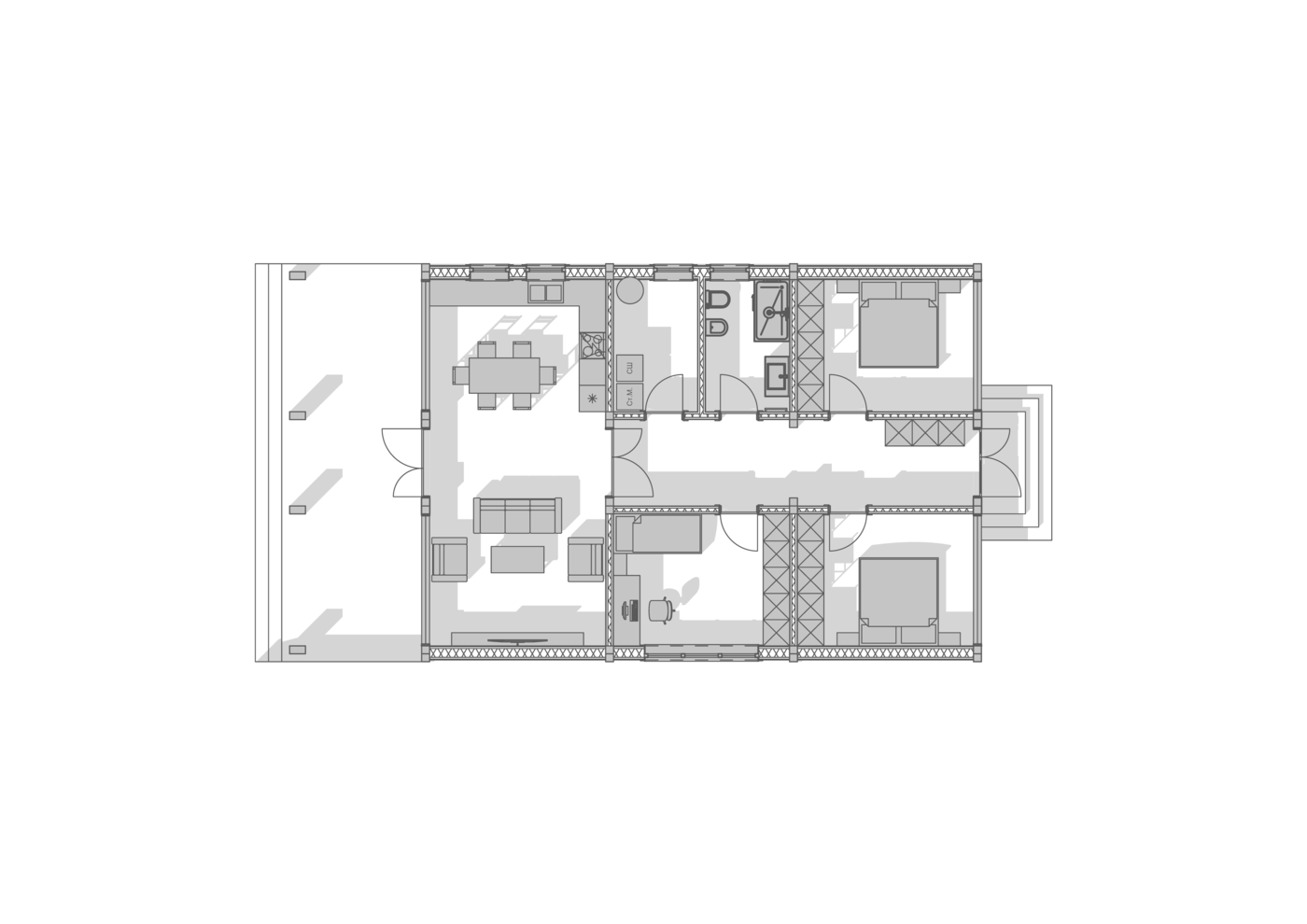 The project of the modular house includes a combined kitchen-living room, two spacious bedrooms, an office, a bathroom and a boiler room.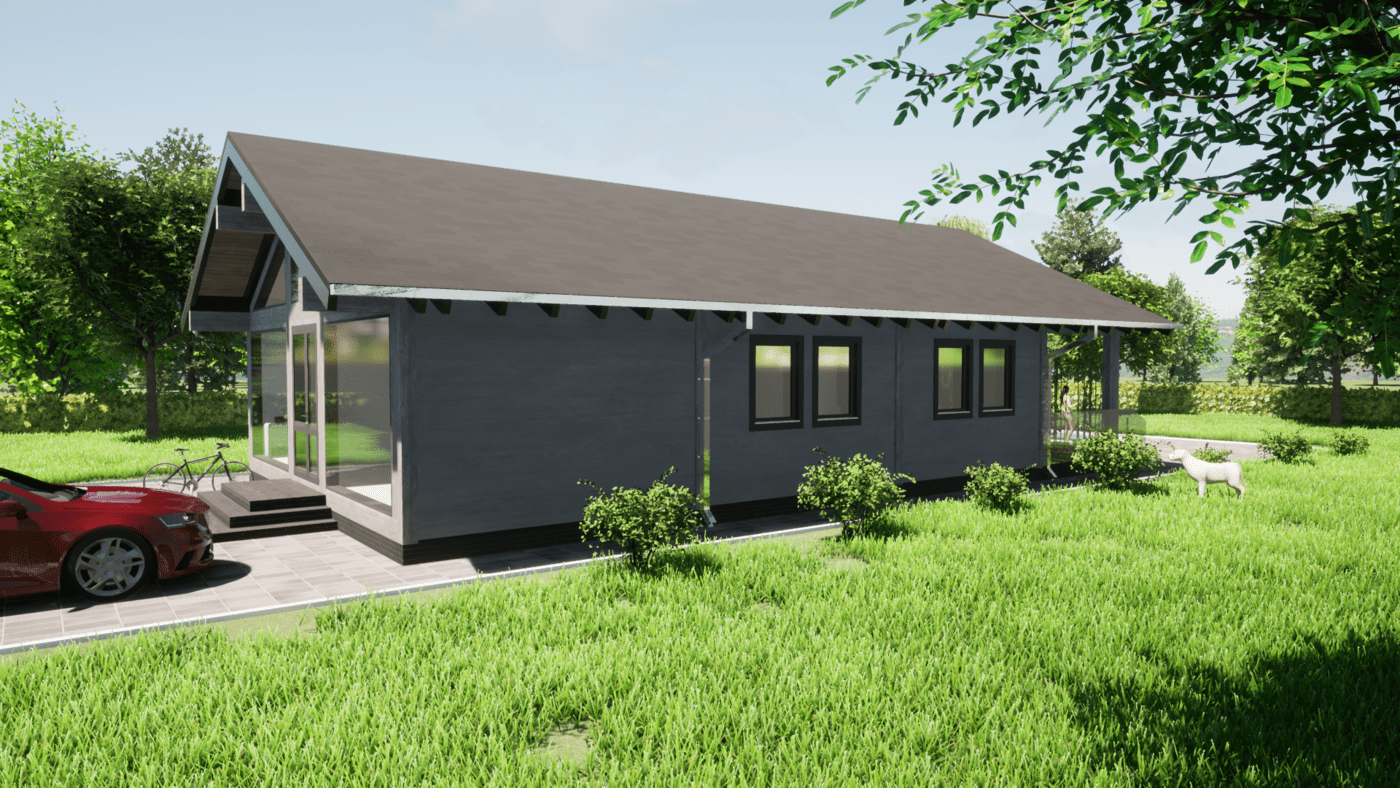 What family does not want to build their own house, for their own money, and not on credit. But most families do not have enough income to build a house out of expensive materials. Therefore, many are looking for more affordable options, and one of these is just prefabricated modular houses.
However, despite the apparent advantages of such a house, such as an affordable price and ease of assembly, they are not without drawbacks. Consider them:
Air exchange, it is necessary to think over modern ventilation.
The microclimate without ventilation is not ideal. Due to the fact that there is a layer of dense insulation in the walls, air exchange is complicated compared to wood. It can be cold in the house in winter, and too hot and stuffy in summer. This is solved due to the competent organization of heating and forced ventilation, but this will affect the cost of the house.
Rigidity, modular prefabricated half-timbered house
Spatial rigidity must be observed to the smallest detail during the construction phase. A properly designed building frame will eliminate difficulties in further operation. Also, the foundation on which the house is built is very important. For example, with a pile-screw type of foundation, in the gusts of a squally wind, the "movements" of the walls can be felt.
Moisture resistance of modular prefabricated half-timbered house
Building a prefab house in a damp climate is, in most cases, a waste of money. The amount of precipitation that falls per year in Belarus is enough to call the country not the best place for frame-panel technology. Of course, woody materials will not rot in a couple of years, but they will deteriorate faster than in dry climates. The walls can become moldy, and slowly begin to collapse from dampness, the insulation can be damaged by insects and rodents. In a word, there is no reason to expect that a prefabricated house in Belarus will serve for 100 years.
Soundproofing modular prefabricated half-timbered house
People living in houses built using modular technology often complain about noise from the street. You can also clearly hear what is happening on the second floor: the noise of the TV, footsteps or music - are carried throughout the house. Such disadvantages are typical for basic complete sets of houses, but in them the level of sound insulation may indeed be low. And high-quality sound insulation is again high-quality materials and work, which means additional costs that affect the final cost of the house.