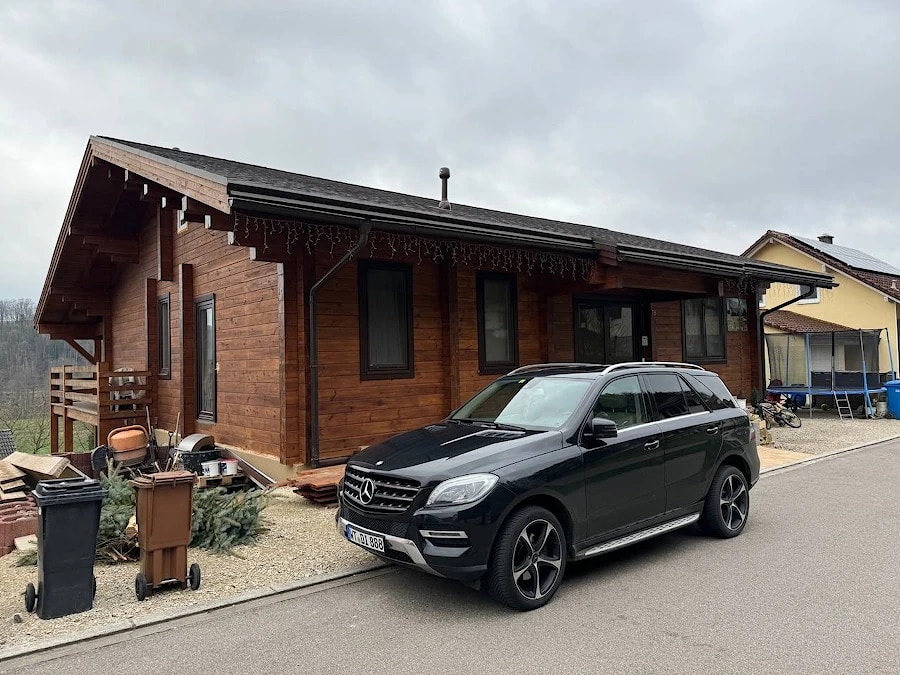 The wooden house "Baden-Württemberg" was built by our company in Germany in 2019.
The main task of the architect about the design of this house is to fit a wooden house on the owners 'existing land, on the mountainside, which abounds in the land of Baden-Württemberg in southwestern Germany, 15 km from the Swiss border.
The project of a wooden house "Baden-Württemberg" is an excellent indicator of the coordinated interaction of German architects and Belarusian designers.
The first floor of the house is made in monolithic reinforced concrete, the second floor in glued profiled timber with a section of 200 * 185mm.
The area of ​​the second, wooden floor is 147 m2.
The main question that we are asked when seeing this house:
- How much does it cost?
Let's see how the price is formed. The cost of a house is formed from many factors: beam cross-section (wall thickness), window material, roofing material, type of foundation (depends on the geology of the site and the presence of a slope), home decoration and its materials, utilities.
1. The cost of the wooden structural part of the house with fasteners was 84.000 €.
2. The set of windows of the wooden part of the house with platbands and slopes amounted to 14.000 €.
3. Flexible tile IKO with all the necessary films of steam and waterproofing Delta cost 7.580 €.
4. Depending on the type of soil and the presence of a slope on your site, we will calculate the cost of the foundation.
5. The wiring of communications is made according to the wishes of the customer, taking into account the selected type of heating (gas boiler, electric boiler, heat pump).
6. The number of lighting points in the house, the number of plumbing fixtures are taken into account.
7. The house can have various types of floor coverings (ceramic tiles, parquet, wooden floor).
Due to the fact that everyone has completely different requirements and wishes, it is not necessary to talk about any strictly specific figure.
Having built more than one hundred wooden houses, we can say that the average cost of 1 square meter. for a one-story house in which you can call in and live, will be approximately 1.000 €
per square meter.
Therefore, the question of how much this house costs, an area of ​​147 sq.m. can be answered: 148.000 €