House with a terrace «IT House
» is comprised of: 3 bedrooms with separate WC facilities, commodious sun-lounge and kitchen-living room. Such house is good for those who likes to receive guests and to business appointment at home.
...............................................................................................................................................................................................................
Main information:
Quantity of floors
2
Quantity of bedrooms
3
Living area
61,52 m2
All premises areas on each floor:
134,99 m2
Terrace and balconies areas:
70,12 m2
Roofing area :
m2
Build-up area:
182 m2
Price:
on request
Wall material:
Profiled glued laminated timber 200x185*
Roofing material:
Ceramic roofing tile*
Foundation:
Piled raft slab with monolithic slabs*
Windows:
Wooden*
*Materials can be changed according to customer's expectations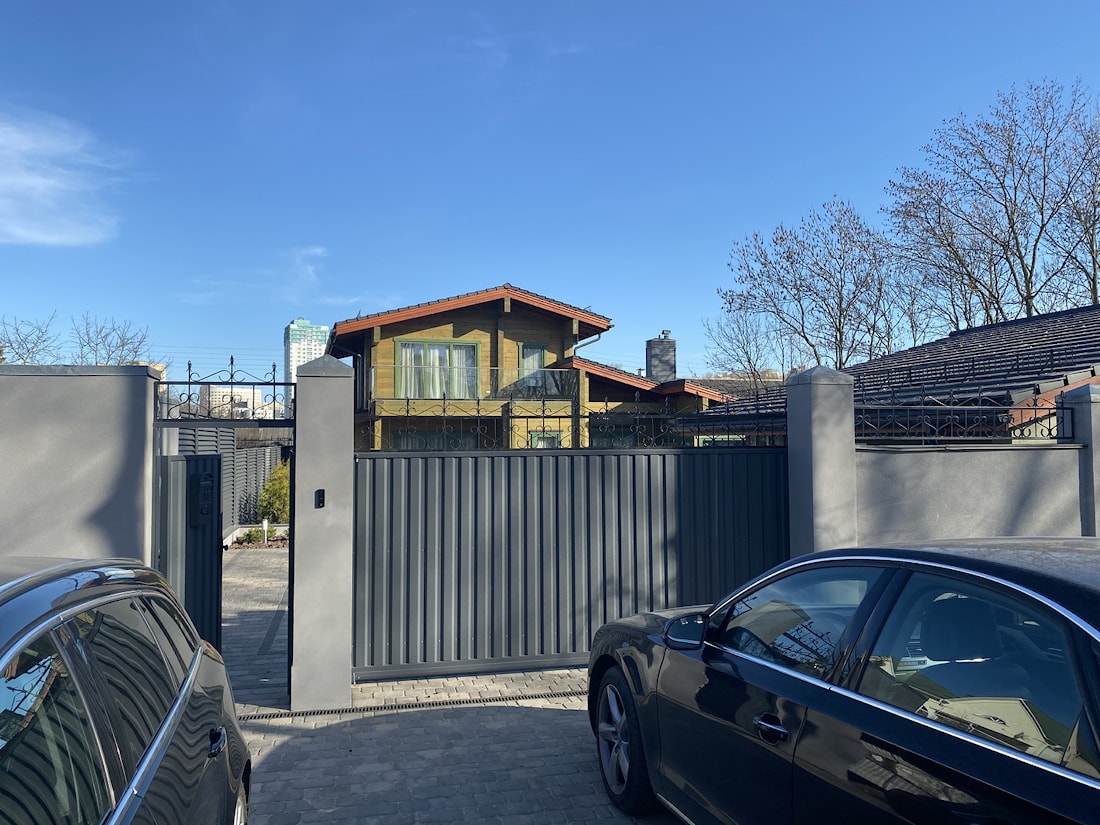 Wooden house of glued laminated timber «IT House» was built according to the order of successful specialist in IT sphere - Michael.
What tasks did the customer gave to the architects and builders?
The first task that Michael gave – the house has to be beautiful, and that is that. It has to be a tricky part, the house should be different from the others, has to be better then the others, and it has to be like this: you want to live in it, "all wealth should want to come to this house" – all that is fully aligned with the client's principles to live.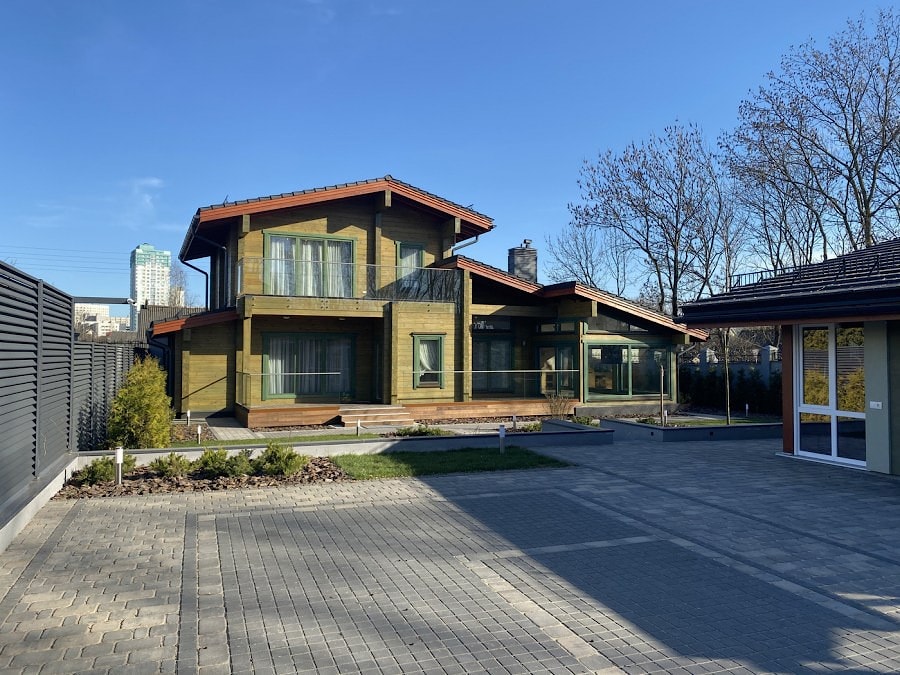 On the second place was – health, that is why the client decided that the project of the house has to be for wood. And the house and ecological finishing works was done under the slogan «Live, sleep, become more healthy».
This wish was on the third place: "The house should be in two steps near the office". Оne of the main wishes of our IT specialists - closeness from the office to the home, not so many specialists want to spend 1-2 hours every day for the road to their working place. This question was resolved by buying the land with an old house, demolition of a building and installing of a new house on this construction footprint.
And finally we have a beautiful green house. There are coziness and convenience in the house: starting from the project conception and ending with each detale. The project was realized by the company as a turn-key ready house. The house has an interesting asymmetrical art of building with details of decor of contemporary architecture: big windows, which visually ease down the front of the building and a hard scale of colours.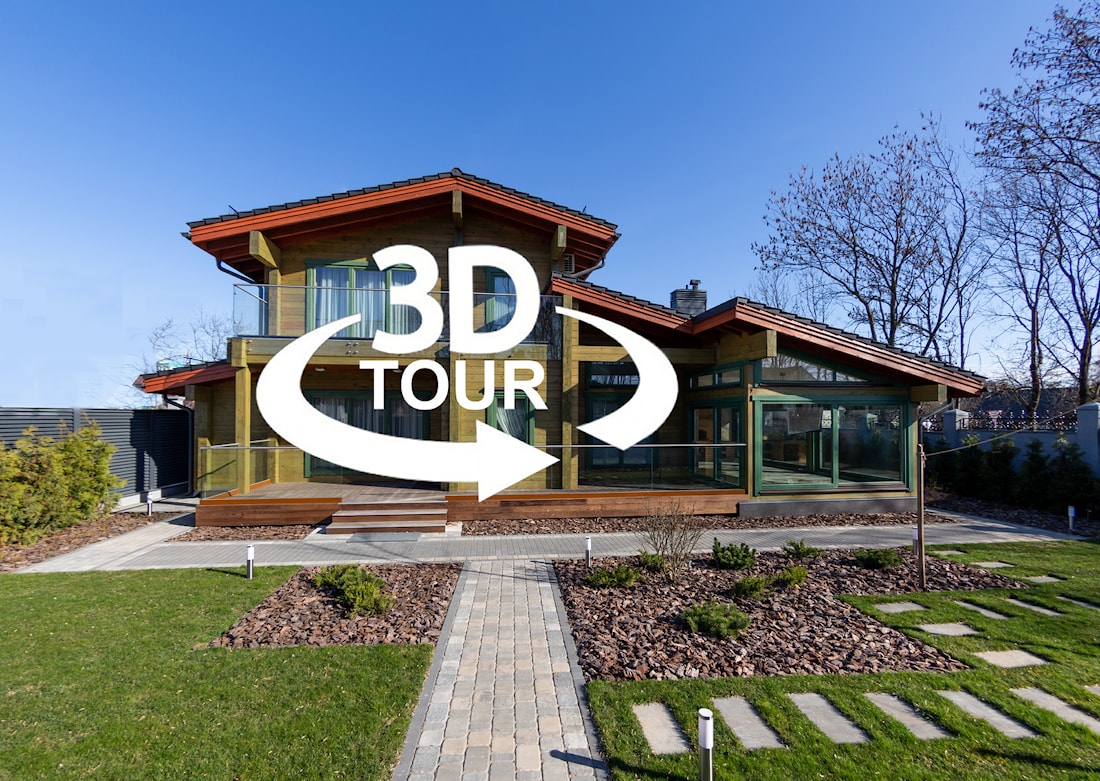 Outside walls are covered with green paint of German factory. Wooden windows are painted with bright hard paint of more bright green tone, which makes the colorful colour-grade of the front more noble and interesting. Pale gray tone of roofing tiles perfectly matches well with it .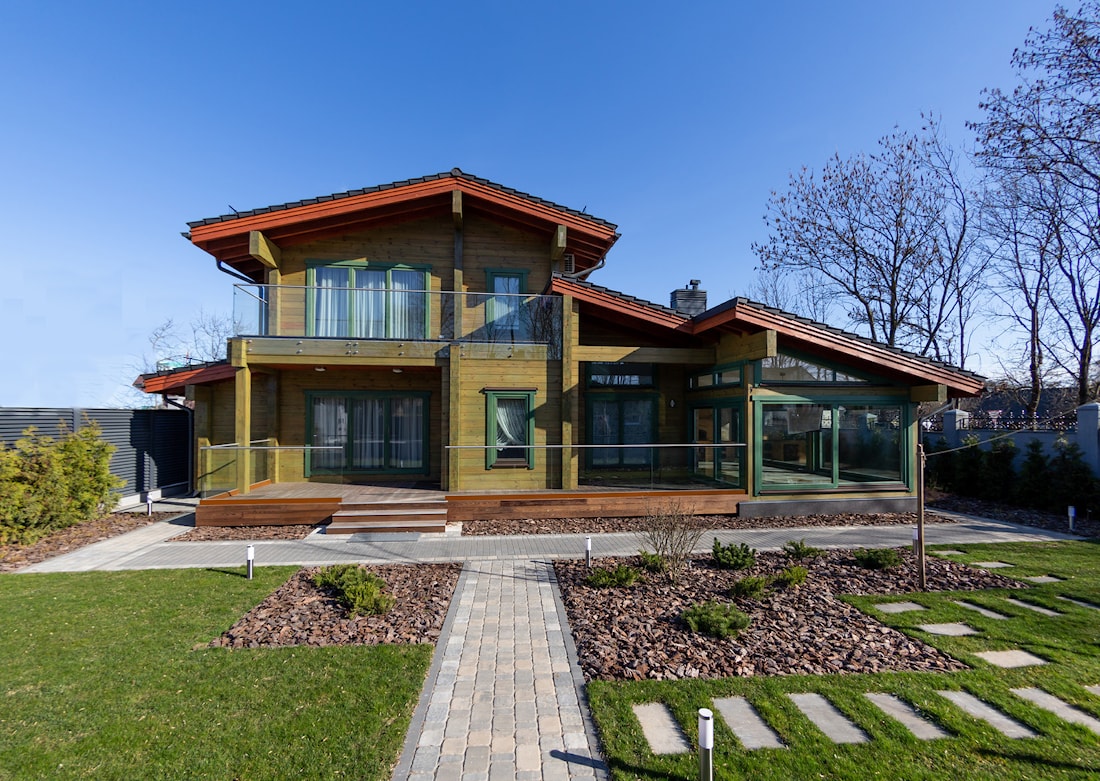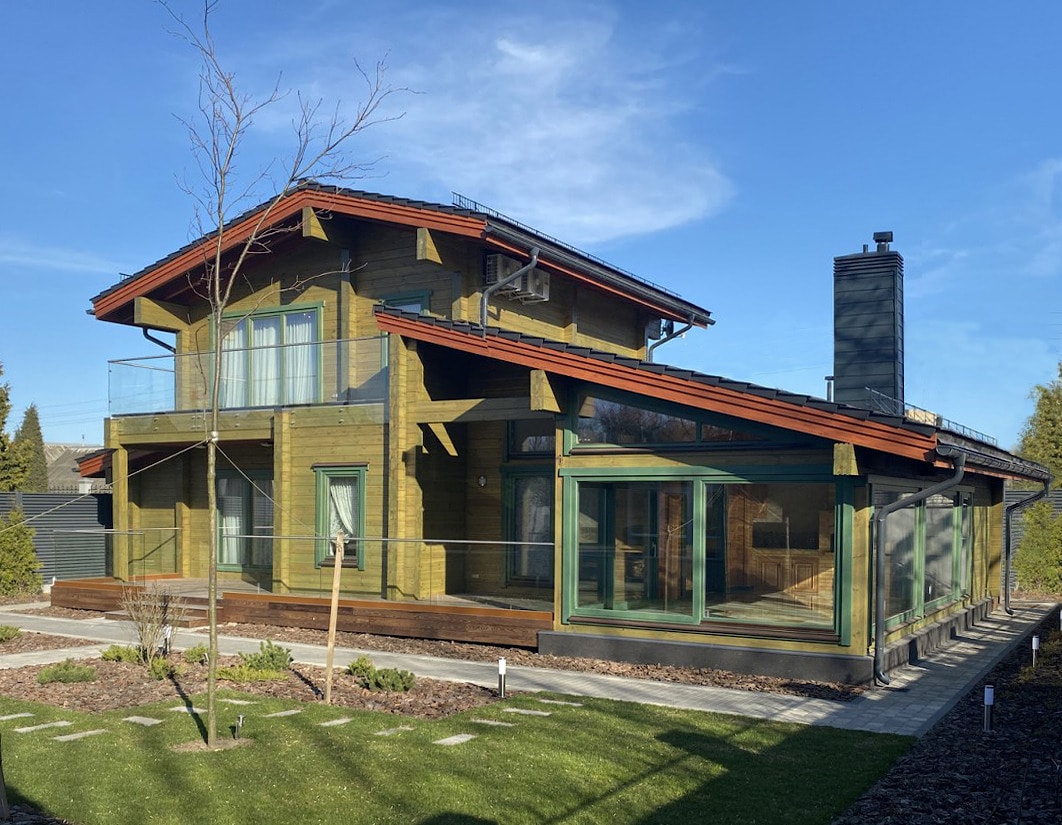 Big outside decks and a balcony give a special coziness to the house. There is a covering of decking, treated with special oil: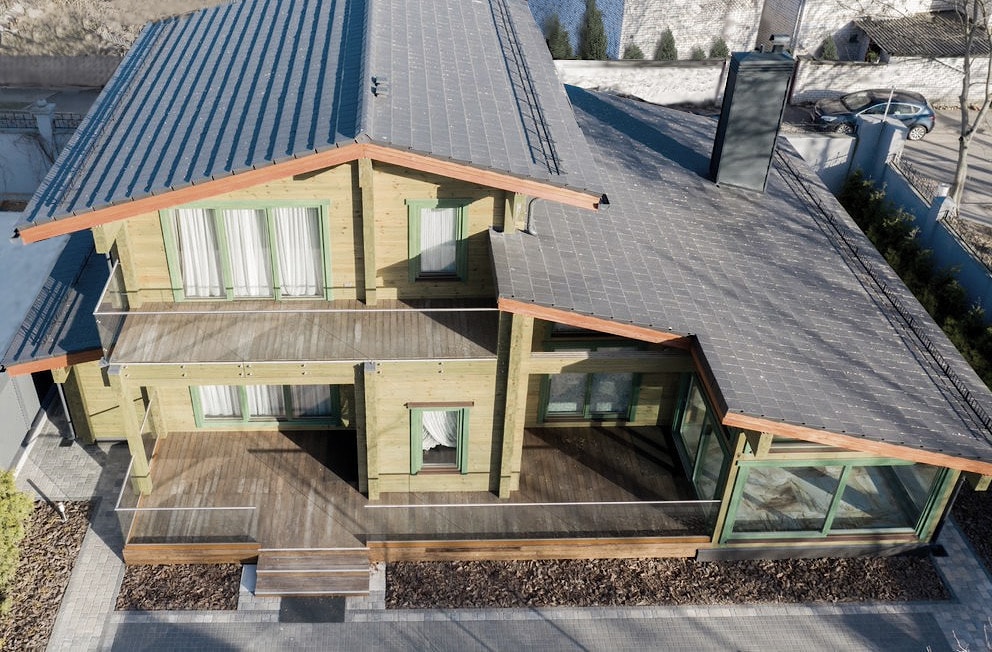 Ground and first floor plans: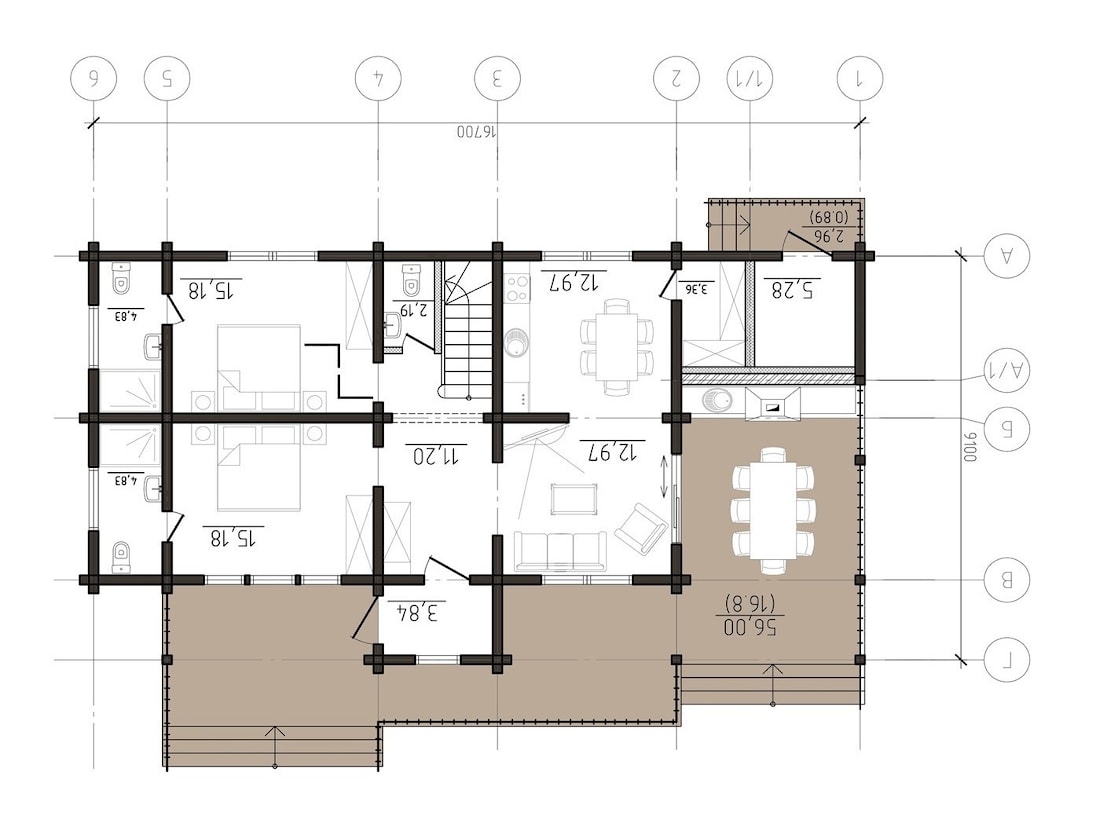 Beautiful view out of the window - this is what was also important for Michael. He was ready to decrease the number of lodgments, so the windows would give a perfect view on the park near the house.
It is considered that interior design - this is what you can easily change, but take out the view out of the window - it is hardly within architect's and customer's power.
We don't know, do IT specialists have such temptation, or it is common to humanity passion for the beautiful, but successful IT specialists in USA prefer to built their houses looking out over nature.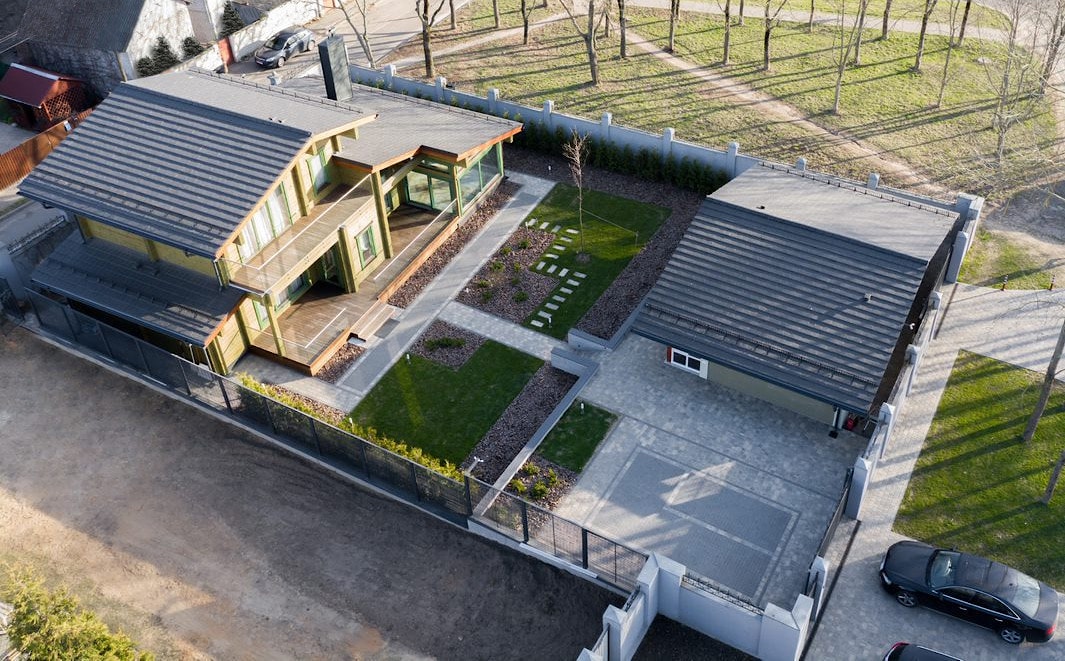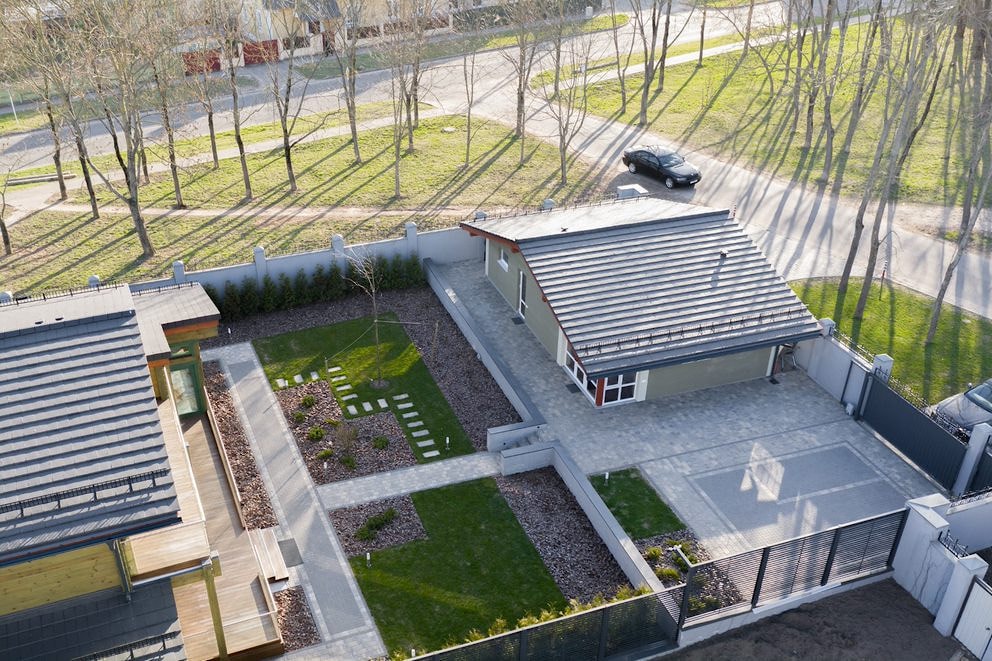 Interior designs - contemporary, luxurious, and in the same time easy, filled out of air and light. Timber walls are covered by protective treatment, which shows beautiful natural wood texture: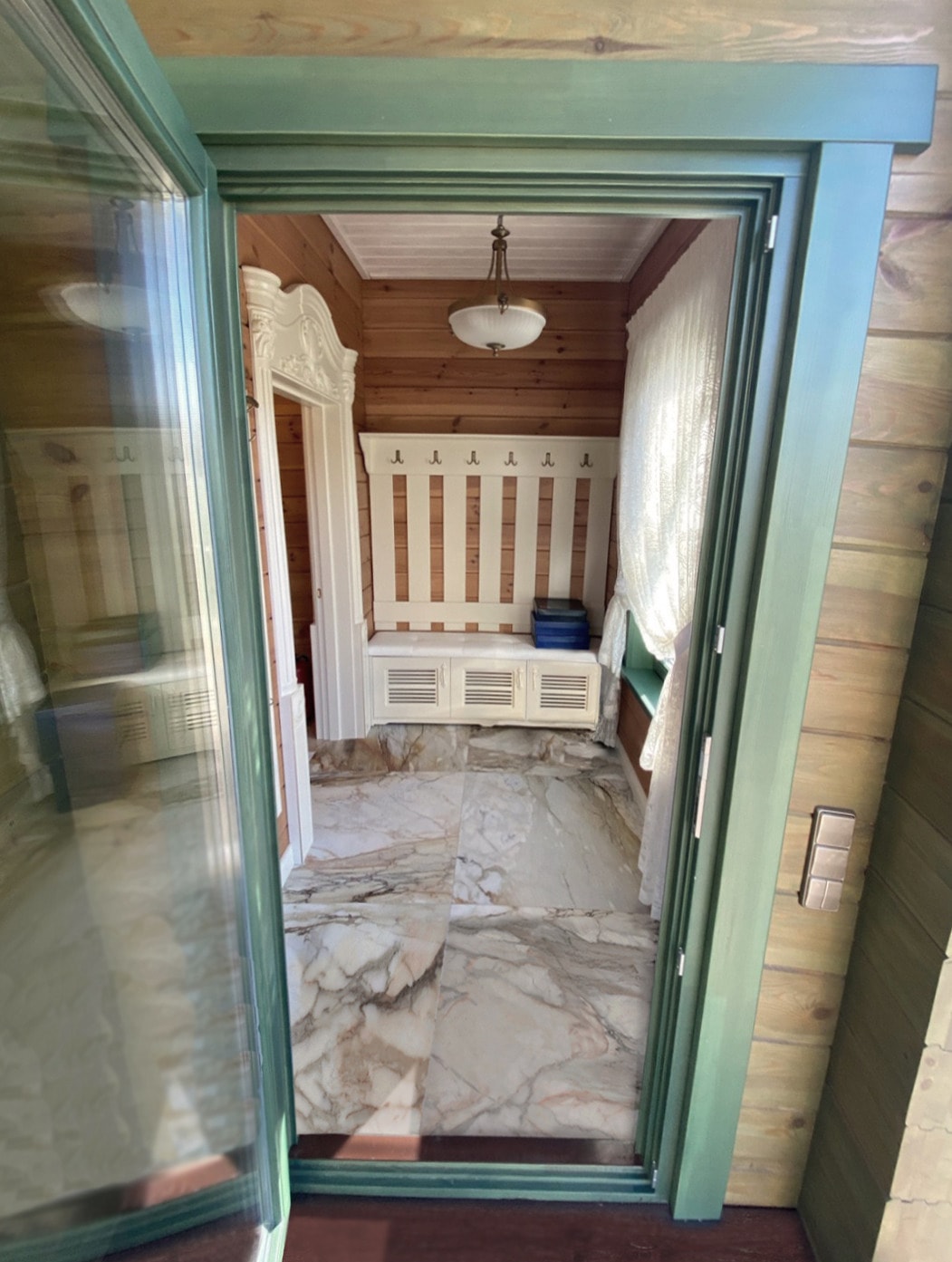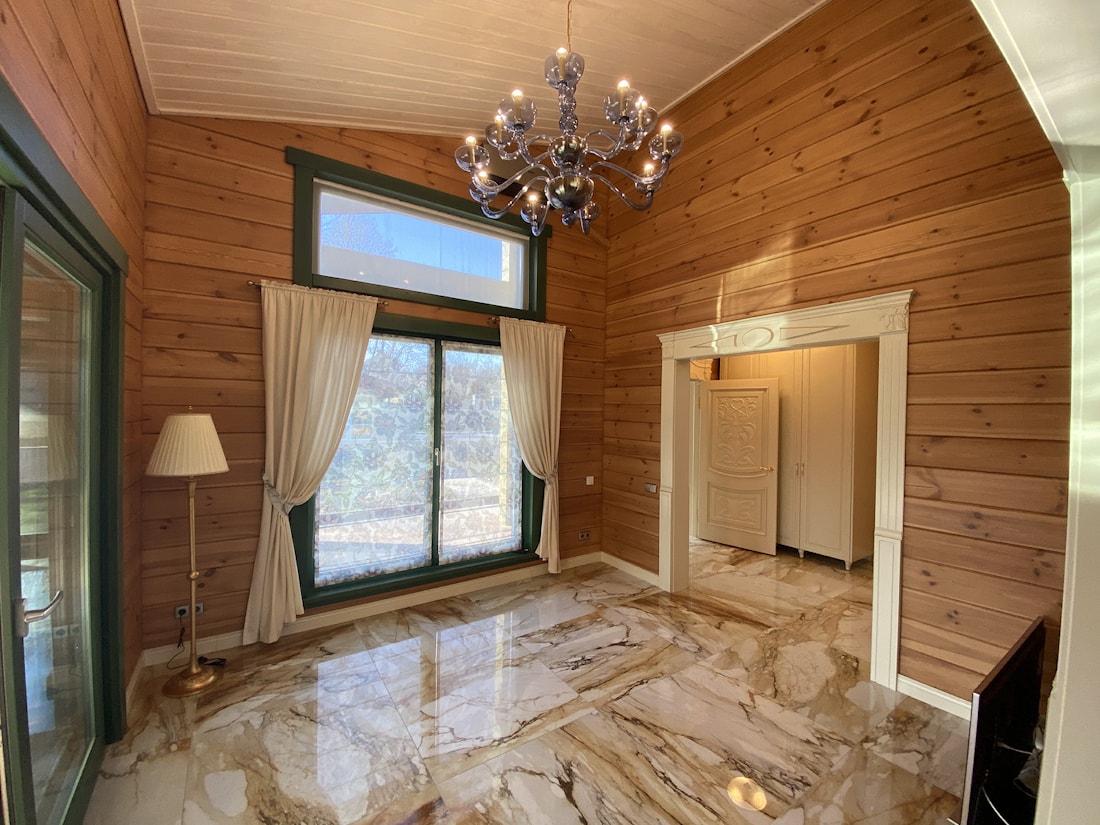 Ceilings are boarded with deal and covered with light ivory paint. False portals give accent to interior architecture: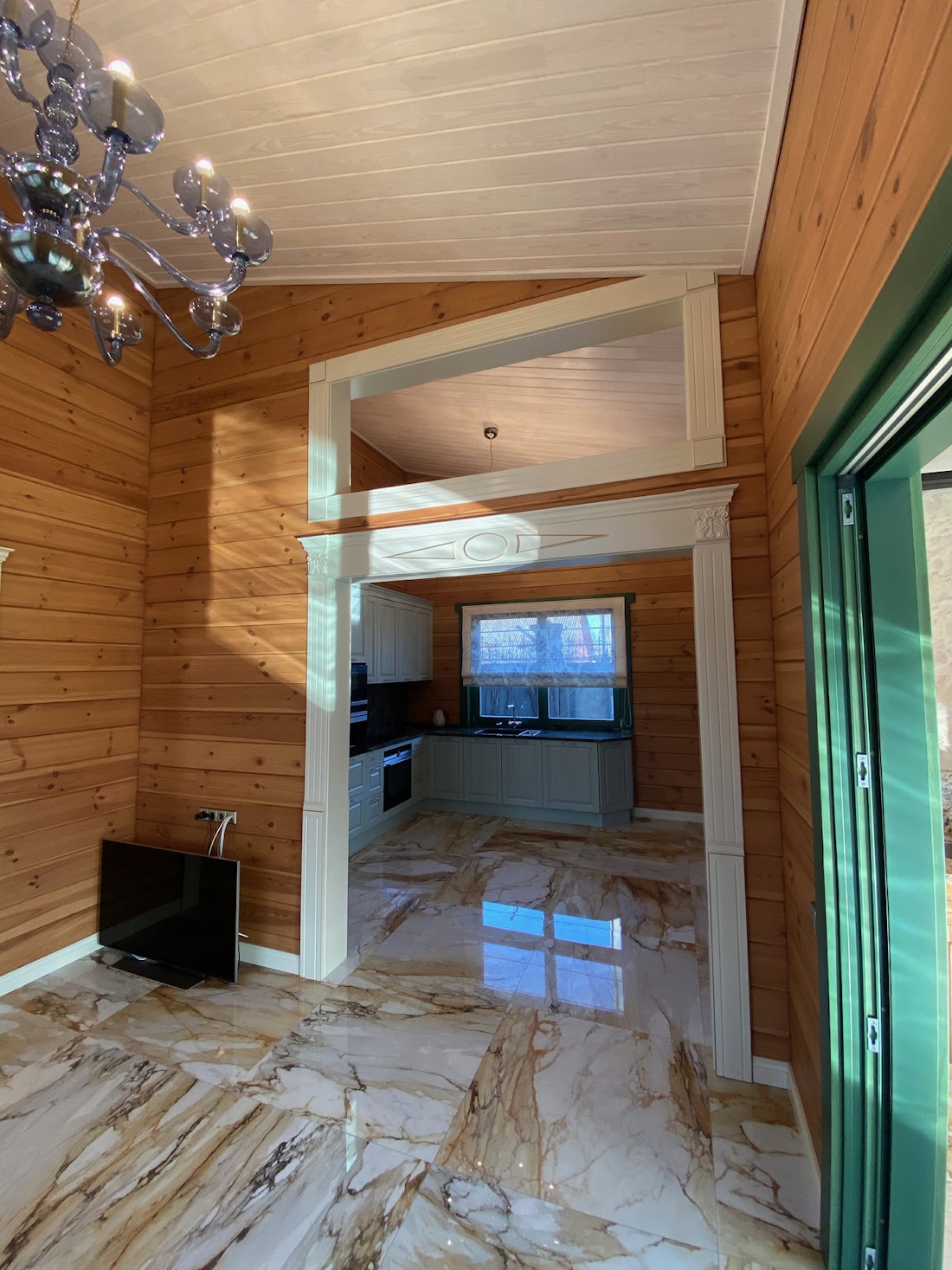 Spacious kitchen – the place where you can organize healthy eating. IT specialists - very passionate people, and they don't like to waist their precious time on outing to the town "to have a snack".
Most of them prefer to think as less as they can about food, during the time when they are "absent in physical reality". From the other side, as less time you spend on food searching - as faster goes the project.
There are all conditions for such pastime in our contemporary "IT House". It has a kitchen with conventional oven, a microwave, a cooker, a freezer and a dish washer, where you can cook something with your own hands - an ideal option for an impassioned IT specialist, who doesn't have to go out now.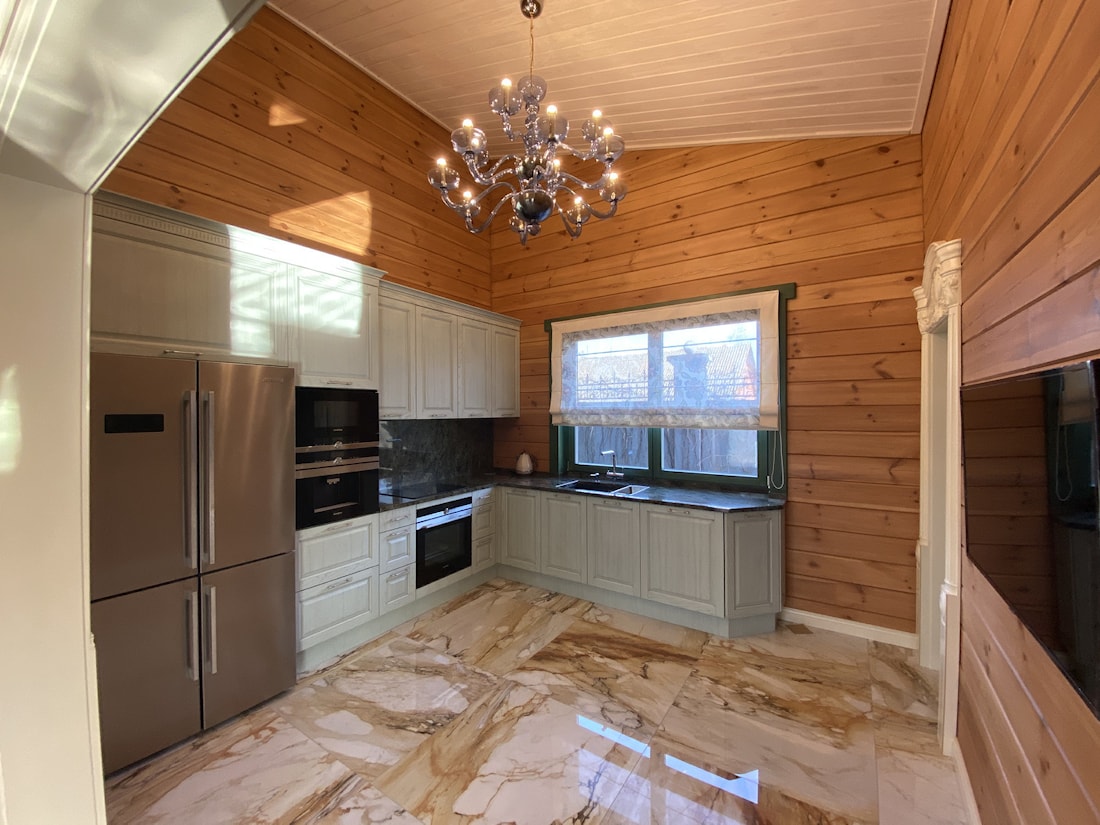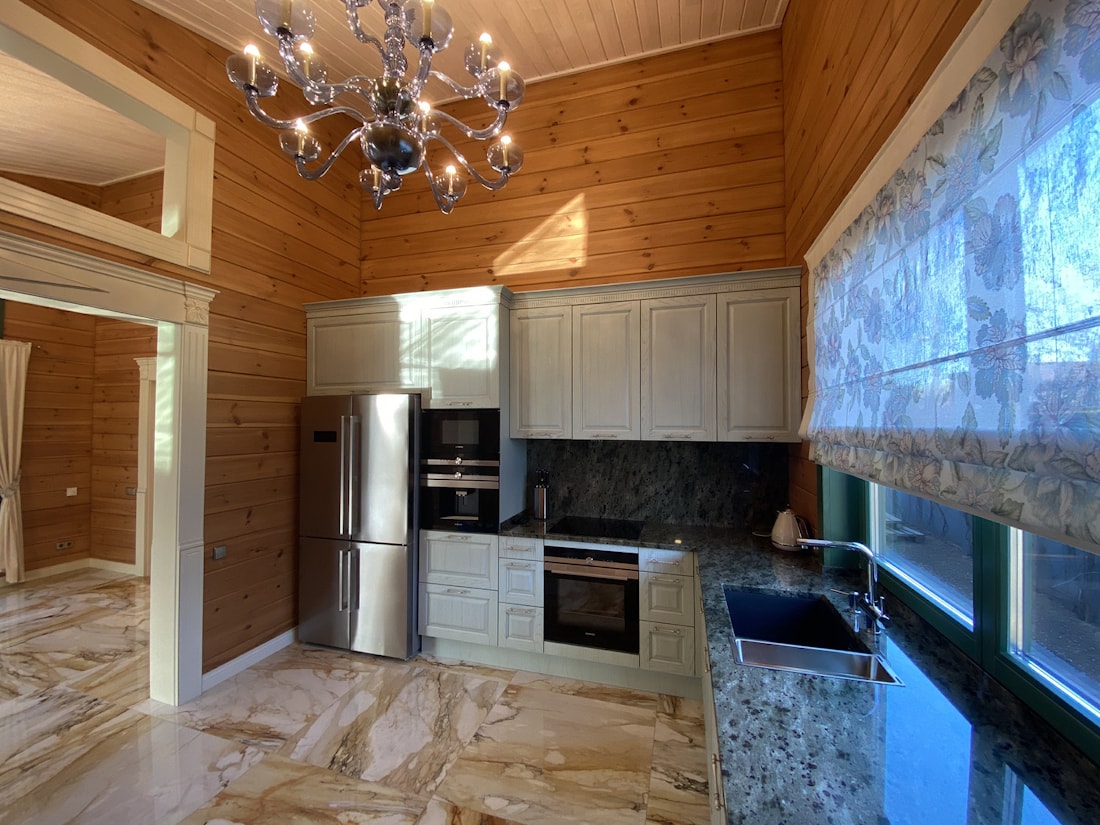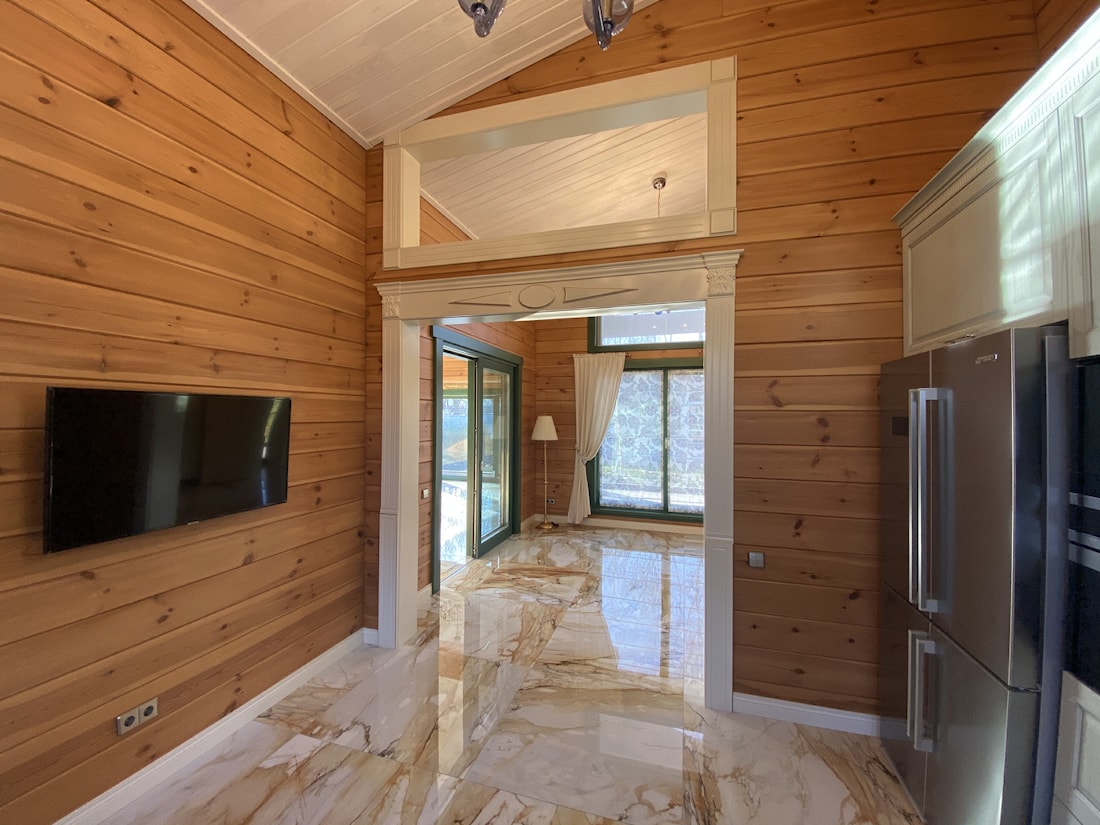 The next question was about possibility of formal discussion of work-related issues, with work from home – in this case it is important to have special lodgments and spaces. Spacious living room with a chimney, two kitchens, verandas and outdoor performance stages in front of the house. All that helps with performance of rally online or offline, to discuss a project privately or in common and to do it not in a stuffy recital room but in а lovely wooden living room with a chimney.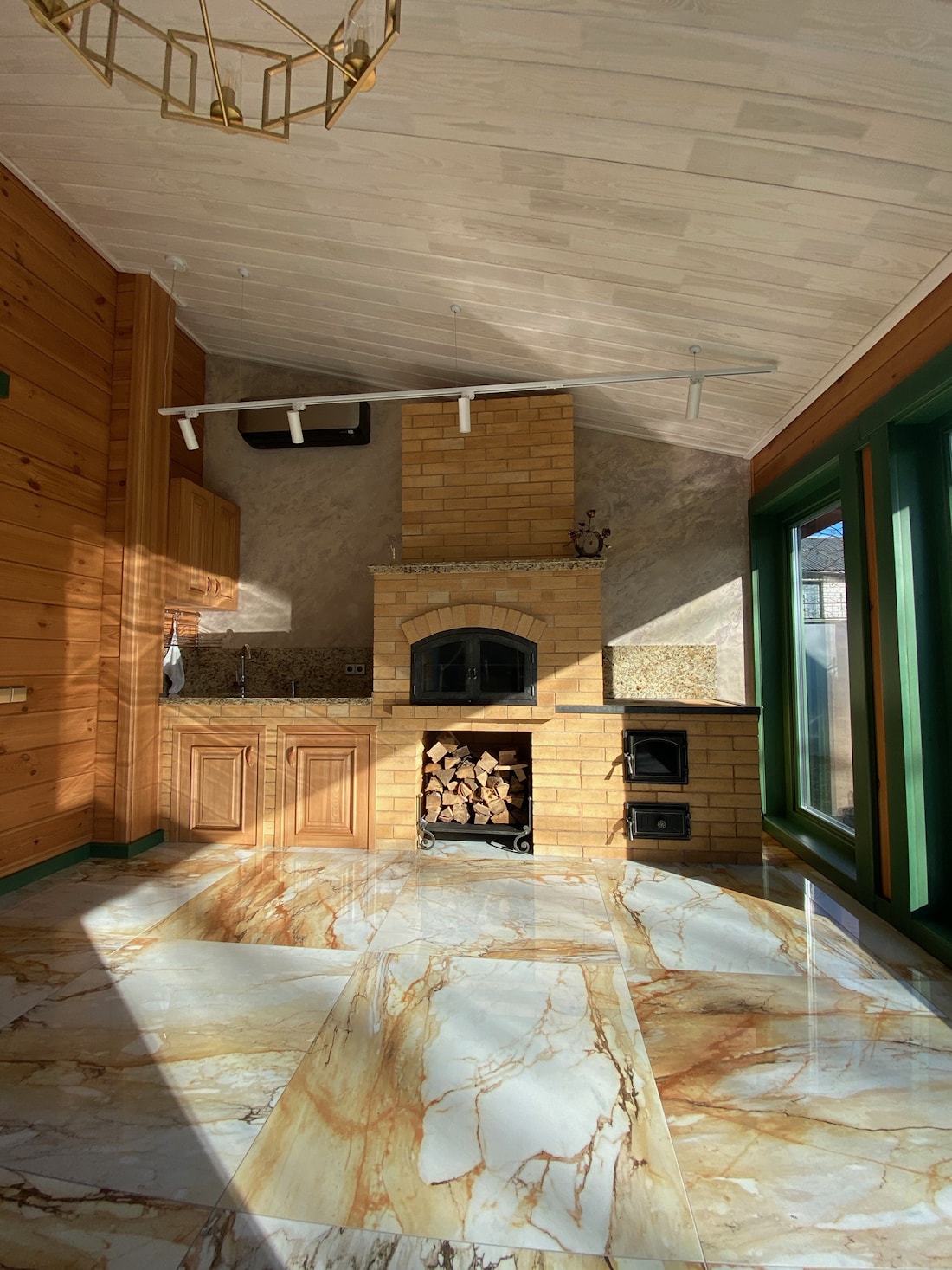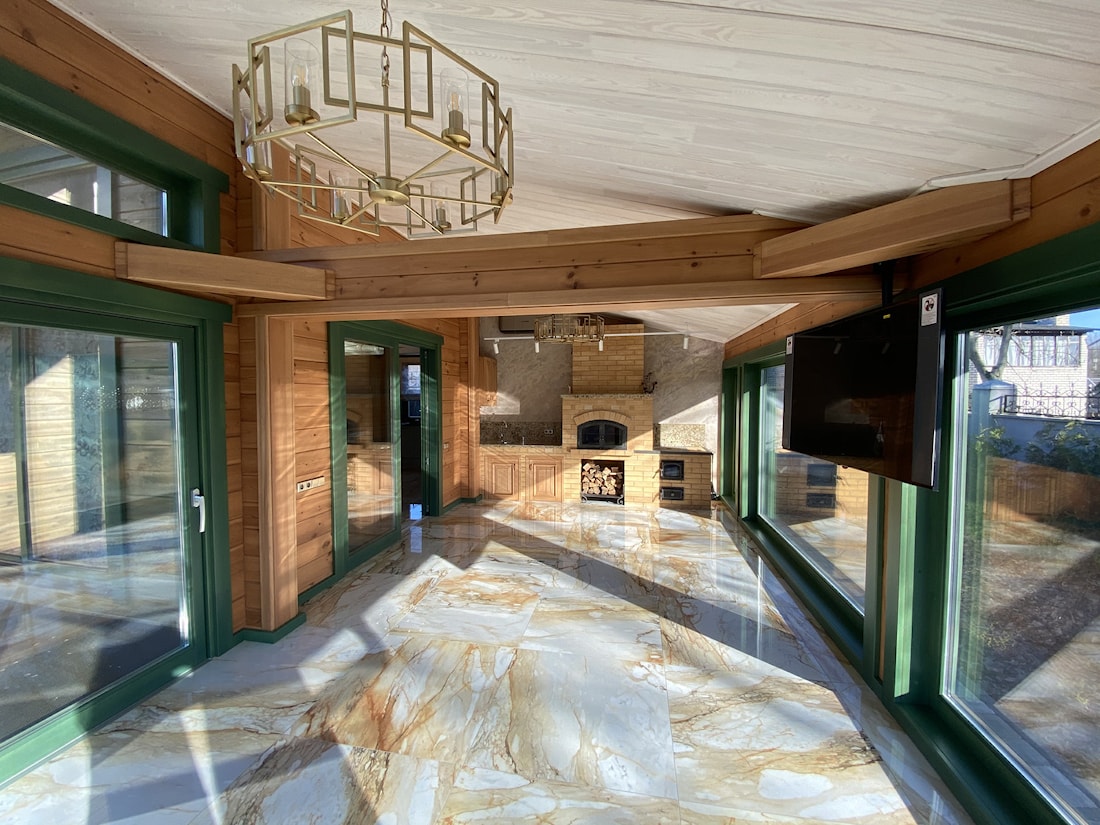 Very important question: games and home entertainments. Sometimes ou have to take your mind off work, who has an argument with that? Working in IT spere most significantly "load someone's head", that is why it is good to have a possibility of a little but involving rest. In such moments, you want to stand up, to get your get legs moving, and to take your eyes off the computer for a little while. What alternatives are there to smoke break, cofee break or looking on a view out of the window?
Simple games, like billiards, give not only to have a rest, while a project is being compiled, it helps to get out in a constructive way your competitiveness and cumulative negative stuf during the day , which we can have during a day close teamwork in a office.
We can specially focus on the moment, that Michael likes not a room for training, but exactly billiards in a fireplace lounge with a possibility to play in any time.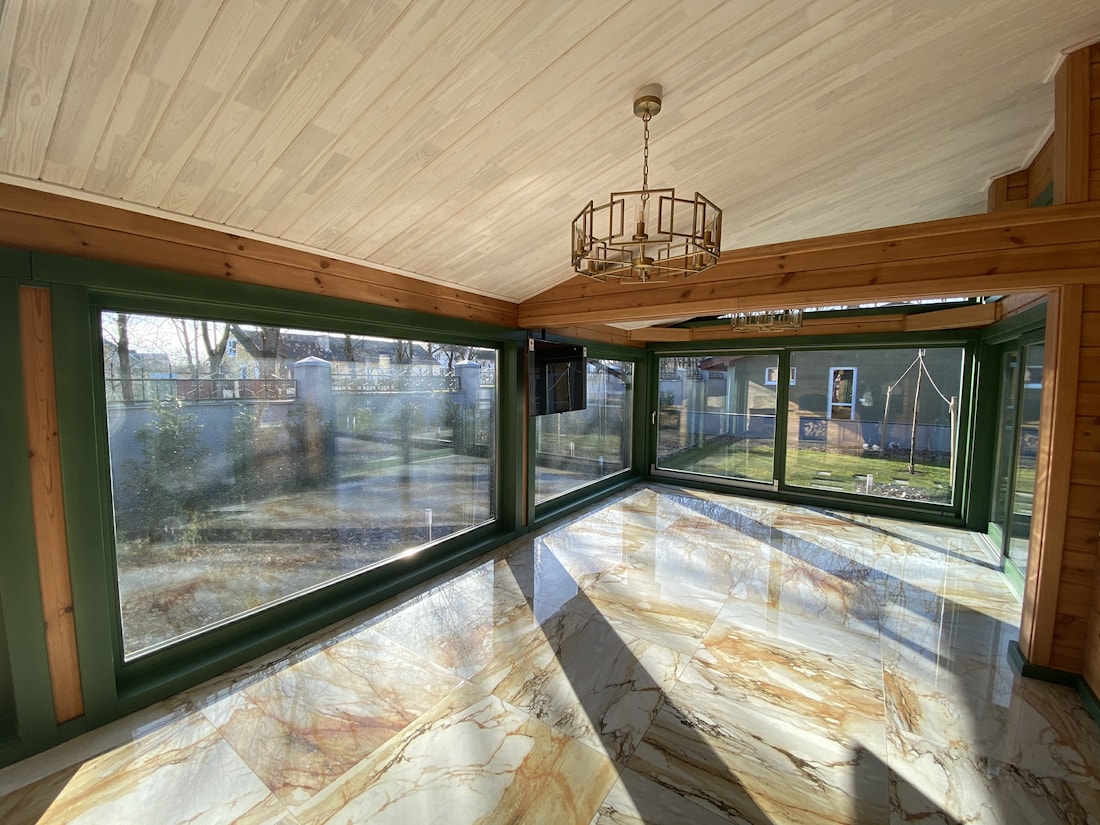 The customer wanted to have in his house spacious lodgments and private spaces – two sort of alternative wishes, but for modern architects nothing is impossible.
From one hand Michael wanted to have a possibility to go somewhere private and to think about a complex idea or to relax with a problem semirecumbent, and not to stay in a working place in front of something which is not so special (for now) monitor display.
From the other hand – he likes that he doesn't feel "that the ceiling impressure on a head ". And the last one – this is the problem of typical offices, especially in the centre of the towns. Michael wants to feel himself, he doesn't like the stack up in the interior, and especially, if someone abuses his privacy, breathing down his neck.
A spasious bedroom on the ground floor with an individual bathroom: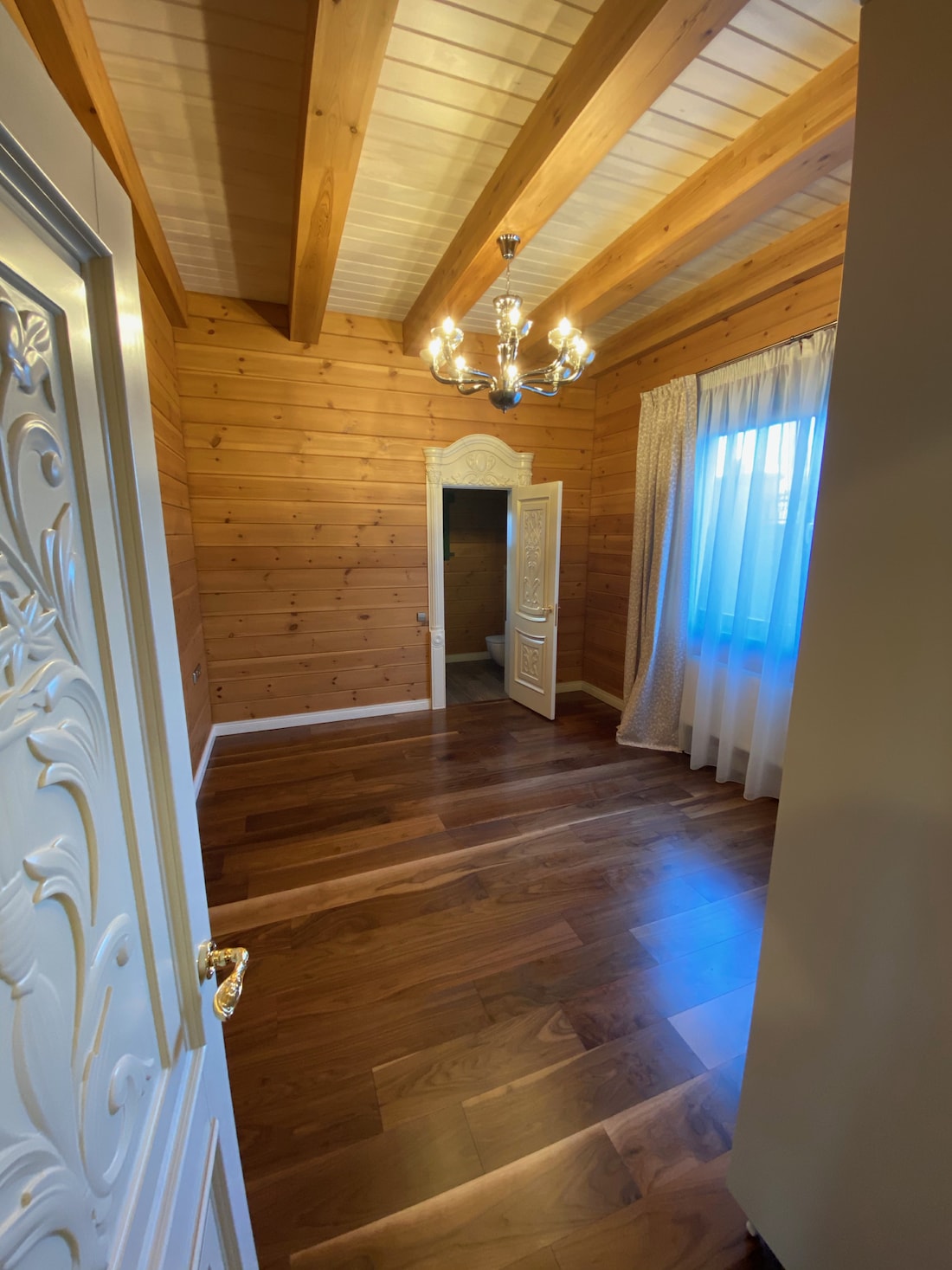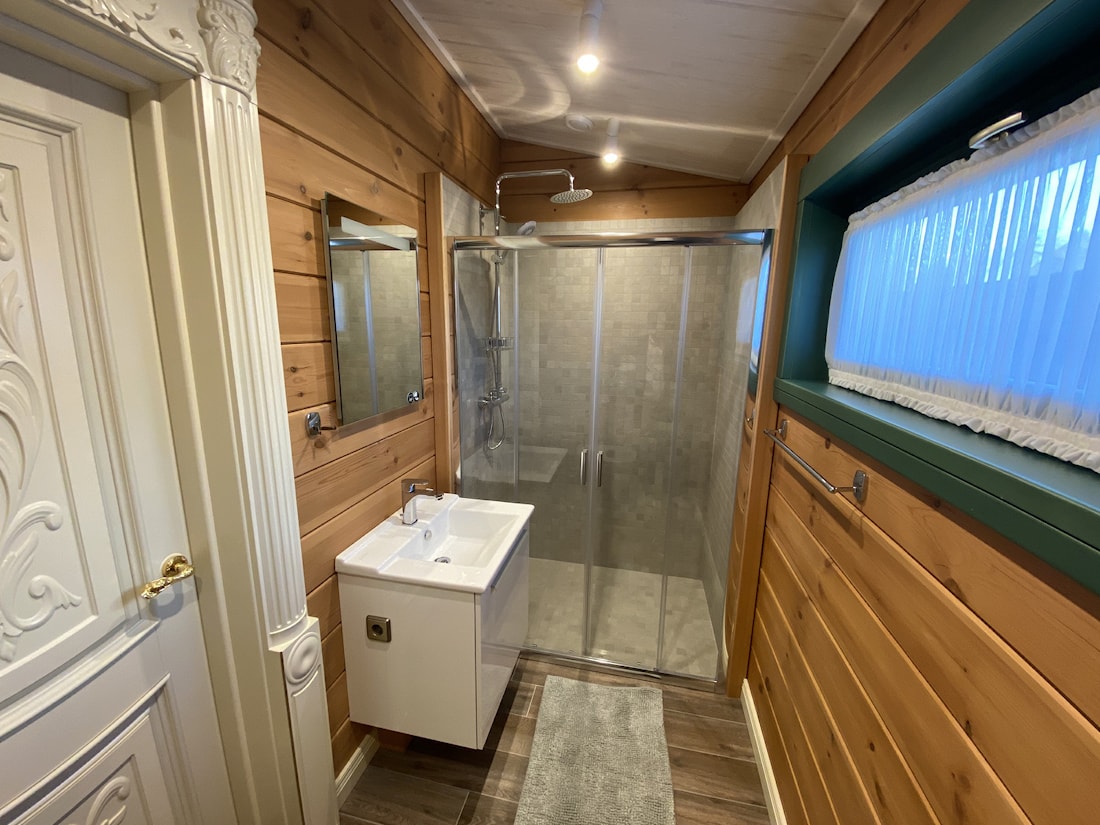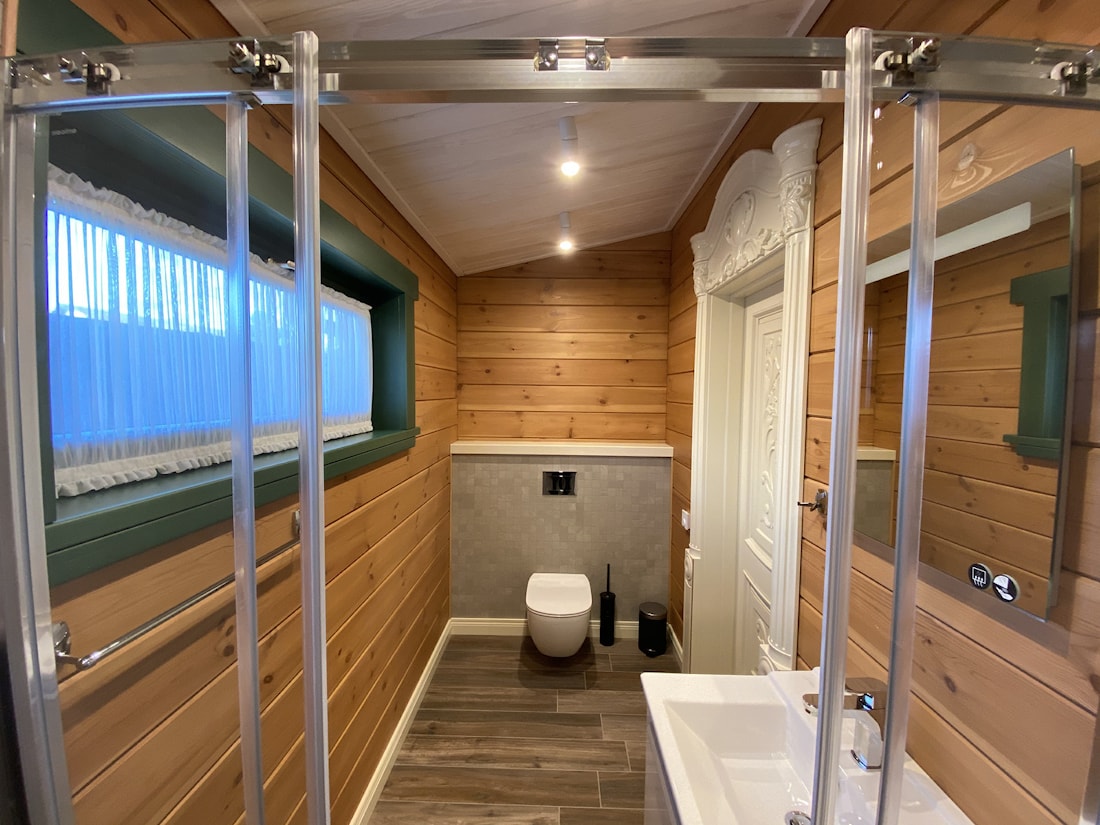 The second spacious bedroom on the ground floor has also an individual bathroom: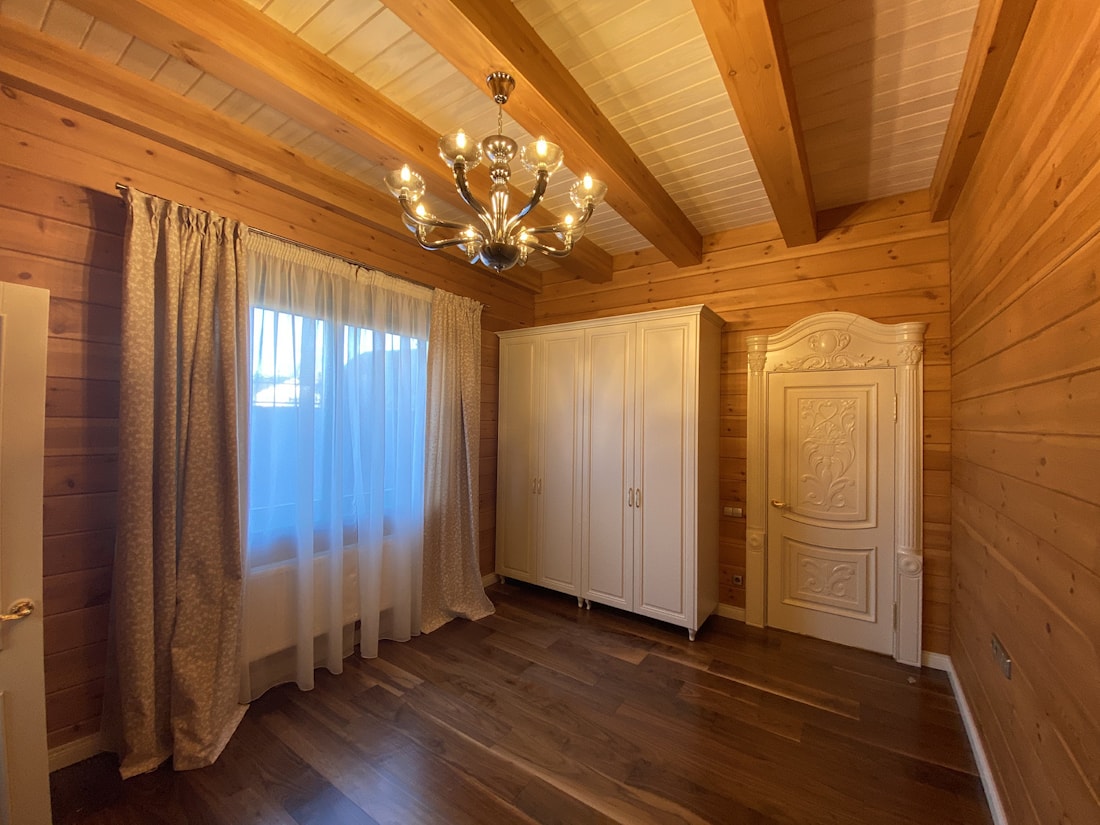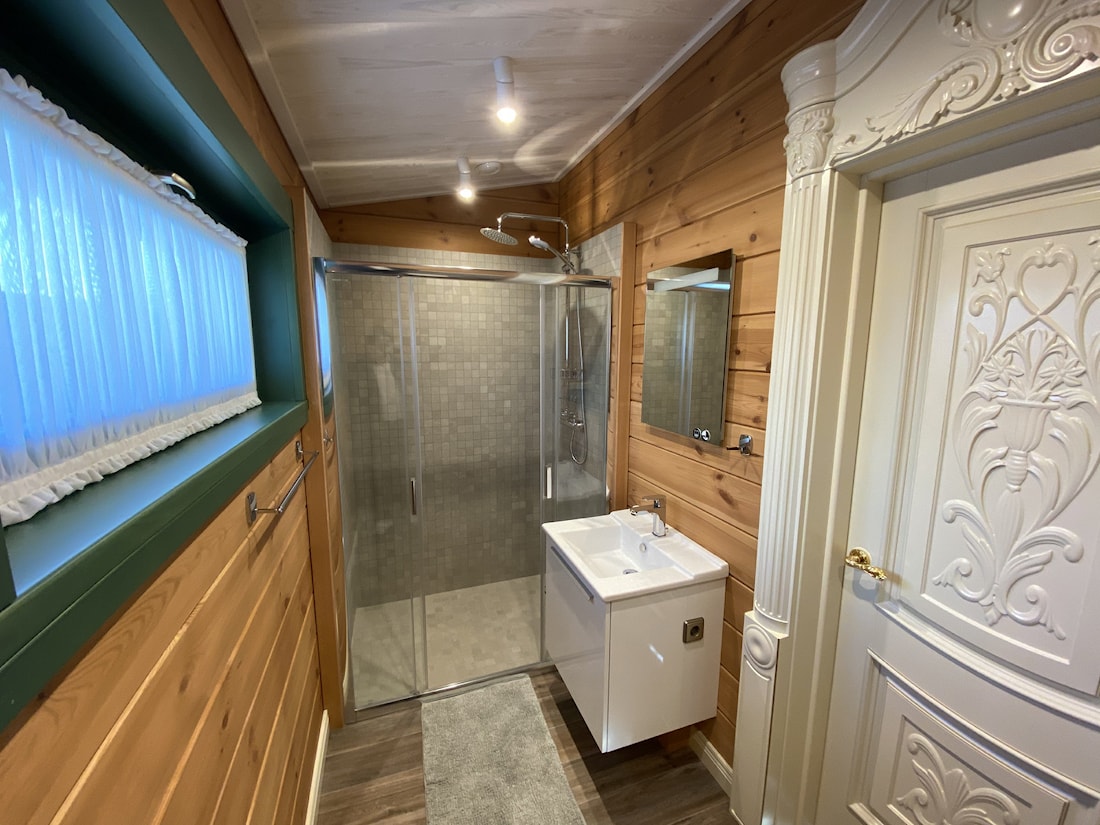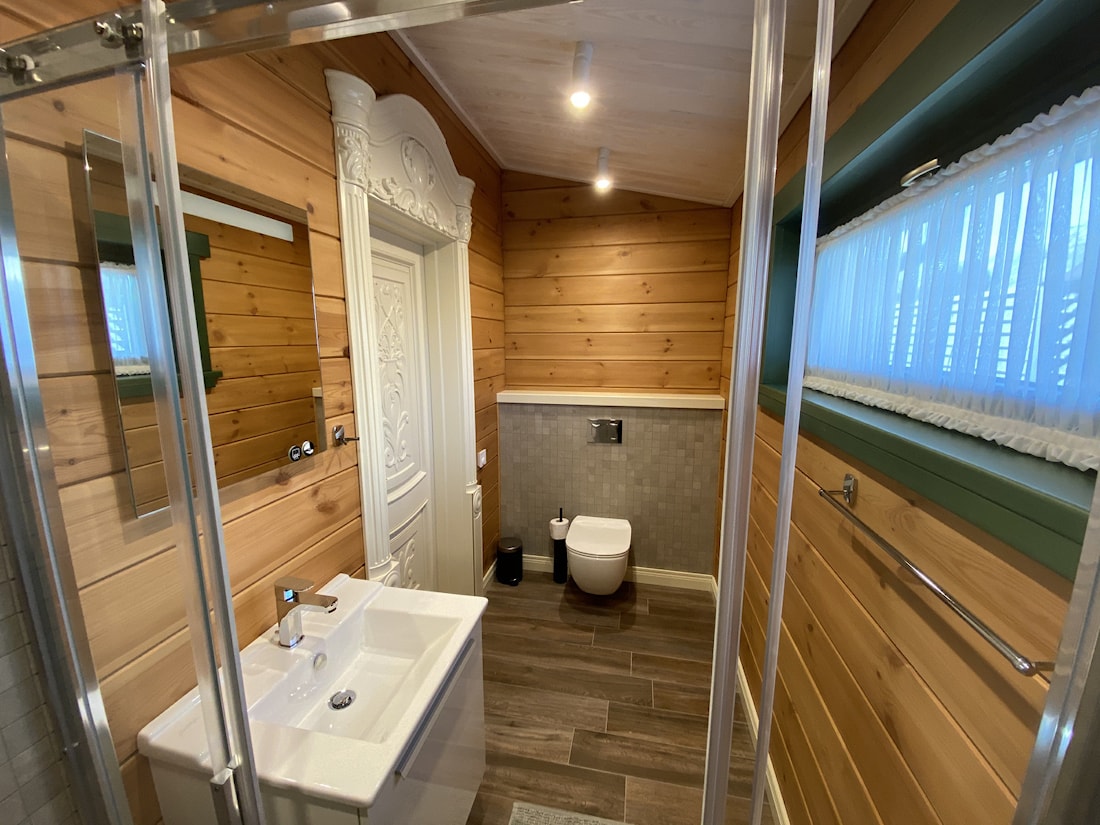 In the house there is a well-done system of heating and illumination. IT specialists like to make their houses in a "tiny flight control center". They adore to control everything in their lives, аnd the most of big and contemporary monitor display and nowadays guidance system all over the house, have to help with that. Summarizing this principle - an IT specialist always wants more, and more, no matter what is being discussed, the number of monitors, profit or how is he connected to the Network, but he certainly would like a little bit more...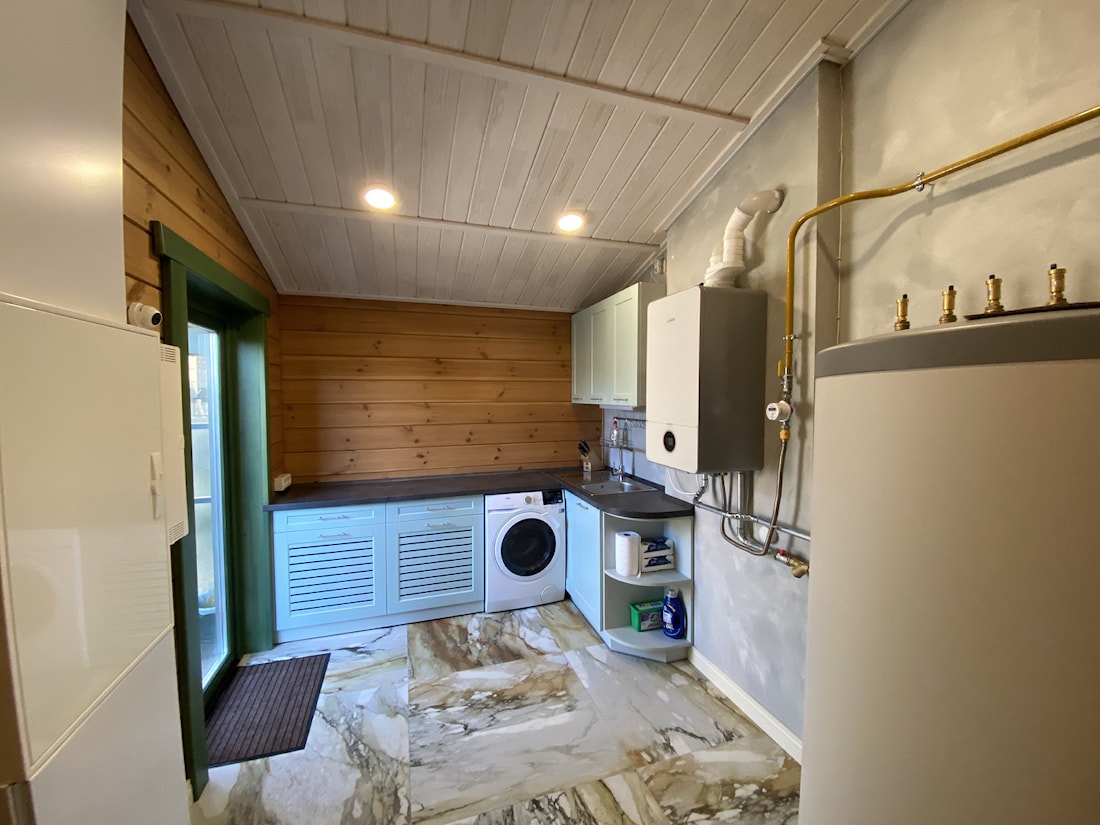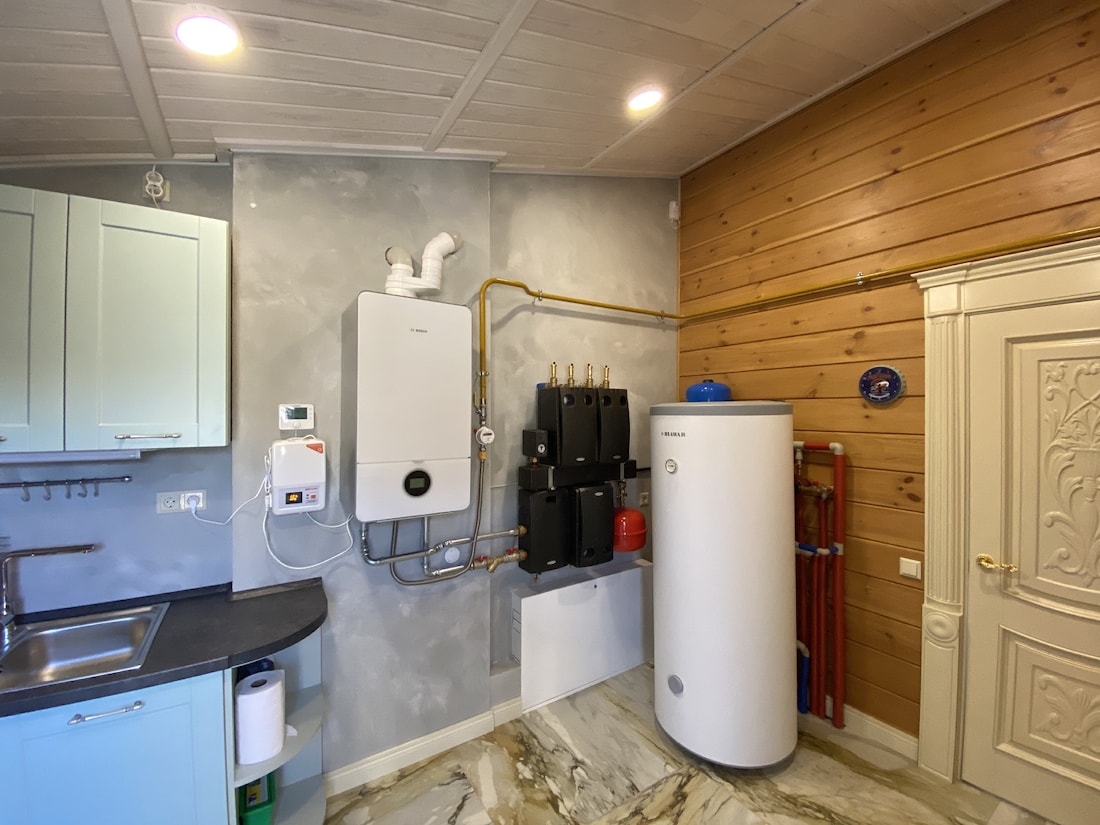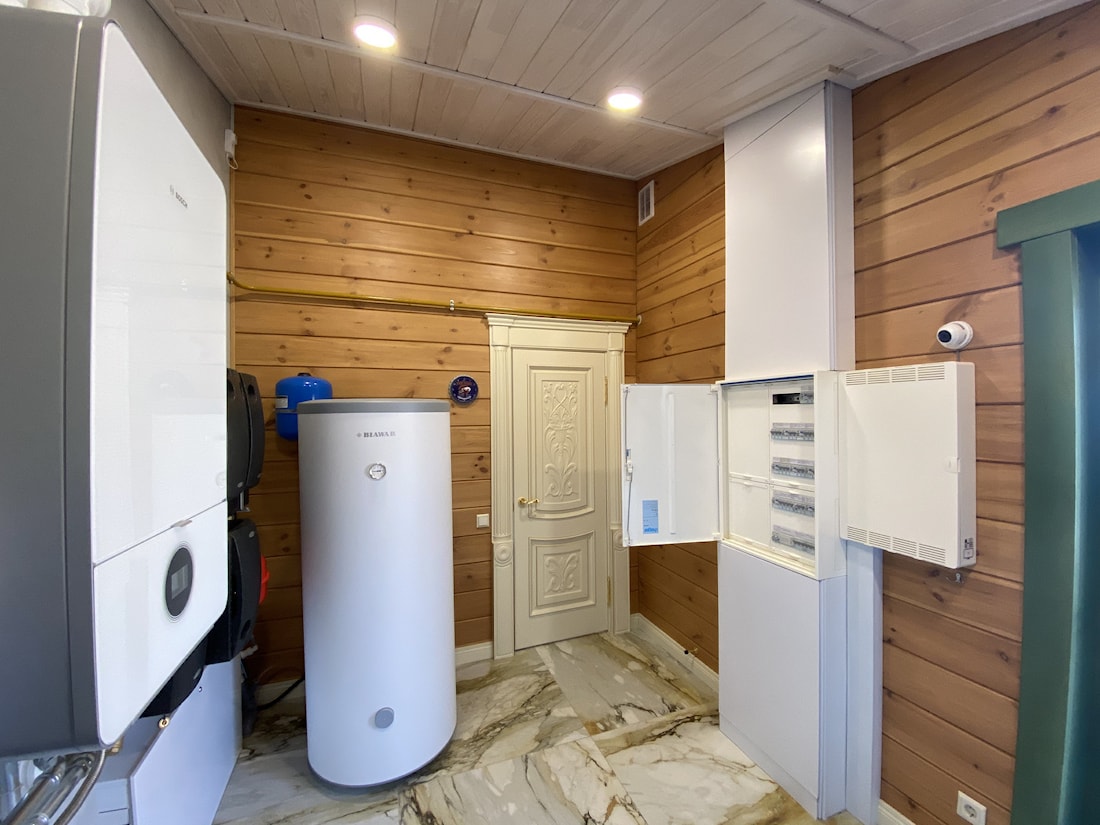 WC on the groung floor is awesome: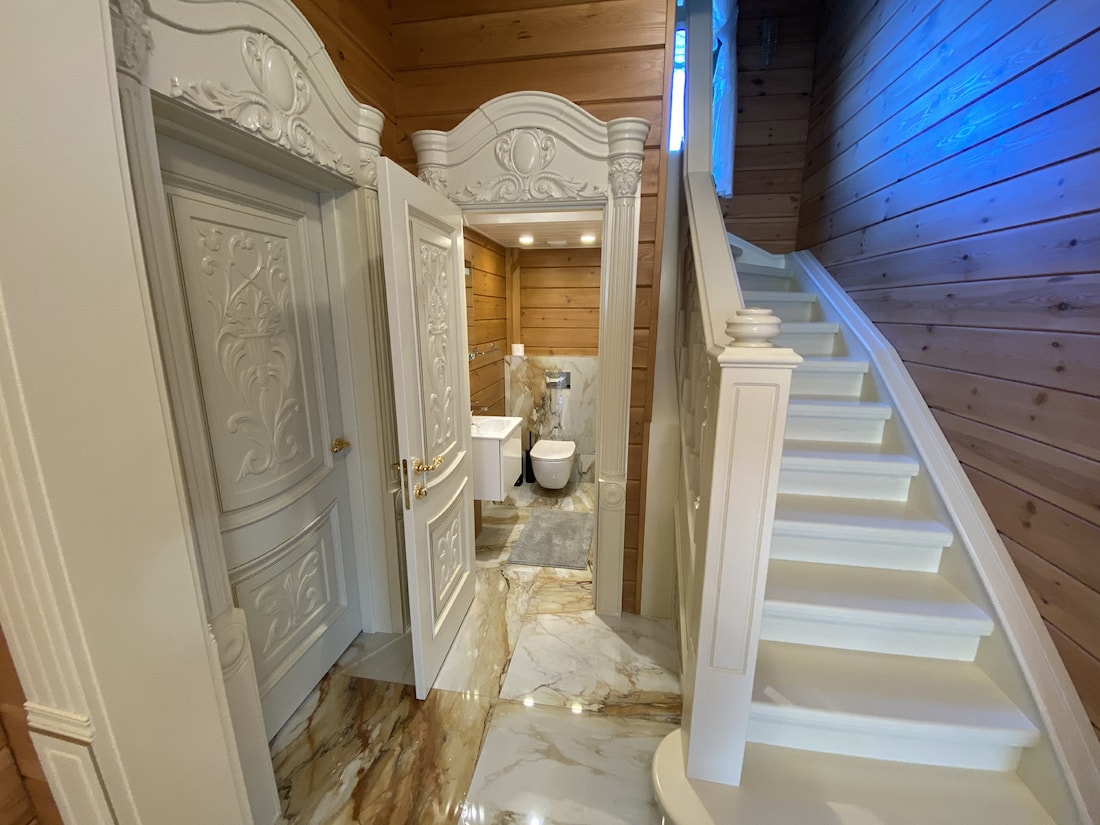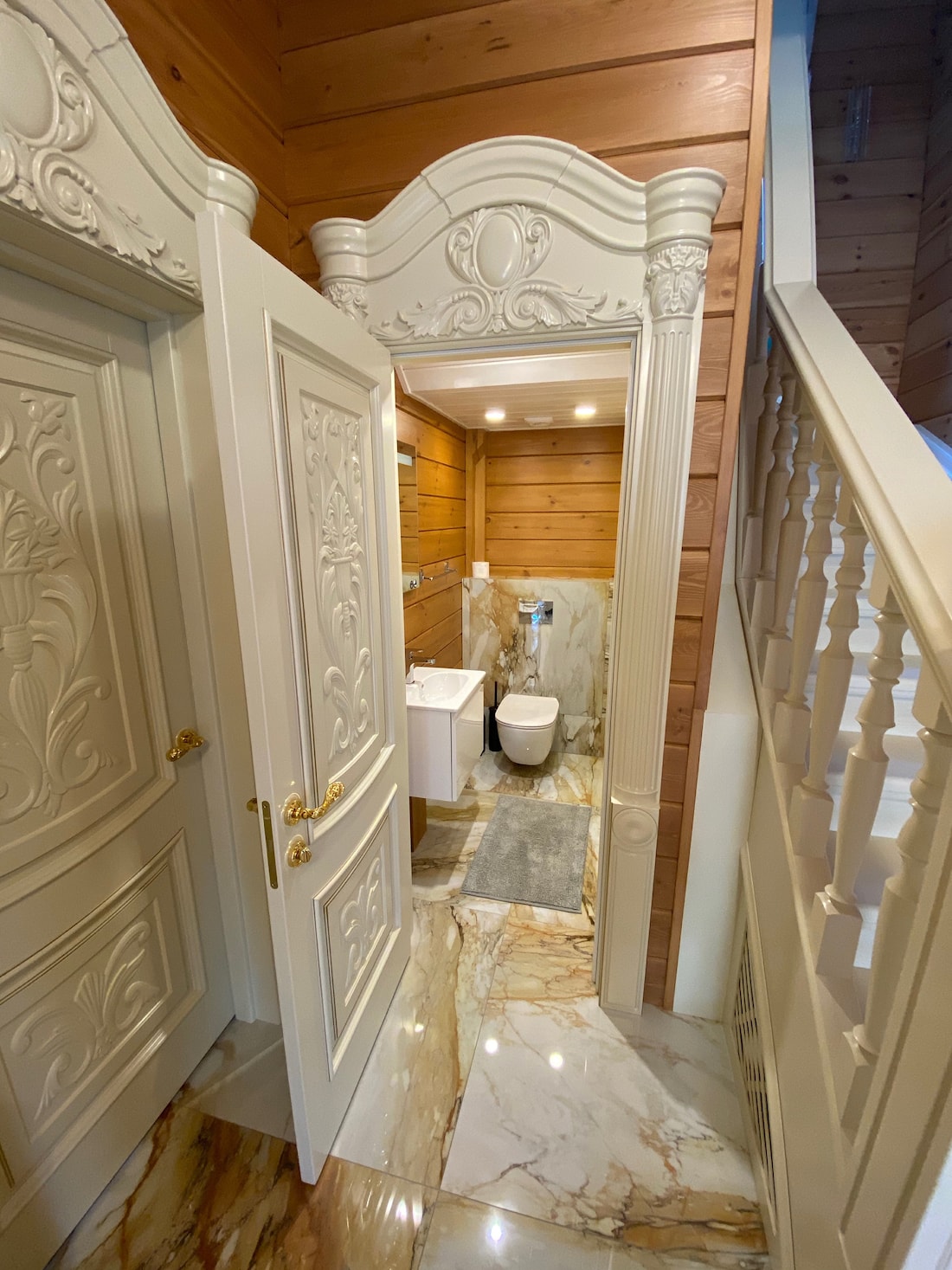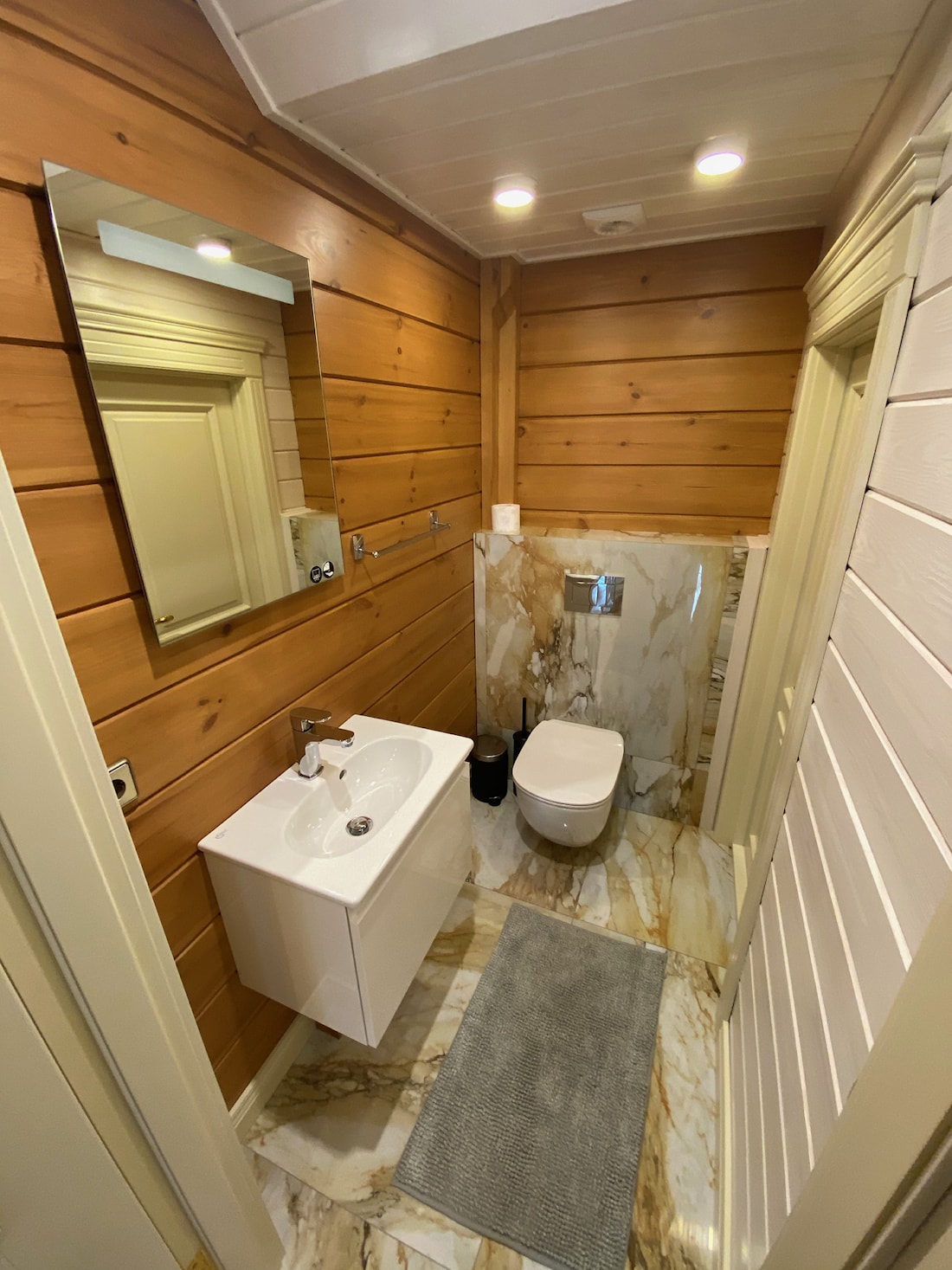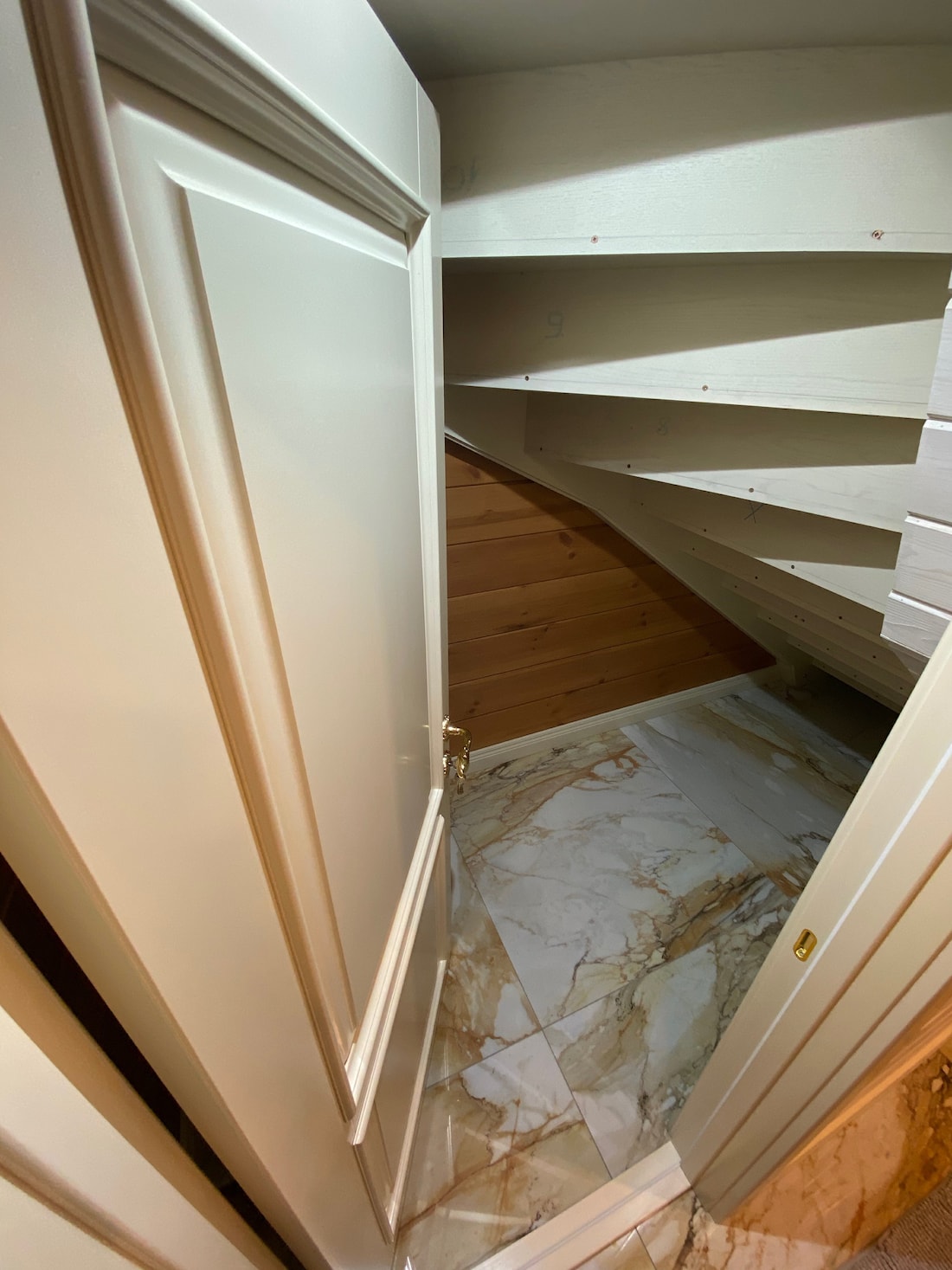 One of the main aspects is a stylish staircase with a fret banister. This convenient and safe construction brings graphics in the interior. Due to the staircase, this house has taken on a life of its own, turning to an ideal house to live for individuals лов and for a big family, making happy the owner of the house and his guests.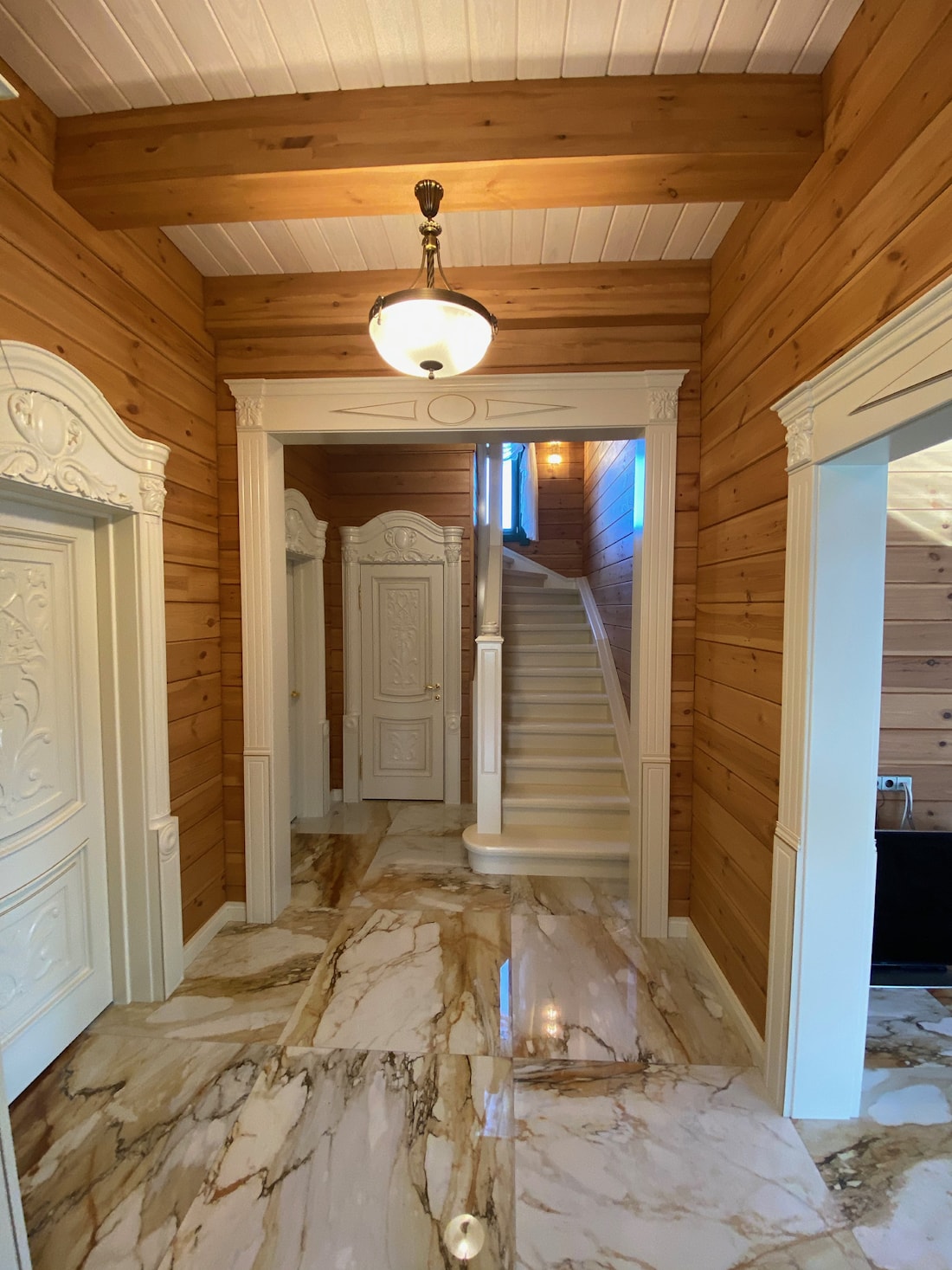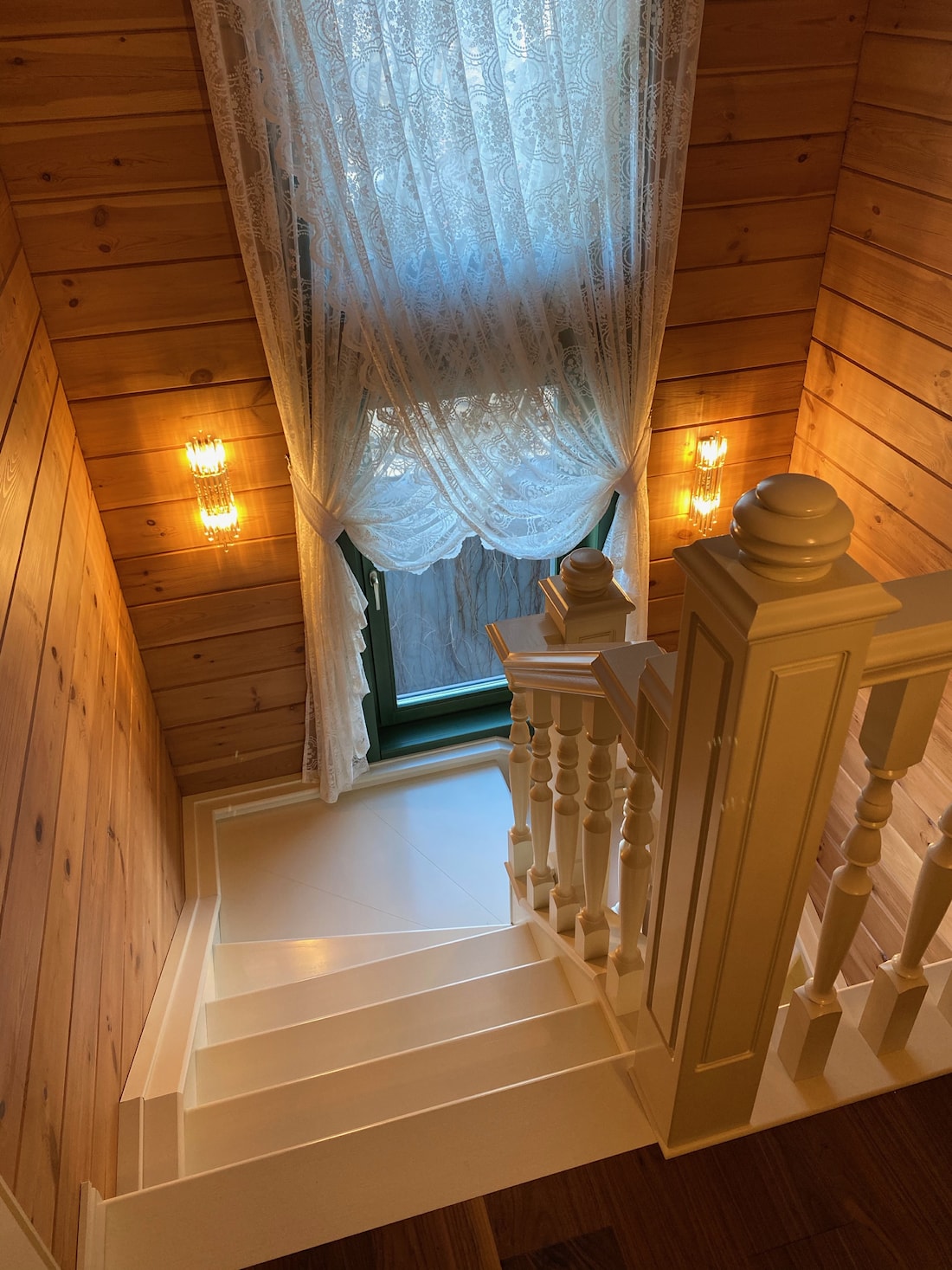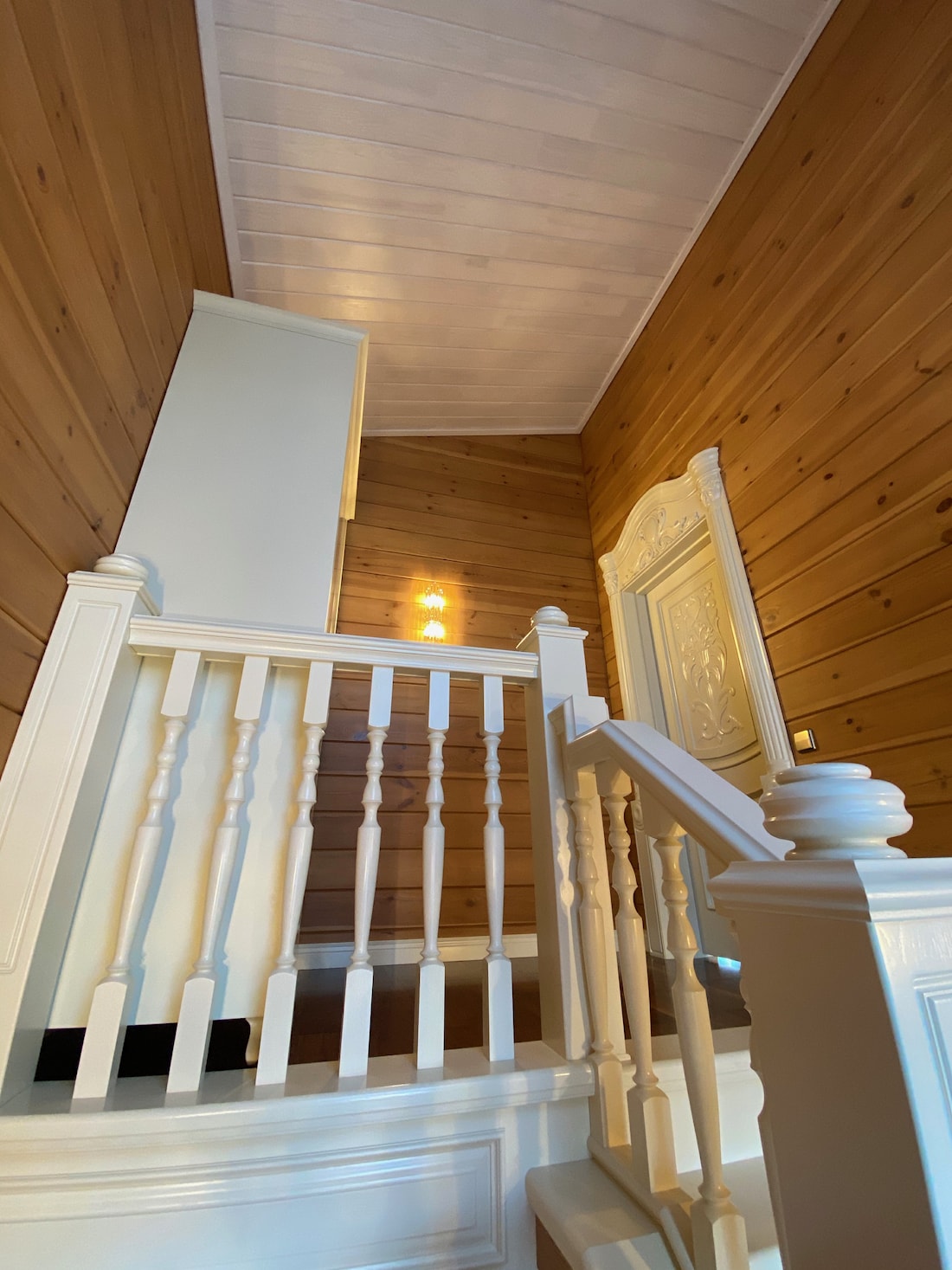 One more wish of the client was: a healthy sleeping in the house! It was a task to to do a spacious bedroom on the first floor with a good acoustic isolation and black-out for sleeping well after sleepless nights.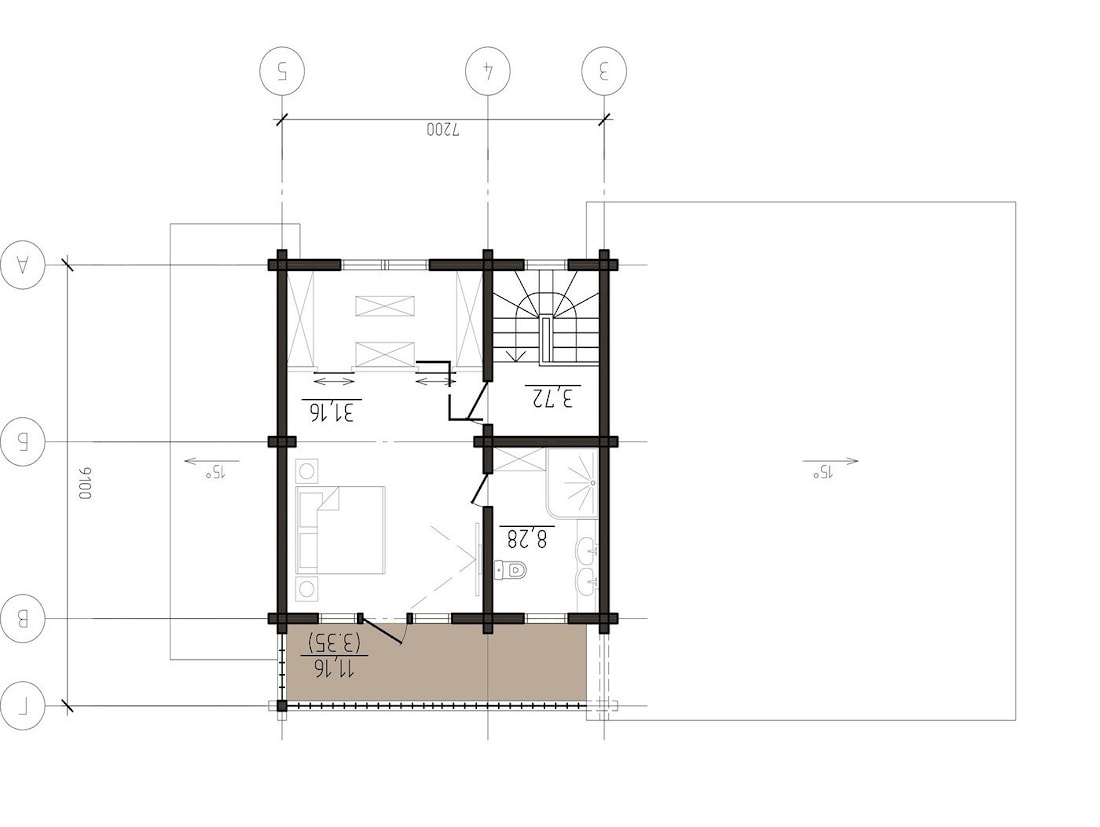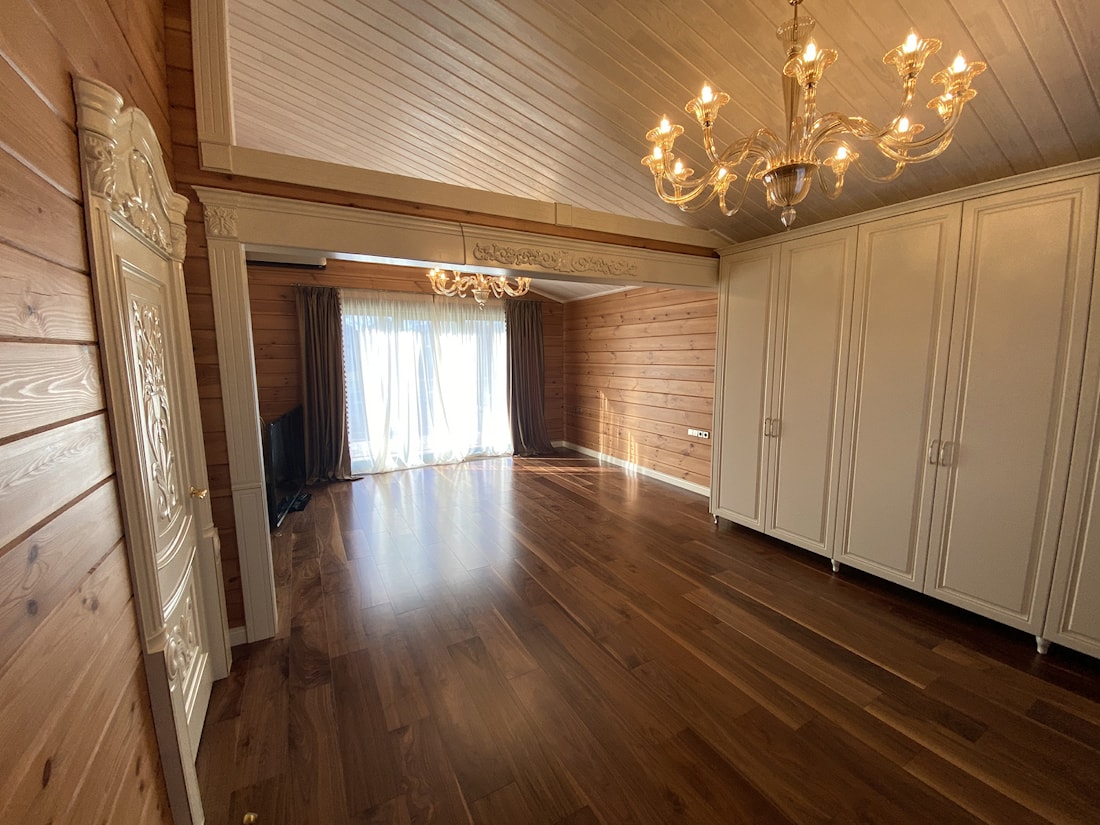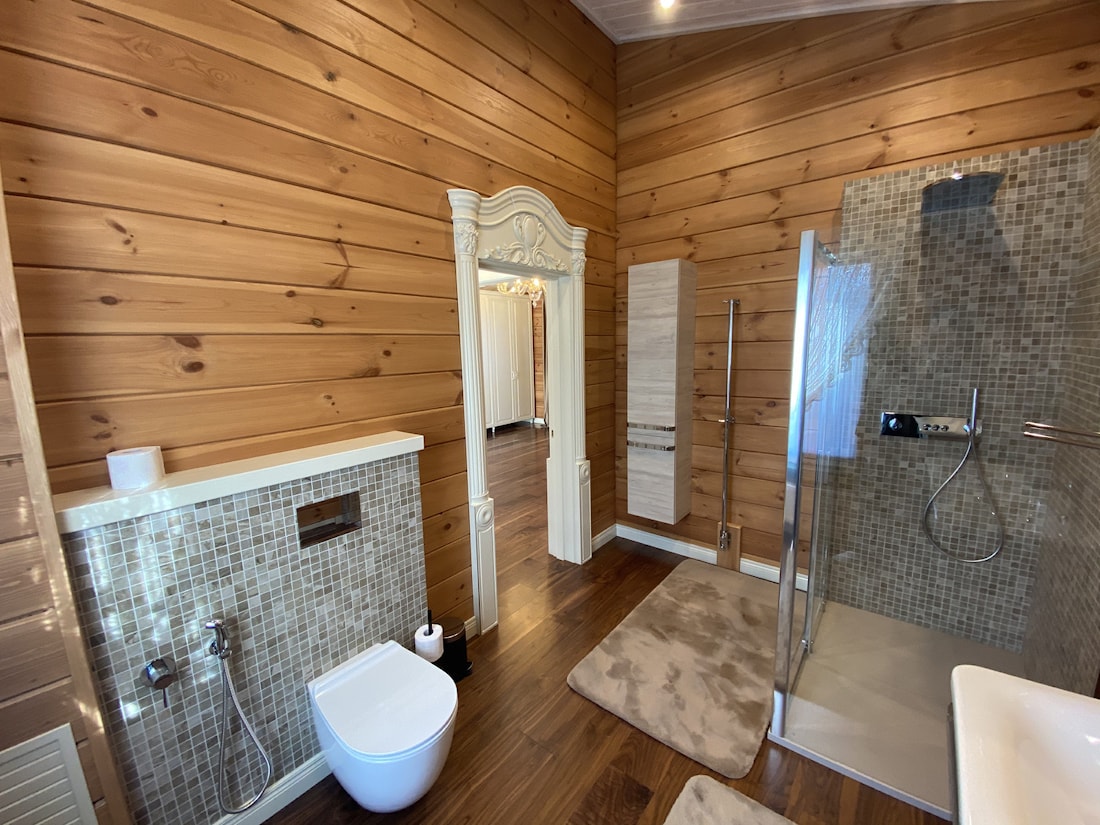 Such house can be installed in any part of the world, Еurope, especially in Germany, due to Europeen Certificate of constancy of performance, which has our company.