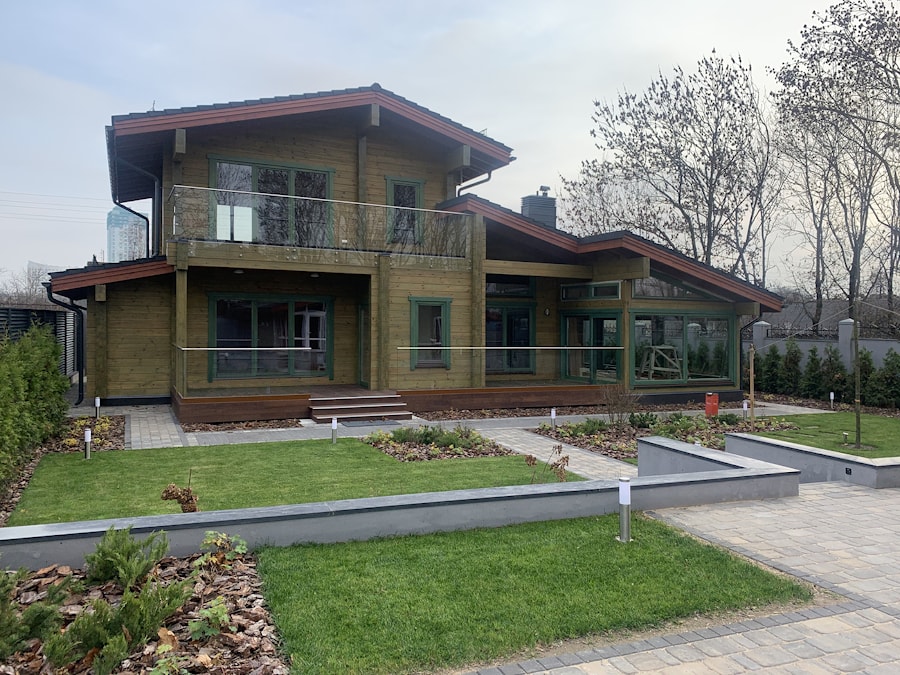 | | |
| --- | --- |
| Wooden house | Wooden house made of glued laminated timber "Happy Green House" |
| Number of rooms | 3 |
| Living space | 61,52 m² |
| total area | 177,42 m² |
| Roof area | 232,73 m² |
| Wall material kit, other options available | Profiled glulam 200х185 mm |
Lovely wooden house made of glued beams. Built in the center of Minsk. Its architecture and beautiful aura make it satisfied with the life of the owner and his guests. The house can be built anywhere in Europe, in particular in Germany, thanks to the European certificate of product quality owned by our company.
In this project, a combination of coziness and convenience is captivating in everything from the planning to the elaboration of every detail. The project was implemented on a turnkey basis.
The house combines an interesting asymmetric architecture with elements and decor of a modern architectural style - large windows that visually lighten the facade, with a contrasting color scheme. The walls are coated with German paint on the outside. Wooden windows are painted with bright saturated green paint, which makes the colorful palette of facades even more noble and interesting. The tone of the roof is in perfect harmony with it.
Large terraces and a balcony give the house a special cosiness. They are covered with a terrace board treated with special oil. The interiors of the house are light, modern, filled with air and light, but not without elements of luxury. The walls of the timber are covered with a protective compound that does not hide the beautiful natural texture of wood. The ceilings are hemmed with a pine board and painted with light cream paint. The architectonics of the interiors is emphasized by decorative portals. An important element was a stylish staircase with carved railings. This comfortable and safe wooden structure brings graphic to the interior.
The house continues to be filled with new details and objects, healed his life, turning into an ideal home for a large family.