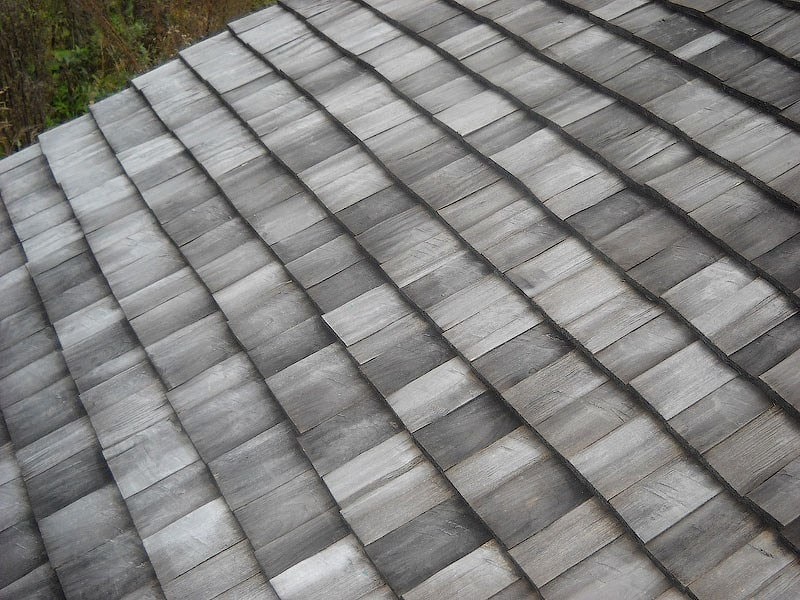 Wooden roof
Aspen shingles due to their properties are naive to mildew, moss, do not afraid of moisture, or any precipitation. Proposed structure of the shingle creates a blown through horizontal surface. The aspens color is very beautiful and constantly changes, depending on atmospheric conditions – sometime gray, sometime red or bright – it creates unique vibrant colors of roofing.
Wood shingles manufactured by slicing aspen boards on the four sides cut machine. Wooden shingles are placed in three layers. The layer thickness is about 90-120 mm, it provides a ventilation gap. Structure is similar to the scales of the cones of coniferous trees. During rain or moisture wood shingles swell and its surface is sealed to prevent moisture penetration. The structure of the shingle canaliculated in the middle surface is the most efficient, ensuring maximum protection of the roof from rain or snow.
Wooden shingles roof gives a special flavor of modern recreational facilities, hotels, residences, museums and historic buildings. Especially attractive appear covered with shingles, small architectural forms: gazebo, grill houses, pavilions. Bright personality gets the house covered with wooden shingles.
The wooden roof has several advantages: durability, ecological compatibility, breath ability, noise reduction, no condensation, no static electricity, exclusivity, uniqueness. For example, a house of Emir Kusturica from Serbia is covered with wooden shingles.