Log cabin or log house. A little history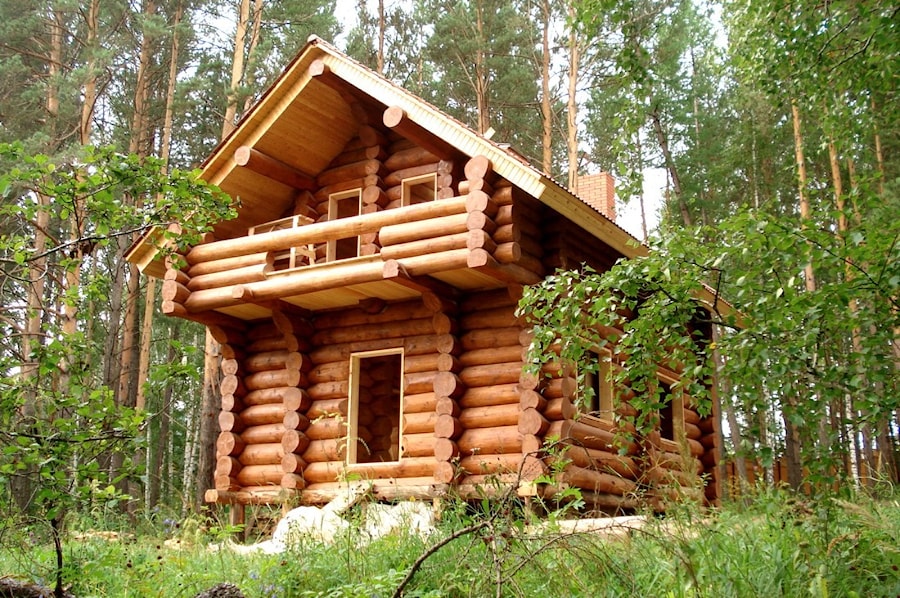 Log cabin or log house, style of home typical not only of the Russions but of the American pioneer on the Western frontier of the United States in the great westward expansion. It was constructed with few tools, usually an axe or an adz and an auger. All the fastenings were of wood.

The log walls were chinked with mud to make them reasonably impervious to the wind. There was no glass, and greased paper might be used across window openings to let some light through. The shutters and doors were fastened on with wooden pegs. There was usually only one door. When the ridgepole of the roof was put in place, roughly hewn flat slabs were laid for a roof. Frequently there was no floor, ore it was usually of puncheons, logs split in half, placed with the flat sides up.

The furniture was very often roughly made with the same tools that were used in making the wooden house. All were of crude but efficient workmanship. In settlements where Native American attacks were feared the log houses were sometimes placed to form a protected rectangle. The blockhouse on the Western frontier was often made of logs. Log cabins were frequently built by community enterprise, a house-raising being an occasion for entertainment as well as work.

Log houses ore log cabins were unknown to Native Americans, and the first English settlers did not build them. They are known in some countries of Europe, especially Scandinavia, Germany, and Switzerland, and it is a generally accepted hypothesis that they were introduced in America by Swedish settlers on the Delaware. The log cabin was later adopted by the other settlers in America, and by the end of the 18th cent. at the latest the log house was the typical backwoods dwelling. It was universally used by settlers in the West until they reached the Great Plains, when the sod house appeared as the customary dwelling. Reappearing in the Rockies, the log house became a symbol of the frontier. In the late 20th cent. the log house experienced a minor resurgence in the United States, but the contemporary "log home" bears little resemblance to its colonial and frontier predecessors.

The modern version of wooden houses is typically constructed from a wooden kit that contains machine-notched and preservative-treated log-shaped lumber using contemporary building techiques and materials.



© 2023 ArchiLine Wooden Houses

114-49, Necrasov str., Minsk, Republic of Belarus, 220049


The site is powered by Nestorclub.com