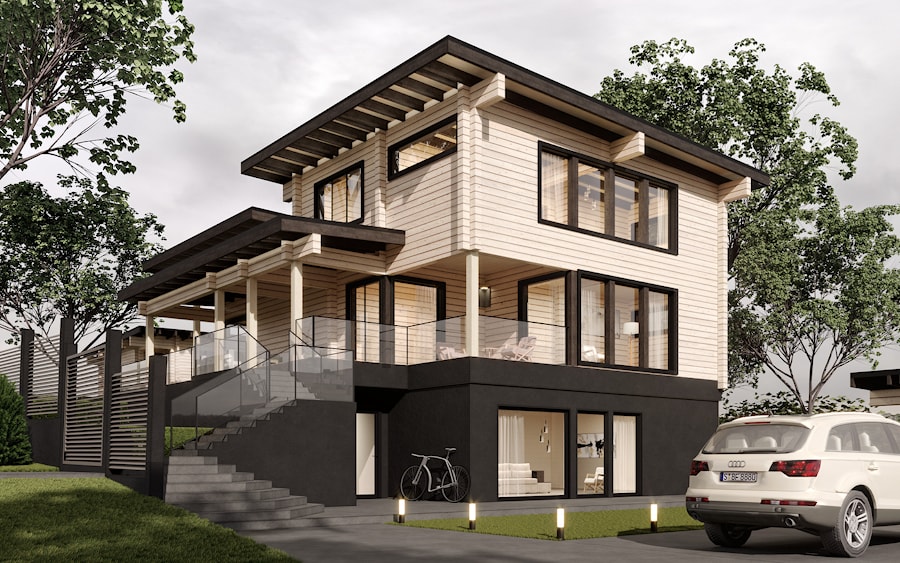 | | |
| --- | --- |
| Number of rooms | 4 |
| Living space, m2 | 98,95 |
| total area, m2 | 268,86 |
| Roof area, m2 | 281,60 |
Large, spacious, modern high-tech wooden house with a flat roof at different levels. The following premises are designed in the residential building: kitchen, living room, 4 bedrooms, 2 bathrooms, hall, dressing room, terrace, boiler room, vestibule, porch.
The two-room living room is filled with light thanks to large windows, the space turned out to be light and functional. The fireplace also successfully found its place in the living room. On the ground floor there is a comfortable bedroom with an area of ​​almost 20 square meters, from which you can exit to the terrace.
On the huge terrace, which is located on two sides of the house, you can exit from several rooms: a bedroom, a vestibule and a living room. The terrace continues along the terrain, giving the impression that you can go out of the house directly onto the lawn.
In the private area on the second floor there are three spacious bedrooms. The entrance group with an interesting architectural staircase gives the house a presentability and luxury.
The system of heating and hot water supply of the house selected heat pump.
The architecture of the cottage is emphasized by a contrasting two-tone facade solution and various finishing materials.
The modern style, presented in laconic forms and clear proportions, blends perfectly with the design of a wooden house with a flat roof, high ceilings and the very structure of glued beams. Large glazing and a light palette of internal and external walls allow you to let in natural light and visually combine the interior and the natural environment. Thanks to this, it was possible to visually increase the living space. The combination of pastel shades with dark tones present in the decor elements, window frames and flat roofing makes the image of the house harmonious.