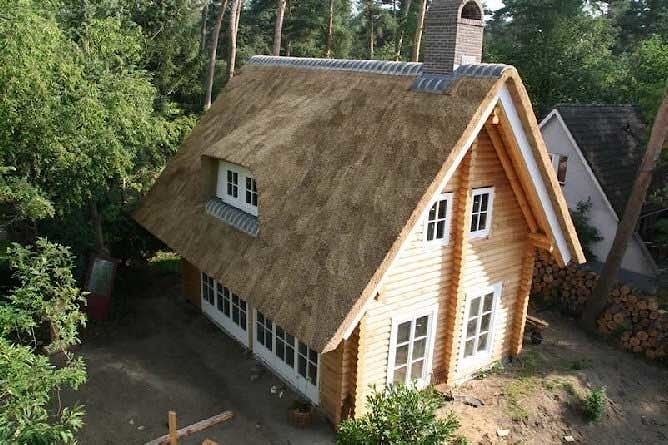 Charme Lodges in Oisterwijk, Netherlands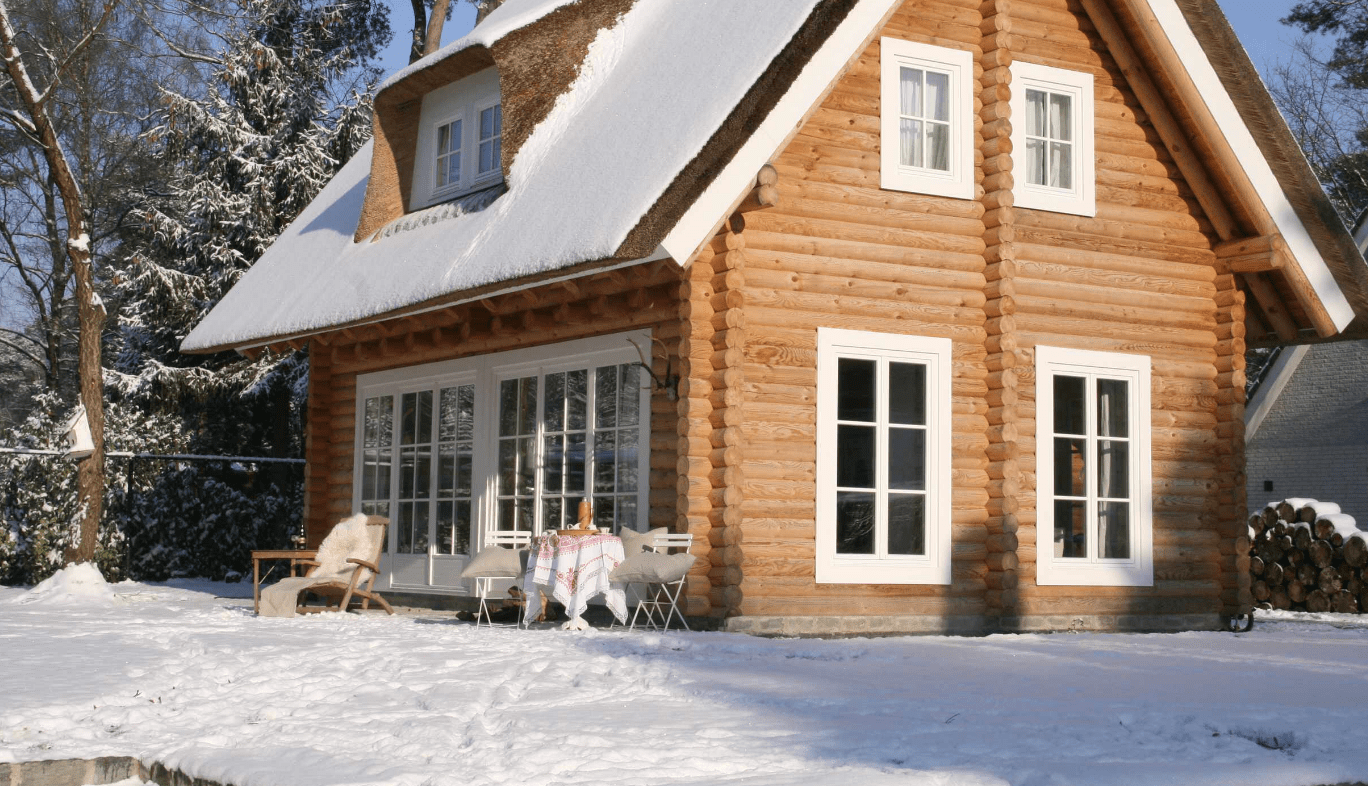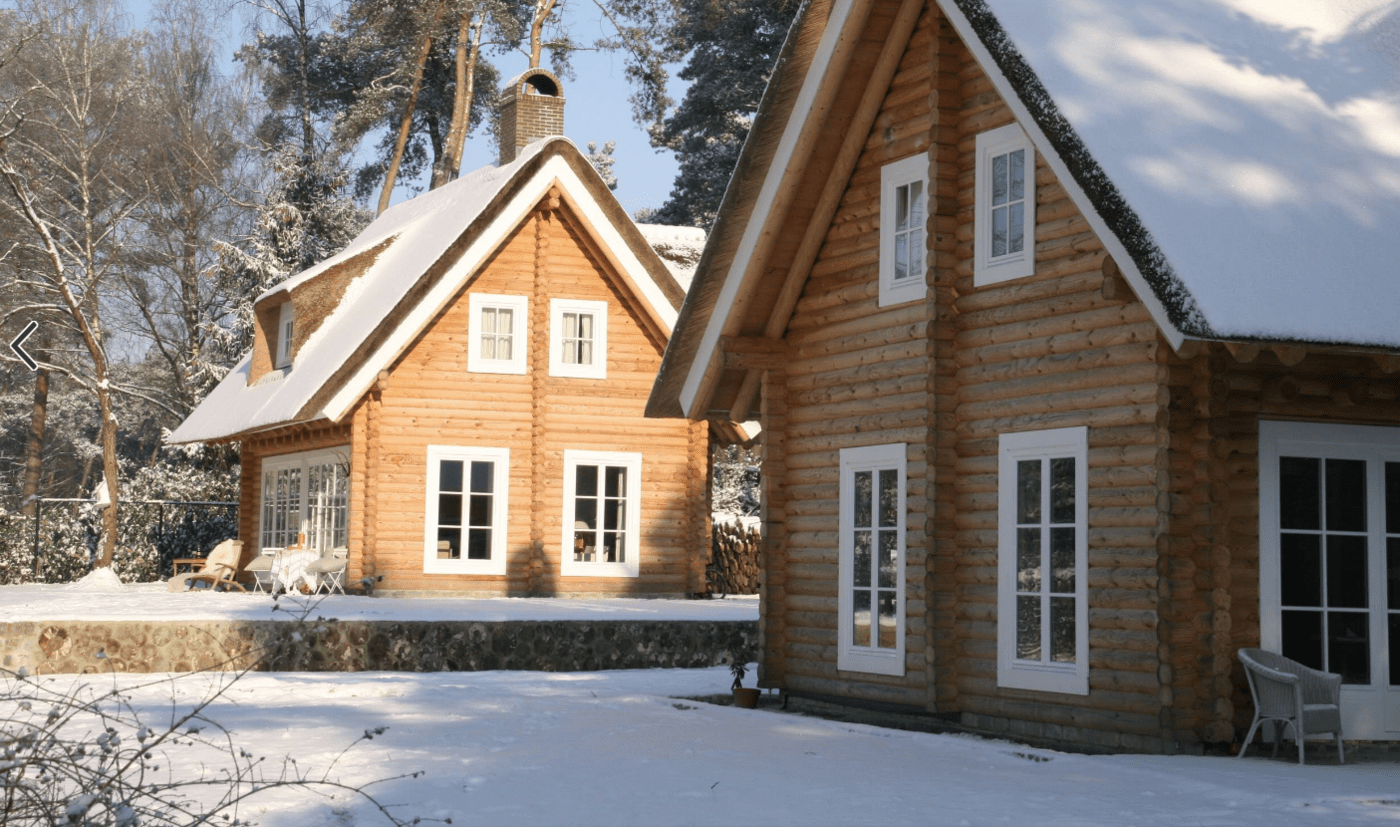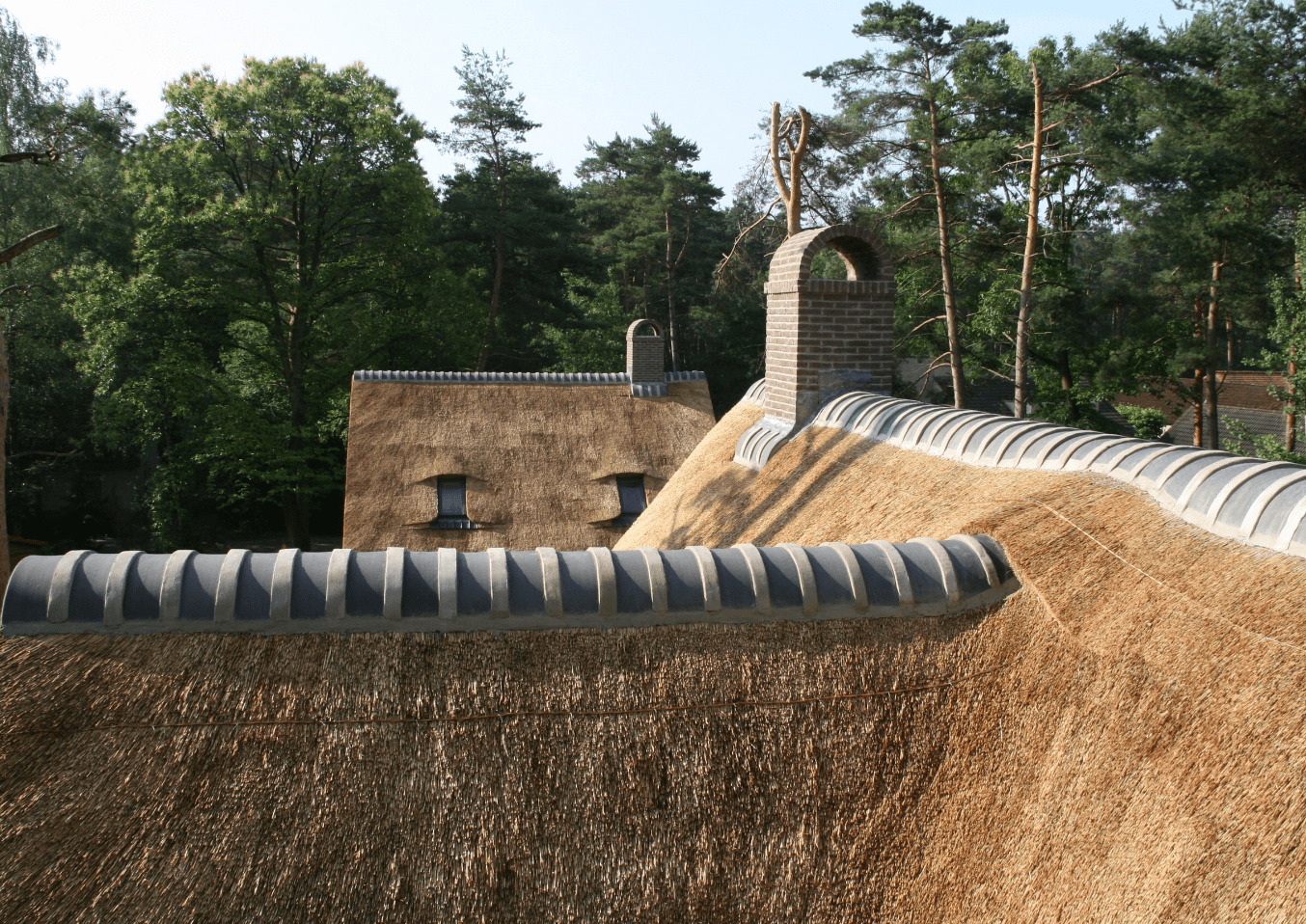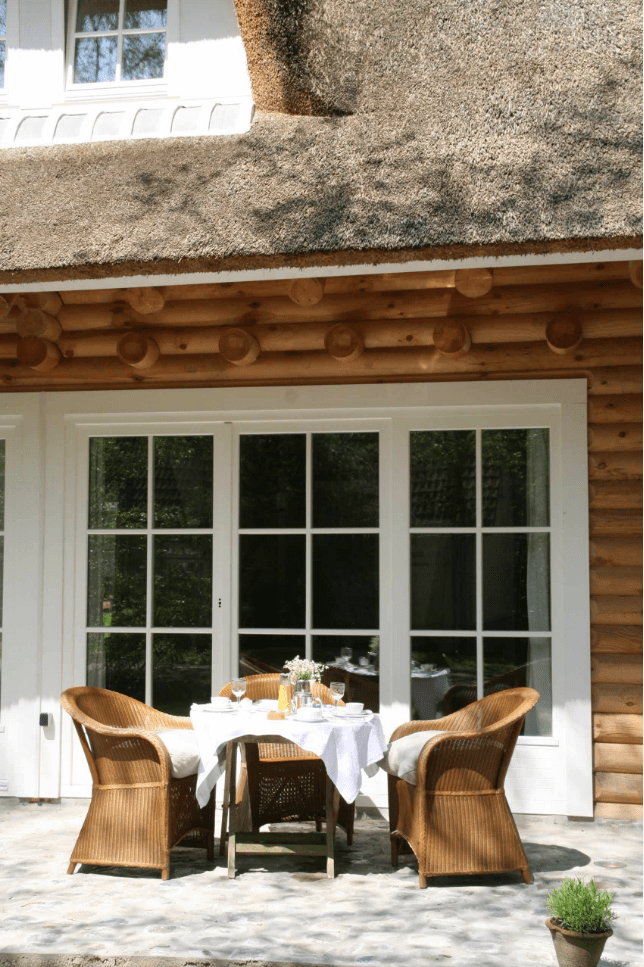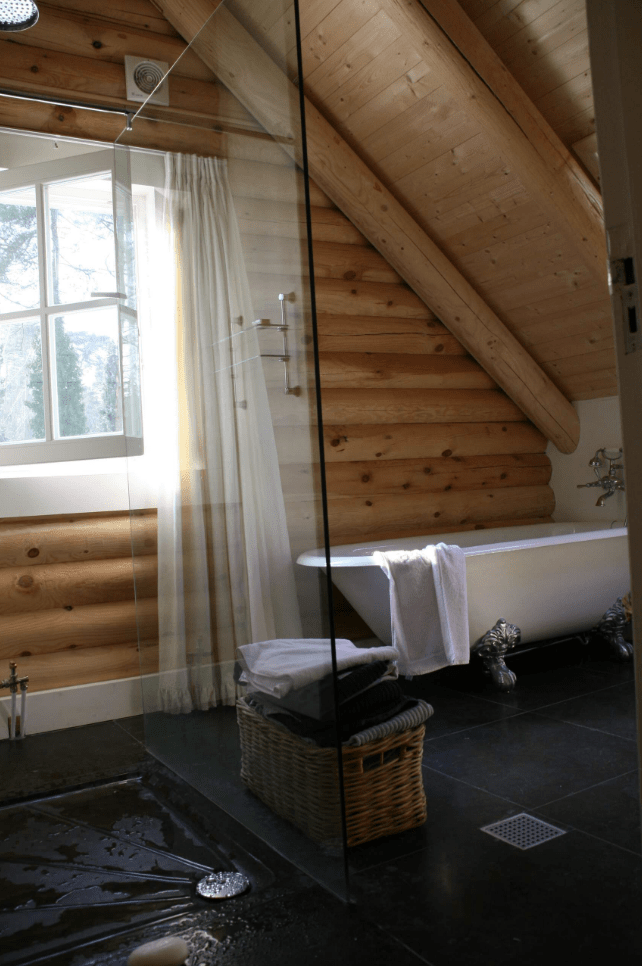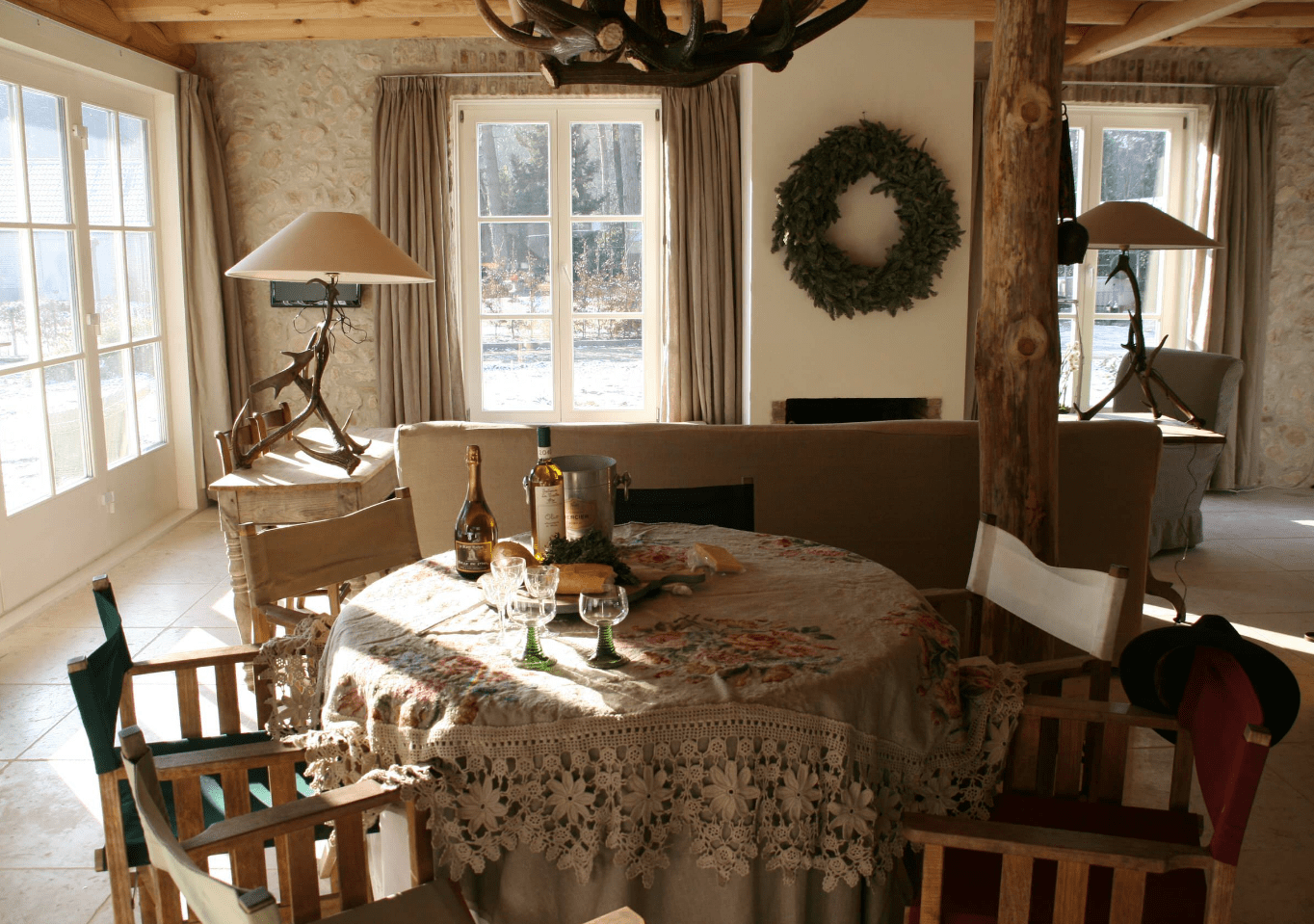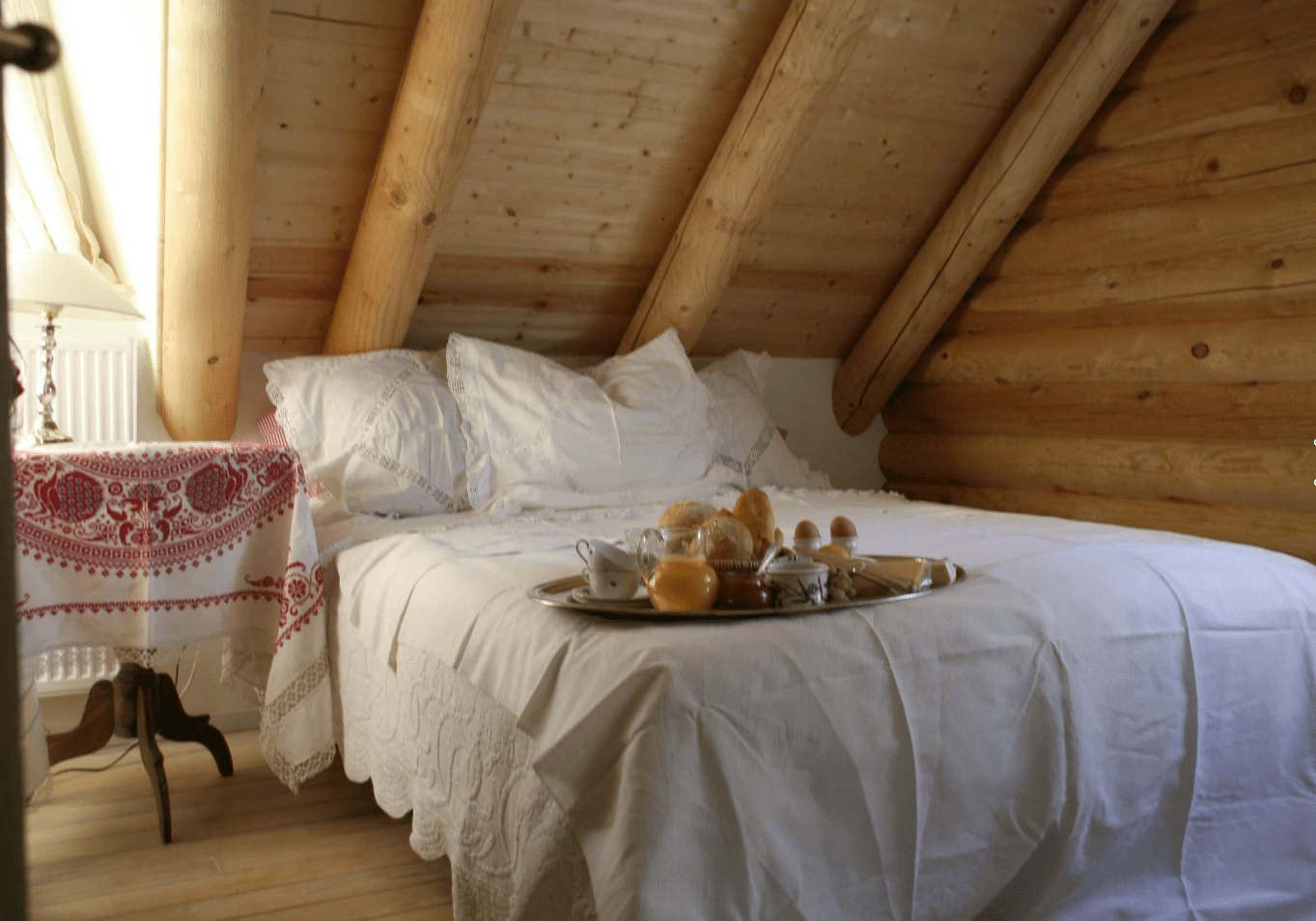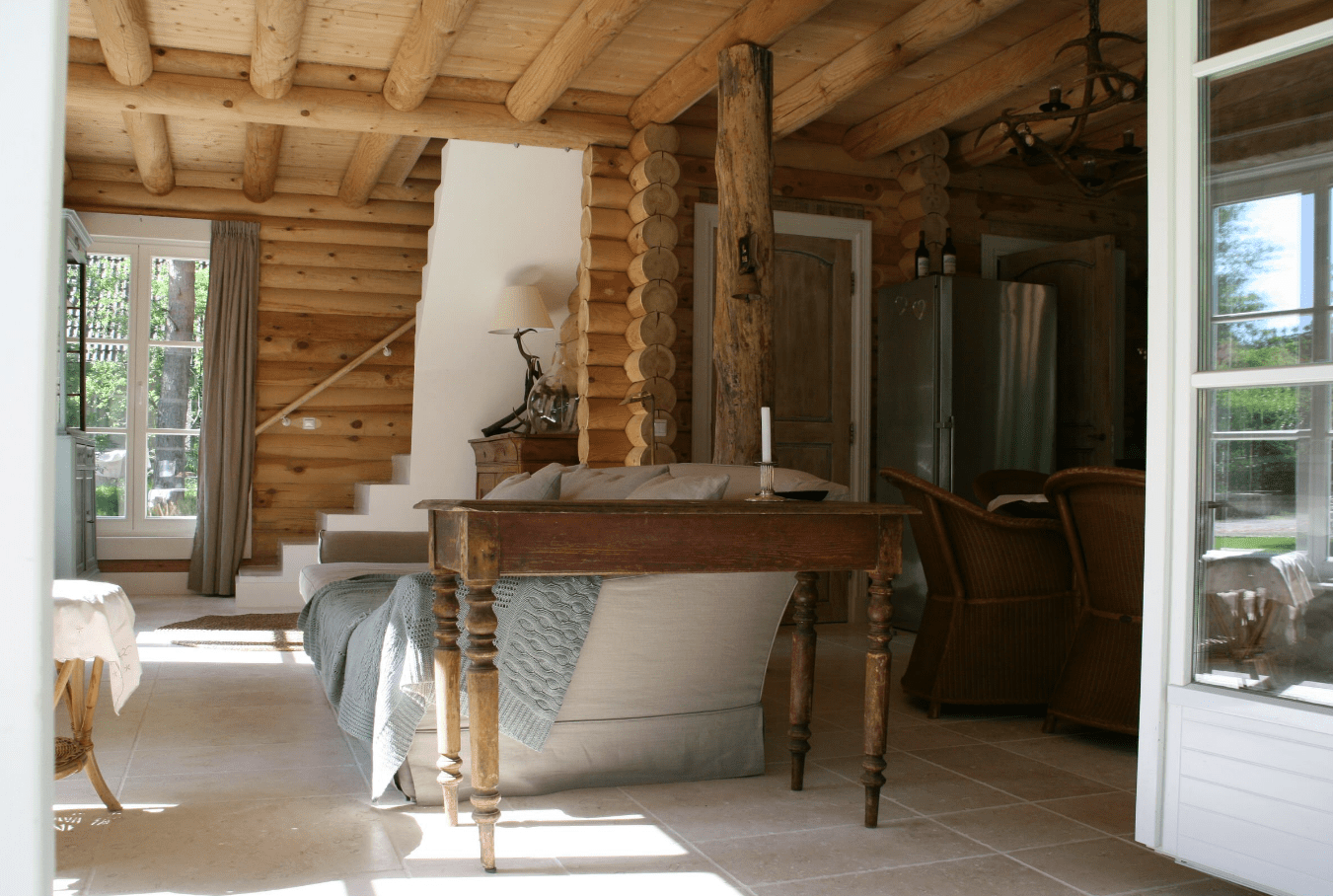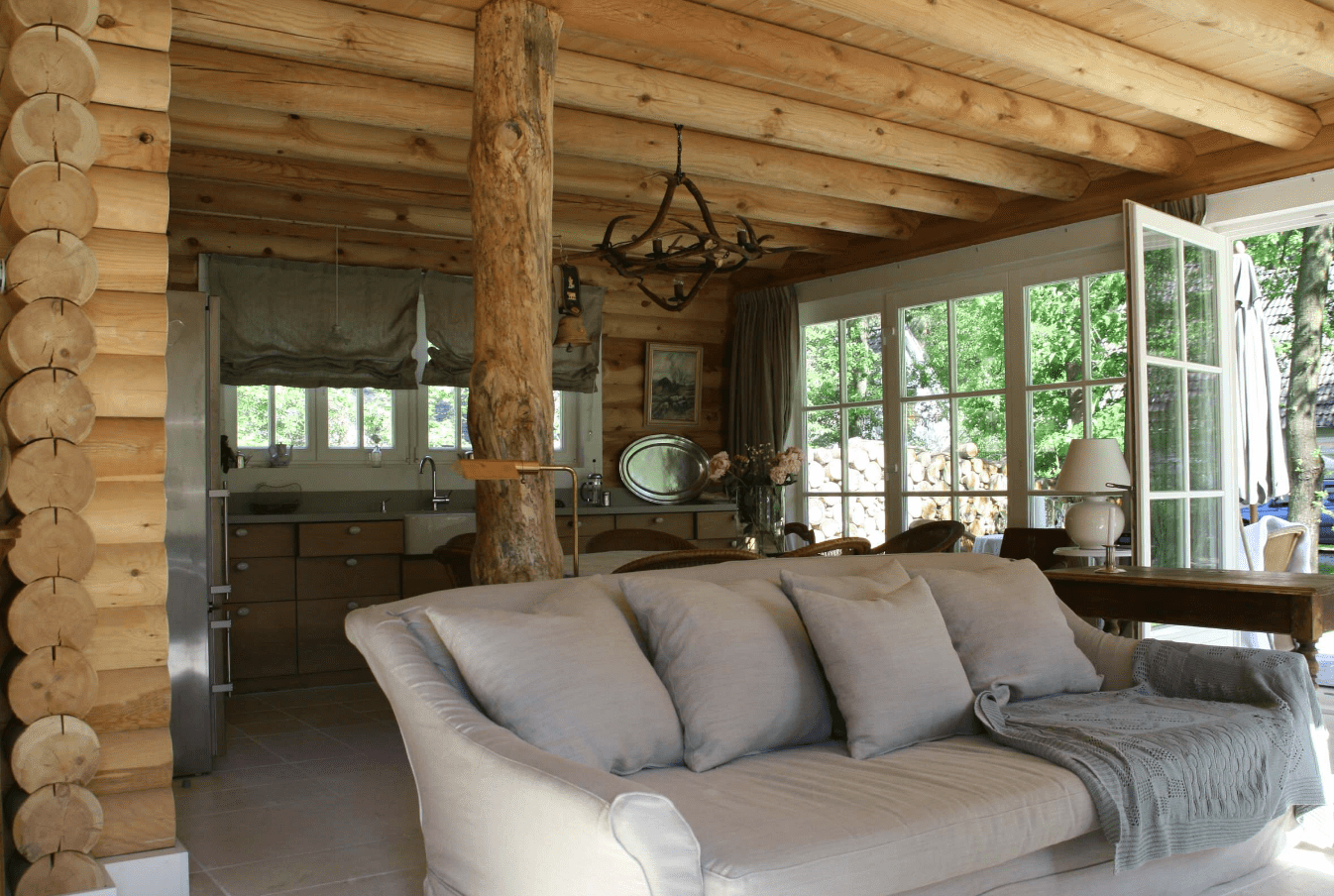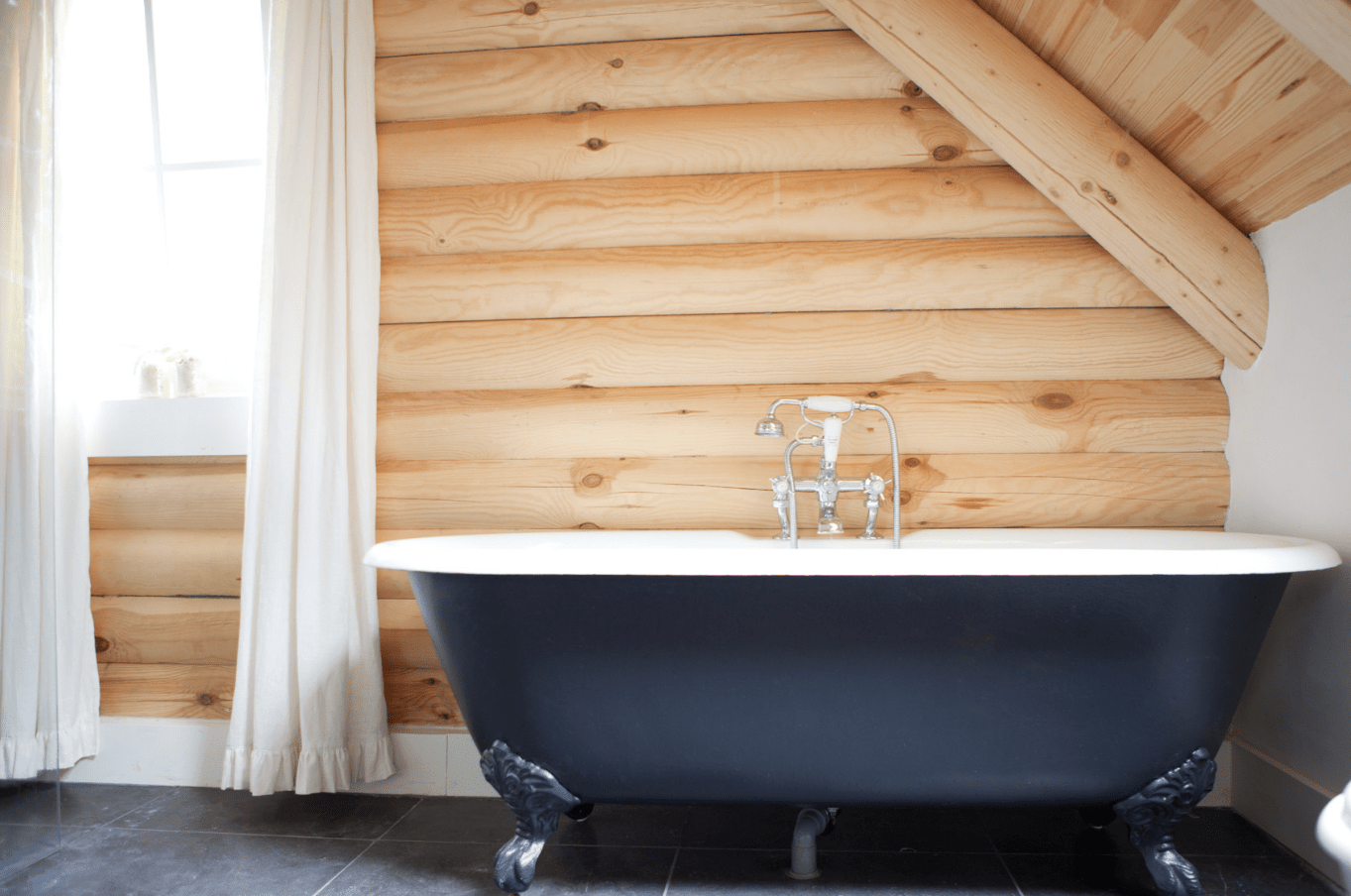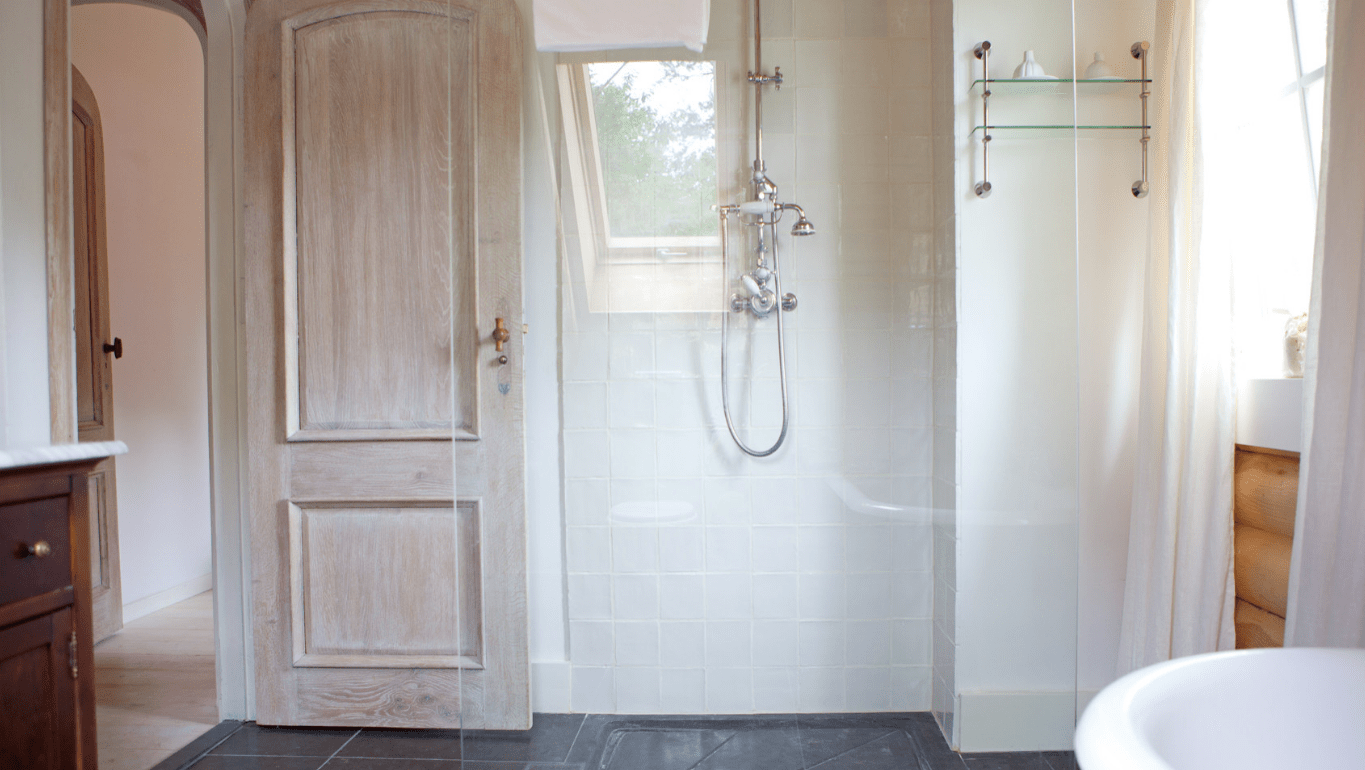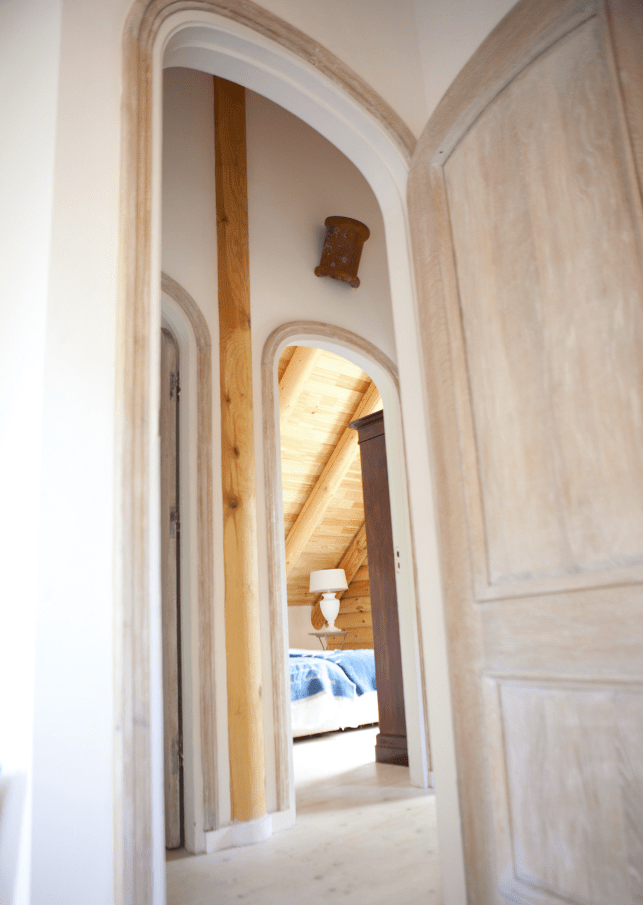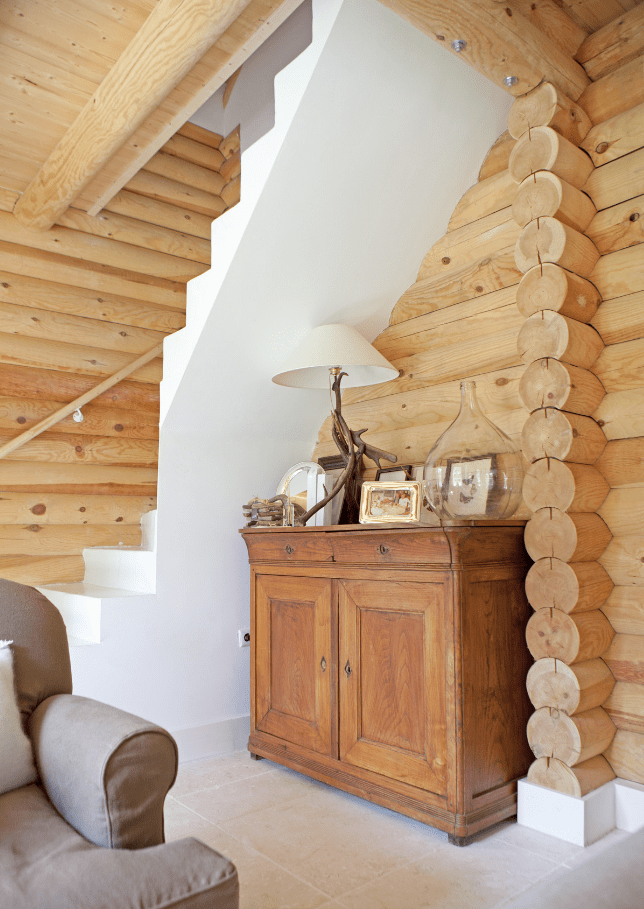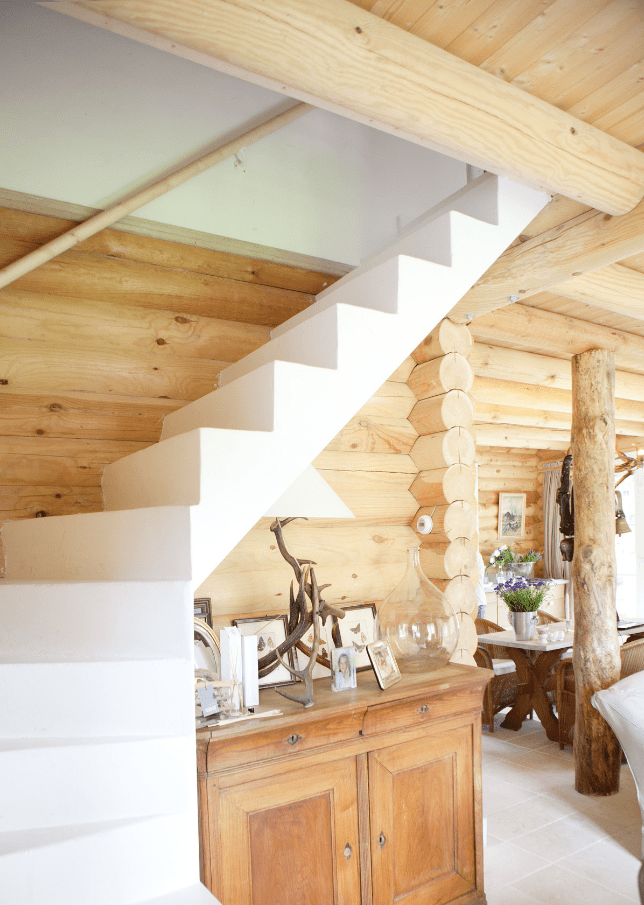 Charme Lodges

Log home plan of the house "Oster" If you have a country house, you're an owner of all year round resort. It is difficult not to agree with it.
And if you want to have an opportunity to go to a quiet place to have rest and relax at any season of the year, you need to purchase a log home in our company – Archiline Houses.

Why us? We offer building materials of the highest quality. Our proposed log home design is not intended to be unique, but it meets the requirements of comfort, functionality and convenience.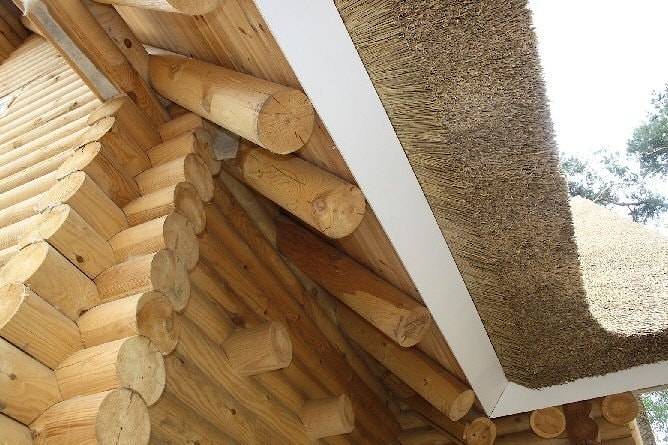 Order a country house from our company – Archiline Houses! We will build in a short time. For this very project we used round logs of technical drying. If you want to save money, we can offer you to build a house made from logs of natural humidity, but in this case you'll not be able to heat the house from inside during 2 heating seasons, otherwise it can cause deep cracks in the logs.

Total area of the house is 167 square meters. It is enough to accommodate 3-5 people in it.
There will be also a place left for guests. There are four bedrooms in the house for this. Living area of the house is 138 m², which is much more than three-bedroom apartments have, that cost much more than a wooden house made from logs.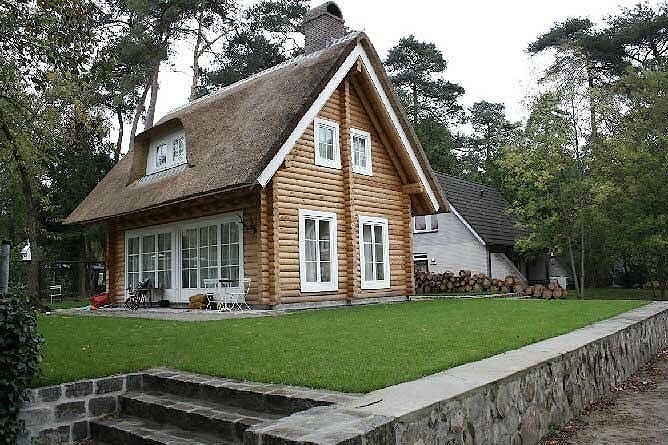 The house is built from round logs of conifers, which is the main condition for strengthening of the health of everyone who lives in it: the resin has disinfectant properties, so cold or allergy can't "get" the people inside.
Description
Log home "Oster"
Number of rooms
5
Living area
138 sq. m.
Total area
167 sq. m.
Roof area
135 sq. m.
Ground floor area
90 sq. m.
First floor area
77 sq. m.
Wall kit
51,8 cubic meters
Wall kit material,
other variants are acceptable
Rounded log D200 humidity 12%
Price for this wooden house *
Please contact us to find out the price of this wooden house in your region
* Prices depend on selected construction materials: rounded log, profiled timber or glued laminated timber

This log home is ecologically friendly, so it is recommended for construction in ecological villages, as well as in the protected area, such as in forest preserves.
Build an environmentally friendly house made from logs with a thatched roof. Stand out in a crowd of thousands of grey brick houses!

Photo report: construction of a wooden house in Oisterwijk.
A couple of pictures of a house with a thatched roof built by us in Oisterwijk, Netherlands. Interior decoration: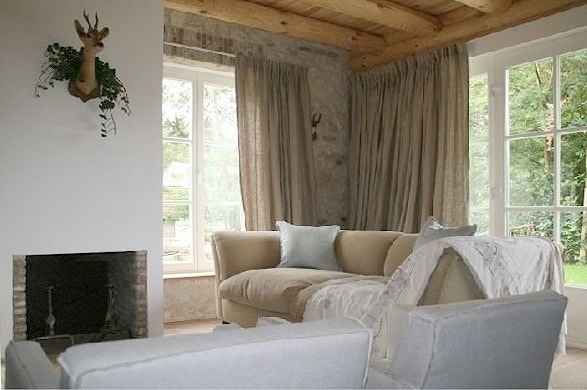 Interior design:

Bedroom in the wooden house:

Bathroom in the wooden house with a thached roof:



Plunge into a world of timeless beauty and unsurpassed tranquility with the Netherlands wooden house project from Archiline. This stunning hotel, located in the picturesque town of Oisterwijk, combines the rustic charm of technically dried round logs with the elegance of a thatched roof. Built in 2015 for Charme Lodges, this architectural masterpiece offers a unique experience that will transport you to a bygone era while providing modern comfort and convenience.
Efficient construction:
The Netherlands timber house project is a testament to innovation and efficiency. Due to the use of technically dried logs, construction time is significantly reduced, which makes it possible to build the entire house in just one construction season. These specially treated logs minimize shrinkage, providing a strong, durable structure that will stand the test of time.
Spacious and Attractive:
With five carefully designed rooms, including four bedrooms, spread over two floors, the timber home offers plenty of space for families and groups of all sizes. The living area covers an impressive 138 square meters, providing ample space for relaxation and social activities. Whether you're sharing a meal with loved ones or just relaxing in a cozy environment, The Wooden House is the perfect place to unwind.
Wooden house
Number of rooms 5
Living area 138 sq. m.
Total area 167 sq.m.
Roof area 135 sq.m.
Ground floor area 90 sq.m.
The area of the second floor is 77 sq. m.
The volume of wall material is 51.8 cubic meters.
Wall material set: Rounded log 200 mm humidity 12%
Unrivaled natural beauty:
One of the outstanding features of the Netherlands timber house design is its charming thatched roof. Made from reeds, this traditional roofing material not only provides a special aesthetic appeal, but also blends harmoniously with the surrounding natural landscape. Looking at the roof, you can't help but be captivated by its timeless beauty, evoking a sense of calm and connection with nature.
Health and wellness:
In addition to its aesthetic appeal, a wooden home offers many health benefits. The aroma of pine wood permeates the air, creating a soothing atmosphere that promotes relaxation and rejuvenation. This aromatic environment can also strengthen the immune system, providing a welcome respite from the stresses of everyday life.
Conclusion:
Immerse yourself in a world of charm, elegance and natural beauty with the Netherlands Wooden House project. Constructed from technically kiln-dried logs and topped with a thatched roof, this architectural gem offers a truly unique experience. Whether you are looking for a quiet retreat or a place to gather family and friends, The Wooden House is a haven of tranquility that will leave you enchanted. Immerse yourself in the timeless charm of this extraordinary hotel and create memories that will last a lifetime.
An essay from the author of the house about the construction of wooden houses in the Netherlands.
I am glad that you are interested in building wooden houses in the Netherlands. This is a very interesting and relevant topic, since wooden houses have many advantages over other types of housing. In this story I will try to tell you about how the construction of wooden houses occurs in the Netherlands, what types of wooden houses exist, what materials and technologies are used, what problems and solutions arise at different stages of construction, as well as what examples of successful wooden house projects can be found in the Netherlands.
Types of wooden houses:
Wooden houses can be divided into two main groups: frame and massive. Frame houses are built from wooden beams or metal profiles that form the frame of the walls, roof and ceilings. The frame is filled with various materials, such as mineral wool, polystyrene foam, fiberboard or sandwich panels. The frame is sheathed outside and inside with facing materials such as plywood, plasterboard, siding or board. Frame houses are lightweight and do not require a strong foundation. They are also easy to modify and repair. However, frame houses have low heat capacity and sound insulation, and are also susceptible to rotting and burning.
Massive houses are built from solid or glued beams, rounded or profiled logs. Massive houses have high heat capacity and sound insulation, and also give the home comfort and aesthetics. However, massive houses are heavy and require a solid foundation. They are also susceptible to shrinkage and cracking, and require special protection against moisture and insects.
• For frame houses, sandwich panels are often used, which consist of two layers of facing material (plywood, plasterboard, OSB) and an insulation layer (foam plastic, mineral wool, fiberboard). Sandwich panels have high thermal insulation and strength, and are also easy to install and transport. However, sandwich panels have low vapor permeability and can cause condensation and mildew.
• For massive houses, laminated veneer lumber is often used, which consists of several layers of wooden planks glued together under pressure and temperature. Glued laminated timber has high strength and stability, and is less susceptible to shrinkage and cracks. However, laminated veneer lumber requires special treatment against moisture and insects, and also has a high cost.
• For cladding wooden houses, siding is often used, which is plastic or metal panels that imitate a wooden or stone surface. Siding is low cost and easy to install, and also protects the house from wind and moisture. However, siding has low aesthetic value and can fade and warp when exposed to the sun.
• For the roofing of wooden houses, metal tiles are often used, which are metal sheets coated with a colored polymer layer. Metal tiles have low weight and high strength, and also protect the house from fire and hail. However, metal tiles have high thermal conductivity and can create noise when it rains.
Problems and solutions
The construction of wooden houses in the Netherlands faces a number of problems and difficulties that require special solutions and compromises. Here are some of them:
• High air and soil humidity. The Netherlands is located on the North Sea and has a temperate maritime climate, characterized by high air and soil humidity. This creates the risk of wood structures rotting and collapsing, as well as water entering the home. To solve this problem, it is necessary to use special materials that are resistant to moisture, such as sandwich panels or laminated veneer lumber, and also treat the wood with antiseptics and waterproofing. It is also necessary to ensure good ventilation and drainage of water from the foundation.
• High price of land and housing. The Netherlands is one of the most populous countries in Europe and has limited land resources. This leads to high prices for land and housing. The relatively inexpensive budget of our home allows us to reduce these numbers.