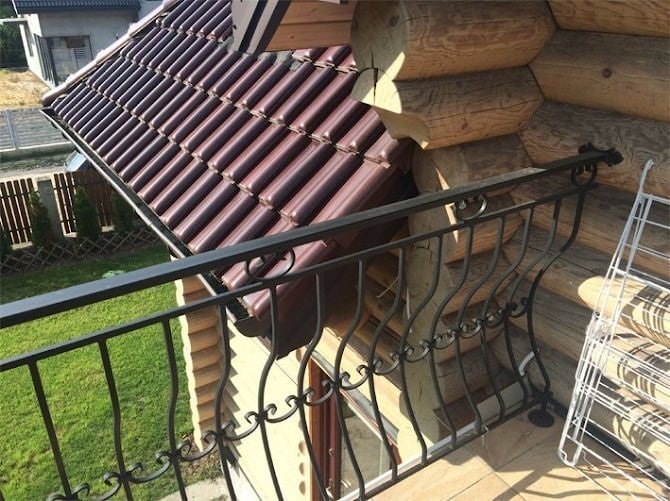 Roof shapes – wooden house design
Nowadays the roof of a modern house is not just covering for it. As well as it does not only exist in order to protect the building construction from rain, snow and sunlight. The roof - is a kind of continuation of the house in the architectural sense, through it the overall appearance is formed. Moreover - depending on the roof type mounted on the home construction, the overall comfort of living depends. Another important moment about roof type choosing is that the roof should be not only beautiful, but also safe. In general, there are numerous types of roofs for the private houses, but the most common are just a few of them which will be discussed in this article. When you are building your wood home and the house construction in design plan is almost ready, there is one part yet missing? Of course, the roof, as it is considered to be one of the most important elements of a house. And then at the stage of building construction the question arises, what roof shape should be chosen? There are several types of roofs for private homes of different forms and materials.
In this article you will learn about several important aspects in roof shape choosing:
- Roofs depending on the design features
- Garret roof and open roofs
- Pitched roofs: varieties of geometric forms
So, generally speaking, all the roofs in its features taking into consideration their constructive sense are divided into pitched roof and flat. And they both have a number of advantages and disadvantages. For example, currently a flat roof type in the construction of residential private homes are not widely used. The reason lies in the fact that the slope of 3 degrees, which the roof of this type has, leads to the fact that it has bad atmospheric precipitation "roll down". This means that the reliability of a good flat roof is rather low. It is clear that in the roof home design flat roof loses much against the advantages of pitched roof. Therefore, in most cases, when you think about the design of your own wood house there is a sense in a flat roof construction only when it is planned to organize any type of additional storage, pools, front garden or terrace.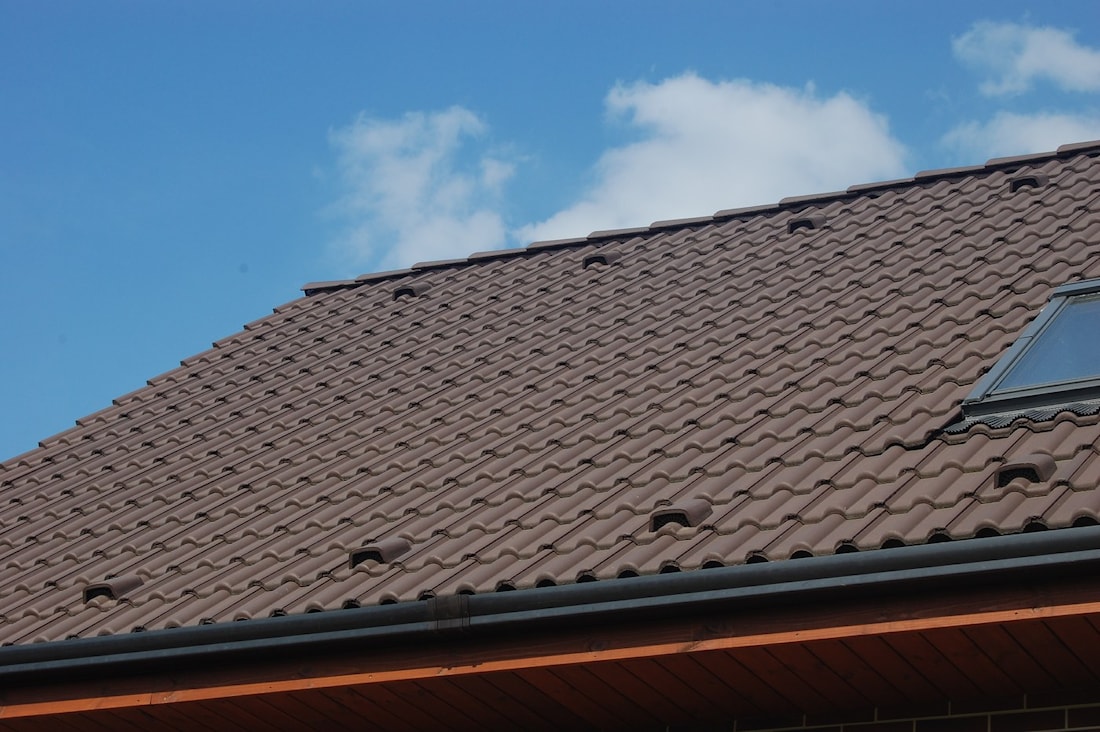 Flat roof
It goes without saying that flat roof of a country house is a fashionable and unusual solution.
Modern architects, preferring the development of house design in such styles as high tech, art nouveau, minimalism, are interested with houses that has flat roofs.
Houses with flat roofs began to appear relatively not a long time ago, although such housing was quite common in other countries for quite a while. If your house design includes using the roof as a place to relax with a swimming pool and sun loungers, with flower beds, your house will look very unusual and beautiful, it will for sure draw your neighbor's eye.
Although such a roof is called flat, sometimes it has a small angle of slope of 5 degrees. This is done in order to help rainwater and melting snow come off the roof. Around the perimeter of the flat roof the system of drainage is installed to drain water, and all the precipitation moisture from the surface gets into the system. If there is no slope, water-collecting boot is installed not only around the perimeter.
Flat roof of the house and a cottage has its advantages and disadvantages.
Among the main
advantages
are the following:
The cost of flat roof construction will much cheaper due to the less expense of building material.
Less time spent on the roof construction combined with that of pitch type roof.
Freedom to use the roof surface according on your own free choice (set up a garden, make a place for recreation, playground for your children).
Installation of the necessary equipment is easier on this kind of a roof (system of drainage, the throat of a chimney, air conditioning systems).
The snow cover melts faster because there is no attic floor which increases the house heat loss.
The repair and servicing of the roof is much easier.
Disadvantages
also exist:
The possibility of roof leaking.
The possibility of getting garbage in the drainage system.
The usage of sheet roof covering is not possible.
It is more difficult to monitor the condition of the roof, as there is no attic floor.
The usage of roof membrane for roofing does not provide perfect isolation.
Including all named pros and cons of flat roof, it becomes clear that pitched roof is much more practical in this regard. It has a number of advantages against the roof of a flat type. Sufficient slope angle helps to be sure that the roof is self-cleaned from rainwater and snow, and in general is a more robust construction than the flat roof. Under this roof, you can easily make an attic floor or garret. Despite a number of advantages, pitched roofs have also some disadvantages that are associated with the high cost of construction and the complexity of its repair during the operation.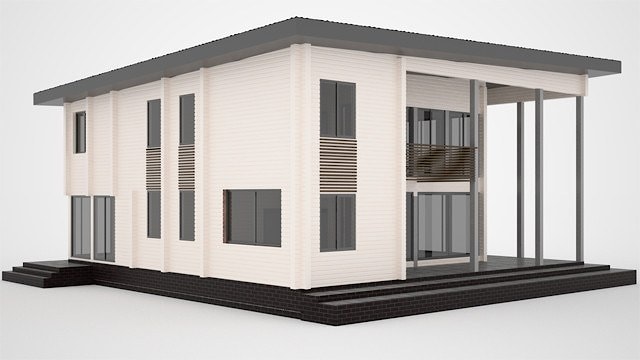 The structure of the pitched roof
Pitched roofs with and without attic floor

It should be said that the future owner of the house chooses only one of several proposed options of rooftops: the roof with or without attic floor (mansard roof).
The roof with the attic floor is characterized by its simplicity of construction, so this kind of roof can be easily constructed even by non-professional. Very often, the angle of slope of the roof depends on the type of roofing material. It is also necessary to consider the external forces which such a roof should hold, and the cost of building materials of its construction. Moreover, this type of roof provides the possibility of repair works without having to replace the entire roof. If the choice is made in favor of the attic roof, it is necessary to immediately determine whether the attic floor will be used or not. It will depend the decision of cover material choosing, which can be both wooden and reinforced-concrete.
Another roof type is mansard roof. It is also known as open roof. Its main difference from other types of attic roofs in private homes is that the outer walls in this case will act as roof constructions. This roof is quite original, and therefore the appearance of the house is very unusual. But another important moment that in this roof type the working area of ​​the attic is reduced, and the process of construction of a mansard roof and very hard to cope with without any relevant experience, it is not easy.
As a rule, open roofs has some break, so in order to strengthen it, we have to put inside wooden props. However, with proper imagination we can benefit from this construction particularity, this props can be veneered and turned it all into useful cupboards and niches for temporarily useless things.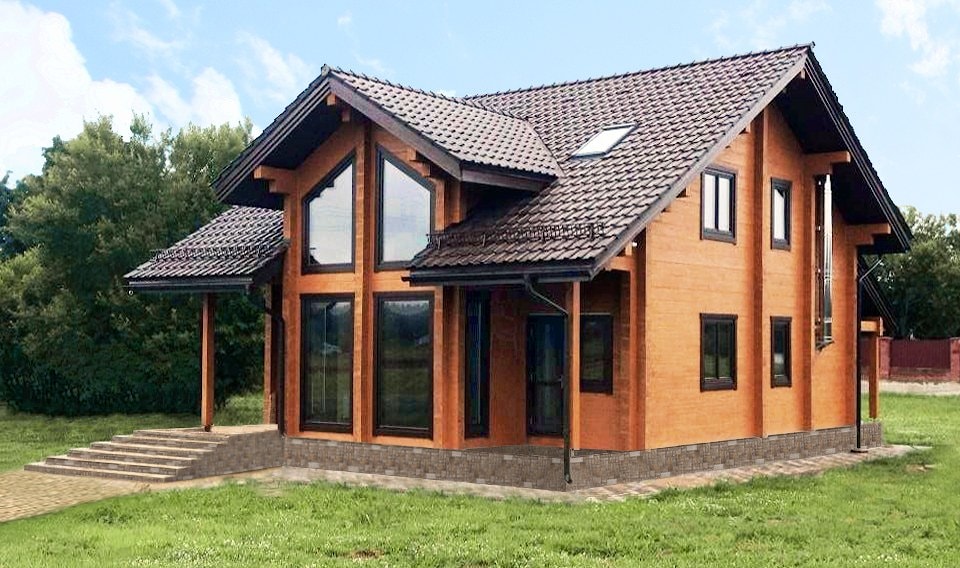 Varieties of pitched roofs in geometric forms

In addition, the construction features of the roofs can be defined by different forms.
Shed roof

At the moment, shed roof is considered to be the most simple and cheap roof type. It is a type of flat roof, which rests on the walls with different heights. As a result, the slope of the roof takes place in one direction. Usually, it is most often used in the construction of sheds, garages and other outbuildings. But sometimes it can be seen on the cottages. Taking into consideration all its advantages there is one huge drawback of such a roof: the mansard cannot be constructed with this type of roof. And its appearance is rather poor.
Gable roof

Gable roof is common in villages and small towns. This type of roof has reached our days from a long time ago. As you might guess, it is the roof of two inclination of a roof, connected by "pitch break ". It should be noted, that roof inclinations can be symmetrical to one another, as well as differ in length or angle of slope. Under such a roof you can easily built an attic floor or mansard. This type of roof can safely be considered the most practical and the most common. Parts of the walls of the building, which limit the attic space on both sides, called frontons.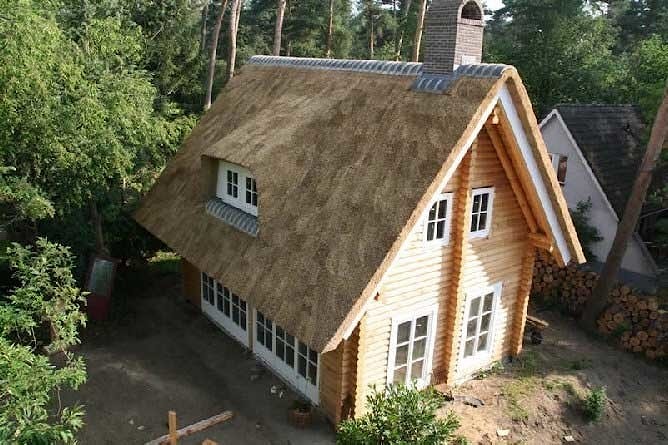 Hipped roof

If instead of frontons two roof slopes of triangular shape are constructed, this type of roof is called hipped roof and roof slopes themselves are called hips. The upper part of the roof slopes has dormer windows. If we compare this type of roof with the types considered above, we should notice that hipped roof is much more difficult to construct. Therefore, the construction of such a roof must be trusted only to professionals.it should be also mentioned that the stability of this roof to the precipitation and strong winds is just phenomenal.
Partial hip roof

Partial hip type of roof considered as a medium between gable and hipped roofs. The end fronton in this case is made in the form of a trapezoid, and its top is covered by half hips. As a rule, a usual window can be placed on the front of this roof, while half hips themselves are quite an interesting decorative element.
There is also another kind of partial hip type of roof, when the lower part of the fronton overlaps a hip. This allows making a regular triangular shape for the remaining part of the fronton, where dormer window is usually organized. If you judge a roof over her appearance, it is quite a lot of interest for designers.
Pyramid hip roof

In hipped roof has another form, called pyramid hip roof. Structurally, it has 3 or more rays converging at one point of the top. This type of roof does not have roof ridge, the rays have the same symmetry to each other, which is simply amazing. If the house has the shape of an equilateral polygon or a square, the pyramid hip roof is a commonly used type of roof then. In terms of resistance to wind, this type of roof is pretty good, which proves its popularity. Besides, from the viewpoint of design ideas, such roofs have very few alternatives.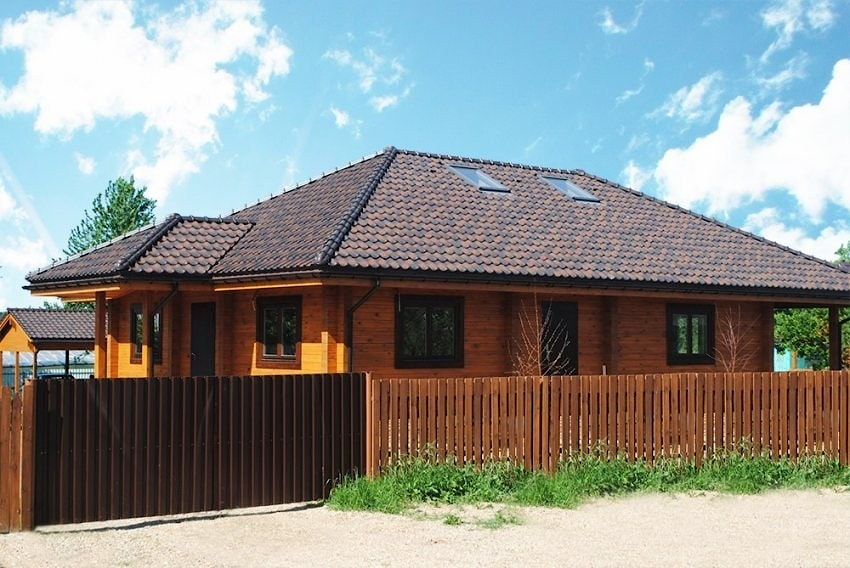 Complex roof

If the building has the form of a complex polygon, a complex type of the roof is usually constructed. These roofs are very complex in its structural construction, because of its complicated system of roof timber. However, if the construction project of such roof is successful, it can create a very unique design.
Gambrel roof

The gambrel roof type refers to mansard roofs of private houses. This is sometimes called mansard roof. They have a fairly large angle bend that makes better use of the useful area of ​​the attic of the building.
Dome-shaped and conical roof

Dome-shaped and conical roof are very rare, as for private homes. Typically, these designs have round-shaped structures, but do not cover the entire house, but only some of its elements, which include, for example, a veranda that has a round shape, or decorative turrets.
Combined roof

But the most complex design has combined type of roofs. In more simple terms, these roofs are combinations of complex roof, pyramid hip roof, and pyramid hip roof designs. Despite this, if the house has a combined roof, it creates a very unusual appearance which attracts attention. Because it has a large number of dormers, it is also covered with small balconies and verandas: open and closed. But you should remember that such a roof is not easy to build and handle in the future.
Look more: