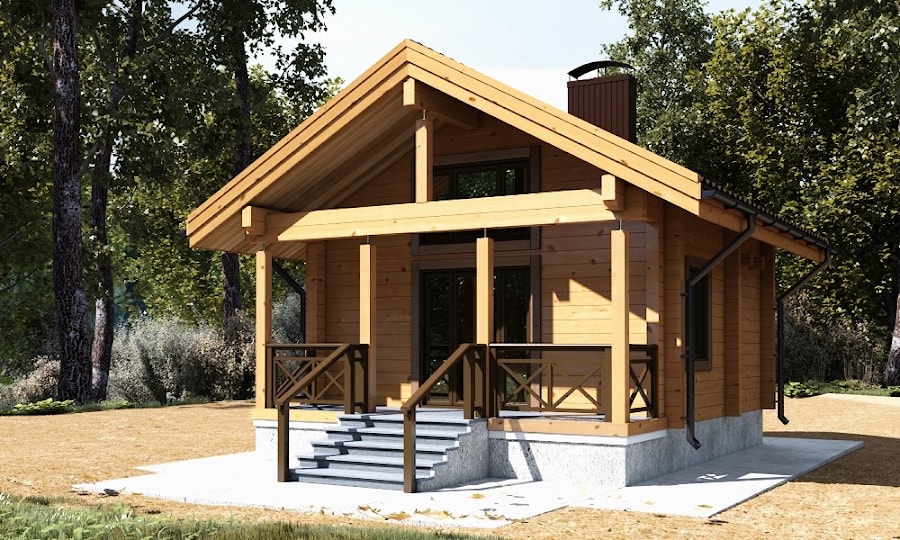 Do you want to save money on the design of your wooden house? Do you want to have a beautiful and stable house? The solution is simple: buy a ready kit of a modular wooden house from glued timber "Eulenspiegel". Its cost is comparable to the price of a budget car, but the joy of owning such a house is much higher, because to live in a comfortable and cozy home is happiness, that you can buy.
This modular house made from glued laminated timber and called "Eulenspiegel" has a total area of 48 m². It's not a big house, but well thought-out layout of rooms allows you to ignore its size and use it profitably. For example, "Eulenspiegel" is ideal as a holiday home, country house. It's enough space inside for housing 3-4 people.
Glued laminated timber - wall material for the "Eulenspiegel" - has many advantages, and therefore it's recognized worldwide as one of the best materials for construction. Our company Archiline Log Houses is ready to produce glulam of high quality and assemble "Eulenspiegel" modular home in a short time We will make your dream come true!
Glued laminated timber for our houses is made of wood only of the first grade. Pine and spruce are harvested only in winter, when the resinous of tree trunks is highest. This wood has high resistance against rot, as well as negative impacts of the environment.
Glued laminated timber production technology enhances these qualities, and this ensures longevity of wooden houses. Thus, once built house "Eulenspiegel" will serve many generations of its owners.
Glued timber production process is carried out on the modern European equipment. We use KLEIBERIT glue from a leading German manufacturer, cause as there is no formaldehyde in it (hazardous chemical that can escape into the environment and cause harmful effects to the health of people). Our company Archiline Log Houses provides a 5-year warranty on the house "Eulenspiegel".
This neat, nice and tiny log cottage gives you harmony and intimate feeling when you are looking to escape in the silence of the mountains far, far away from the crowded city.
Imagine when you wake up with trees at your windows, or when you drink your coffee on the terrace admiring the landscape. You can't compare even the most expensive wine with a cup of coffee in front of the fire place with a good book.
The model of a timber home "Eulenspiegel" has two bedrooms, a bathroom, small but cozy living room combined with kitchen and a terrace. It's a perfect model for a dacha or hunting lodge.
The number of rooms
2
Living area
40 sq.m.
Total area
48 sq.m.
Ground floor area
33 sq.m.
First floor area
12 sq.m.
Wall kit
17,5 cubic meters
Wall kit material,
other variants are acceptable
Glued laminated timber 180х150
Price
Please contact us to find out the price of this wooden house in your region
* Prices depend on selected construction materials: rounded log, profiled timber or glued laminated timber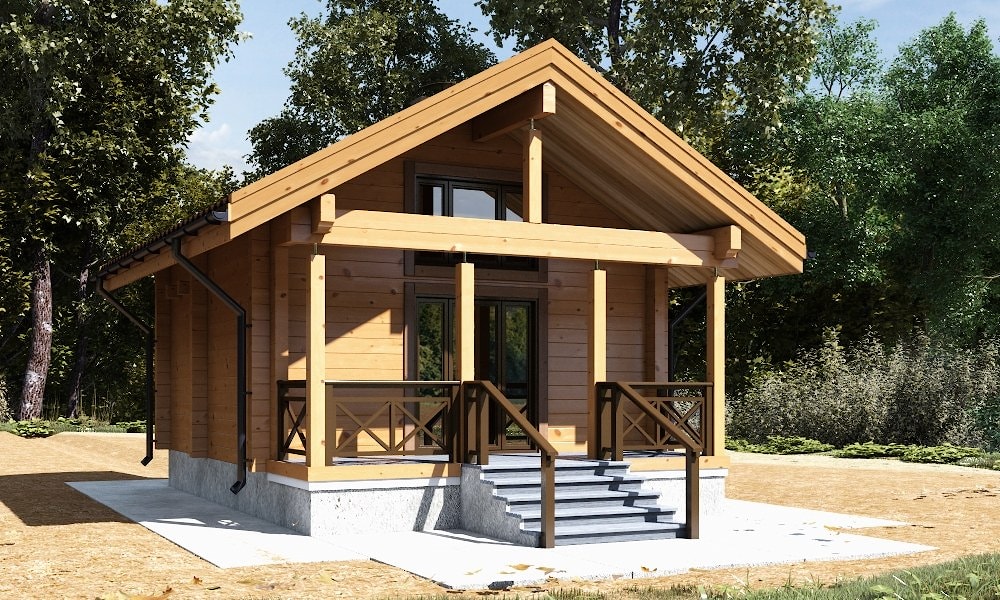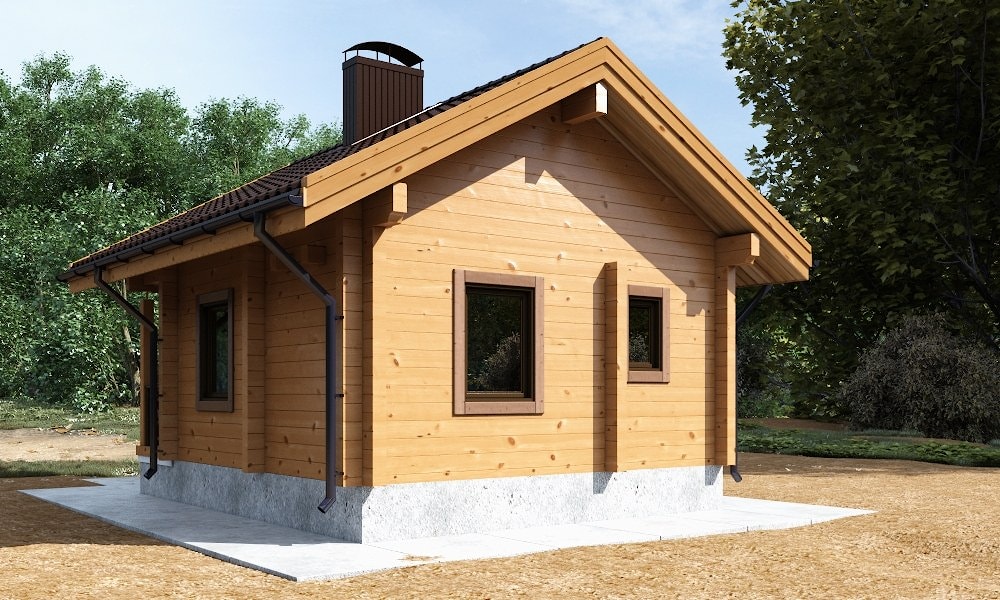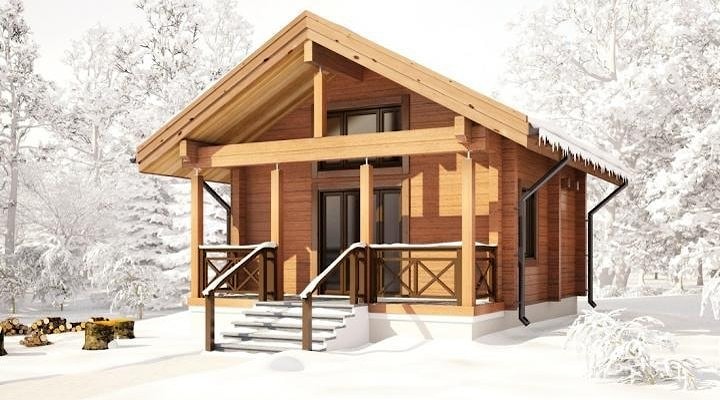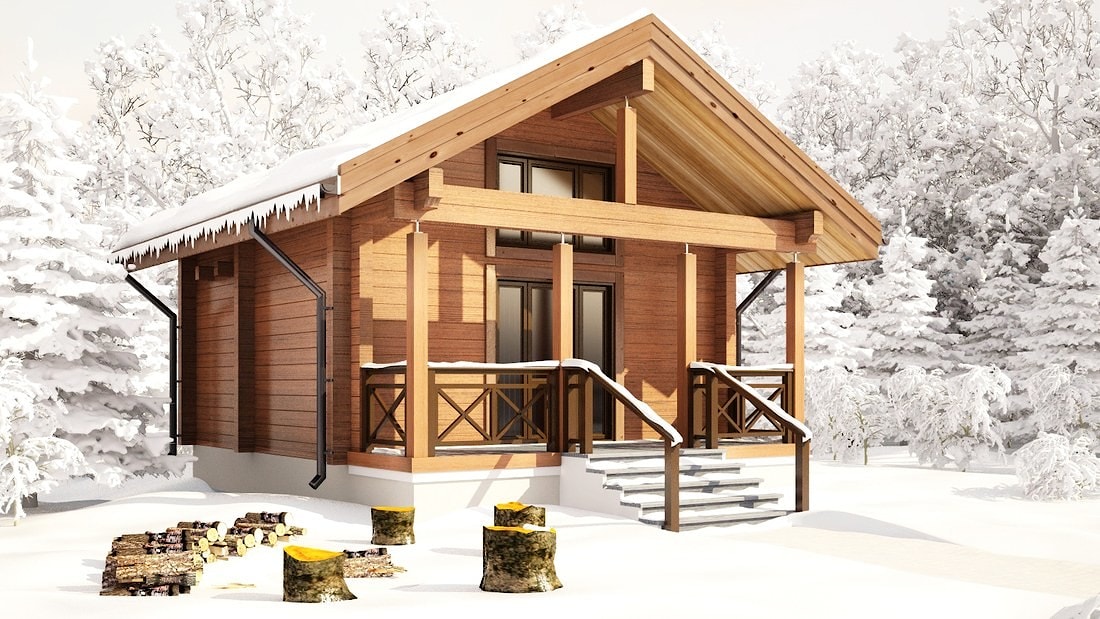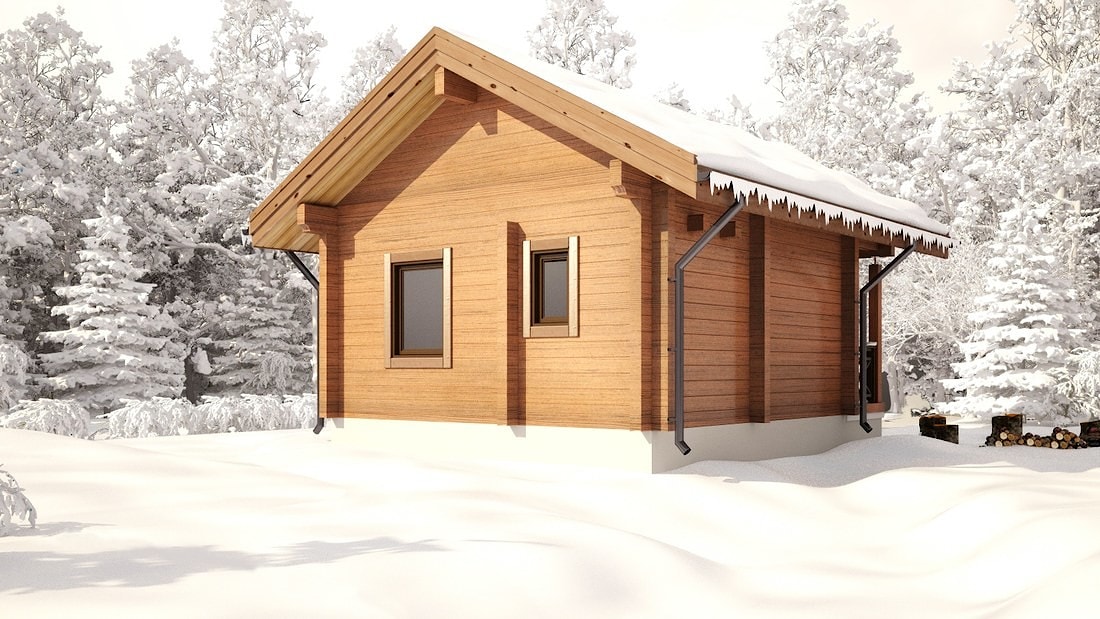 Ground Floor layout: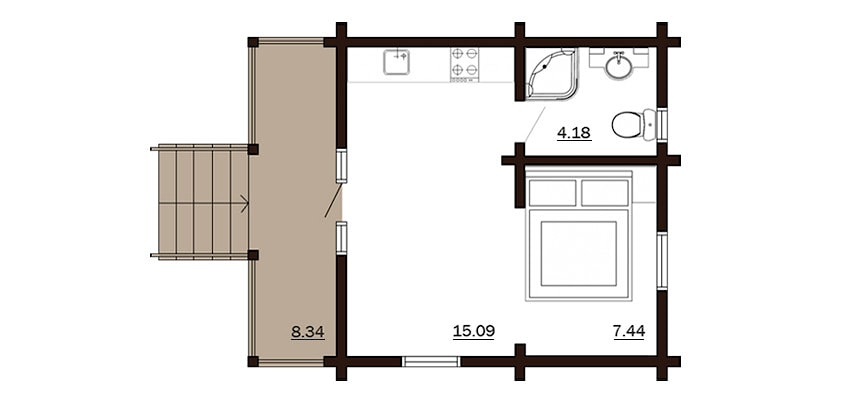 First Floor layout: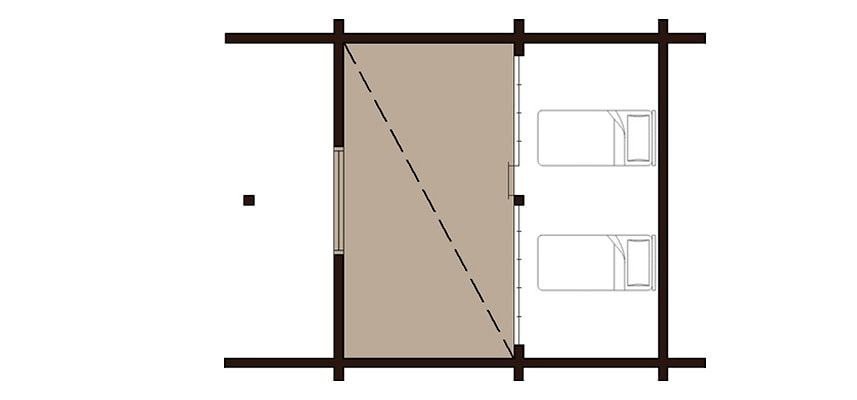 Look more: