Cross-laminated timber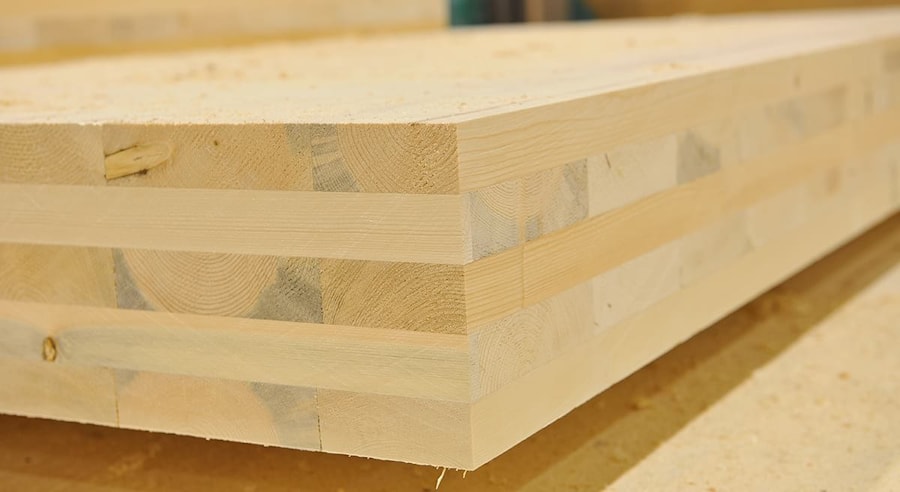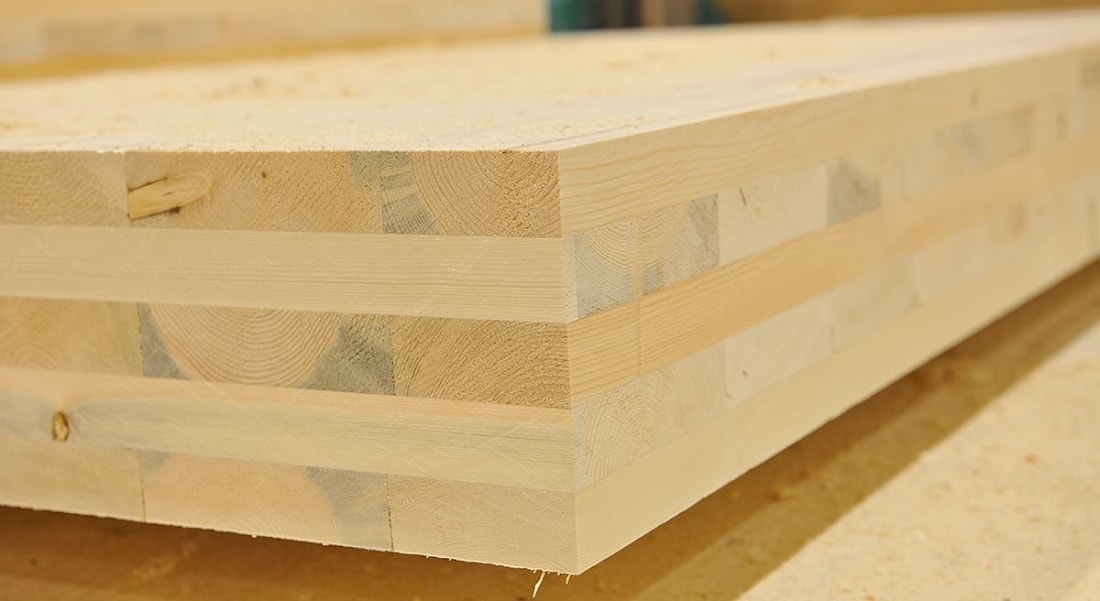 Cross-laminated timber (CLT) is a large-scale, prefabricated, solid engineered wood panel. Lightweight yet very strong, with superior acoustic, fire, seismic, and thermal performance, CLT is also fast and easy to install, generating almost no waste onsite. CLT offers design flexibility and low environmental impacts. For these reasons, cross-laminated timber is proving to be a highly advantageous alternative to conventional materials like concrete, masonry, or steel, especially in multi-family and commercial construction.

A CLT panel consists of several layers of kiln-dried lumber boards stacked in alternating directions, bonded with structural adhesives, and pressed to form a solid, straight, rectangular panel. CLT panels consist of an odd number of layers (usually, three to seven,) and may be sanded or prefinished before shipping. While at the mill, CLT panels are cut to size, including door and window openings, with state-of-the art CNC (Computer Numerical Controlled) routers, capable of making complex cuts with high precision. Finished CLT panels are exceptionally stiff, strong, and stable, handling load transfer on all sides.
The Strength of CLT
CLT panels are made of layers of lumber boards (usually three, five or seven) stacked crosswise at 90-degree angles and glued into place. The panels can be manufactured at custom dimensions, though transportation restrictions dictate their length.

Applications for CLT include floors, walls and roofing. The panels' ability to resist high racking and compressive forces makes them especially cost-effective for multistory and long-span diaphragm applications.

Some specifiers view CLT as interchangeable with other wood products and building systems. Like other mass timber products, CLT can be used in hybrid applications with materials such as concrete and steel. It can also be used as a prefabricated building component, accelerating construction timelines.

Several factors contribute to a growing market for CLT and tall wood construction: advances in wood connectors, the development of hybrid materials and building systems, the commercialization of CLT and growth in off-site fabrication.
How CLT Can Be Used
Alternating grains improve CLT panels' dimensional stability. The lumber boards typically vary in thickness from 5/8 inch to 2 inches and in width from 2.4 inches to 9.5 inches. Finger joints and structural adhesive connect the boards.

In structural systems, such as walls, floors and roofs, CLT panels serve as load-bearing elements. As such, in wall applications, the lumber used in the outer layers of a CLT panel is typically oriented vertically so its fibers run parallel to gravity loads, maximizing the wall's vertical load capacity. In floor and roof applications, the lumber used in the outer layers is oriented so its fibers are parallel to the direction of the span.

CLT's ability to resist high racking and compressive forces makes it a cost-effective solution for multistory and long-span diaphragm applications.

CLT's shear strength affords designers a host of new uses for wood. Those include wide prefabricated floor slabs, single-level walls and taller floor plate heights. As with other mass timber products, CLT can be left exposed in building interiors, offering additional aesthetic attributes.

Currently, U.S. building codes do not explicitly recognize mass timber systems, but this doesn't prohibit their use under alternative method provisions. The 2015 International Building Code (IBC) streamlines the acceptance of CLT buildings, recognizing CLT products when they are manufactured according to the Standard, ANSI/APA PRG-320: Standard for Performance Rated Cross Laminated Timber. In addition, CLT walls and floors may be permitted in all types of combustible construction, including Type IV buildings.

ADVANTAGES

Possibility to combine the truck loads with all of Timber Group's products

Sanded or calibrated surfaces for all qualities

Flexible dimensions up of to 3.20 m x 20.0 m

Order size = invoice size above a width of 2.20 m

Solid and made of wood

Pleasant and comfortable room climate

Fast and easy assembly

Lower self-weight than reinforced concrete

Highest earthquake safety ratings

High fire and chemical resistance

High performance in terms of thermal insulation

Positive impacts on climate protection through storage of carbon dioxide (CO2 )

Ecologically sustainable building materials

TECHNICAL DATA

BONDING Melamine resin adhesive with bright glue line, adhesive type I according to EN 301 approved for gluing of loadbearing and non-loadbearing timber components, both indoors and outdoors LAMELLAS Thickness: 15 mm to 45 mm Strength classes: 100% C24/L25/T14 in the top layers max. 30% C16/L17/T11 in the middle layers

MOISTURE CONTENT 11% ±2% at time of delivery

DENSITY Spruce: approximately 450 kg/m³ to 500 kg/m³ in average

THERMAL CONDUCTIVITY l = 0.13 W/mK

THERMAL CAPACITY 1,600 J/kgK

DIFFUSION RESISTANCE According to EN ISO 10456 m = 50 (dry) to 20 (wet)

FORMALDEHYDE EMISSIONS E1 according to EN 717-1 (<0.1 ppm)

Actual measured value: <0.02 ppm

FIRE BEHAVIOUR D-s2, d0 Dfl -s1 when used as floor covering

STRUCTURAL FIRE RESISTANCE 1. layer: 0.65 mm/min each additional layer: 0.80 mm/min

SHRINKAGE AND SWELLING BEHAVIOUR Out-of-plane direction au,90 = 0.24% per 1% change in moisture content In-plane direction au,90 = 0.01% per 1% change in moisture content

AIRTIGHTNESS Airtight above 78 mm Joints, component edges, narrow faces and soffits, installations, etc. must be hermetically sealed

DIMENSIONAL TOLERANCES According to DIN 18203-3

SERVICE CLASSES (EN 1995-1-1) Service class 1 heated interior Service class 2 roofed outdoor area